I was on the press drive to launch the original Cadillac CTS way back in 2002, and they described it to us as a 4-series- Cadillac was aiming at BMW, but somewhat generally as opposed to lining up a direct hit on either the 3- or 5-series. And while that strategy wouldn't result in a victorious game of Battleship, the truth is that the original CTS was a nice car indeed with very pleasant road manners, and it quickly went on to become a success, and the far handsomer second generation even more so.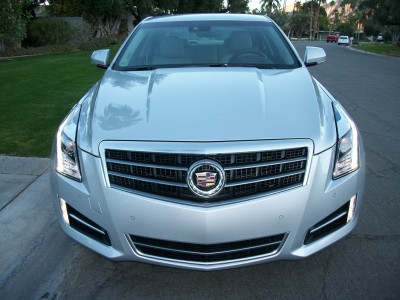 Today we reap the rewards of that strategy, because the new third generation CTS has moved up in size to more appropriately position itself as a 5-series competitor and taking up the task of the entry level sport sedan is the ATS. Yes, I hate their nomenclature too but at least it's in ascending order, so we know that the ATS will be small- the smallest since the ill-fated Cimarron if our slide rule can be trusted. Small, and clearly positioned. The wheelbase is 1.3 inches shorter than a new 3-series, but every other dimension- length, width, height and track- is within an inch.
There are lot of choices with the new smallest Caddy. Base engine is a 202-hp, 2.5-liter four, next step up is a 272-hp, 2.0-liter turbo four, top of the range and the car I drove featured the 3.6-liter V6 with 321 ponies, all come standard with a six-speed automatic although a six-speed manual is available with the 2.0-liter turbo.
And the choices don't stop there- there's a plethora of packages available for ATS. All three engines are offered in base or Luxury trim levels, in addition the turbo and the 3.6 can be ordered in Performance and Premium levels, adding a whirlwind of luxury touches at an appropriately breathtaking price. My test car was full tilt (I don't much care for second-class passage) and had a price tag to match- $48,620, or about fifteen G's above the base model's $33,990 (including freight). Sounds like a lot, but the ATS is stacked directly against the 3-series and priced within a few schekels of its German rival.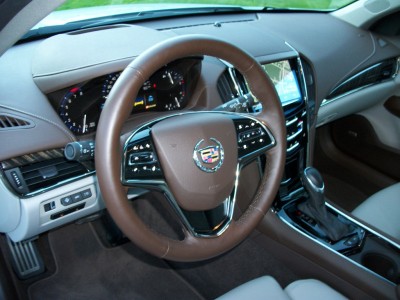 What did you get for all that dough? Plenty. In addition to the direct-injected 3.6 and six-speed automatic, my Premium package ATS came with 18" machined wheels and runflat tires, performance seats with multiple power controls- 12 way driver and 10-way passenger, plus lumbar, a memory seat, and a split rear folding seat. It also had the CUE interface with an 8" color display, navigation, Bose audio including bluetooth and Sirius XM, a head-up display, magnesium paddle shifters and alloy pedals, Intellibeam adaptive lighting and keyless go with remote start, among other goodies too numerous to mention. In other words, it was loaded to the gills.
There's been a lot written praising the ATS's road manners and I don't disagree with the collective wisdom- this is one sweet handling car. The chassis is totally neutral and beautifully balanced- it doesn't lose its composure when you push it and it's just the most flingable car I've driven in months. if you covered up the badge you'd think you were driving a BMW. Add to that a remarkably compliant ride quality (are you listening, Infiniti?) and what you have is one serious sport sedan.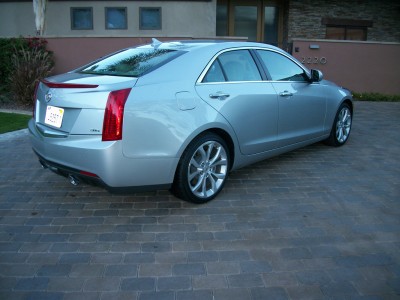 Likewise I have nothing but praise for the direct-injected 3.6. It's smooth throughout the power range and while the six-speed always seems to be one gear ahead of where I want it to be, that's where the slap shifters come in. Who ever thought that we would live in a world where Cadillacs were so utterly flingable?
And that leads us to what I really liked about the Cadillac- its sense of style. From the traditional Cadillac egg-crate grille to the blade tail lamps, the car was beautifully detailed inside and out with Cadillac cues and just exuded the joy of good design, Special praise goes to the lighting designers, who added touches like vertical parking lamps that outlined the fender blades, LED vertical taillamps, theater dimming on the interior LED lighting and even beautifully illuminated exterior door handles. All these little touches reminded me that I wasn't just in a delightful small sport sedan, I was in a Cadillac.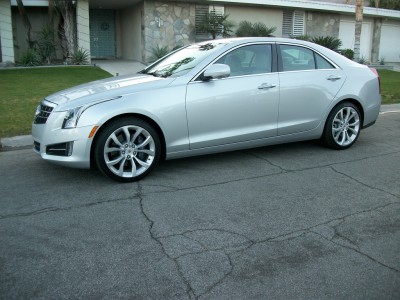 To summarize, there was a lot I really liked about the ATS. The road manners were impeccable, the performance seats were extremely supportive and I loved car's aesthetic statement. I'm not the biggest fan of the clunky CUE but all in all they've done themselves proud. They've earned and A for this one and I would definitely recommend checking it out if you're shopping for an upscale sport sedan.