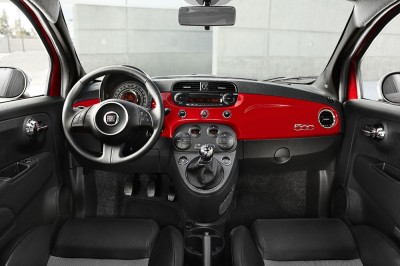 Life was pretty boring at Chrysler dealers after the retro-cool PT Cruiser hit the skids. If you wanted a compact car, well, good luck. There were none to be had, at least in Chrysler showrooms.
On one of their first missions to Italy after discussions began for Fiat to gain control of Chrysler, executives saw the little Italian 500. They wanted it bad. That's why the sub-compact two-door has made the trip here.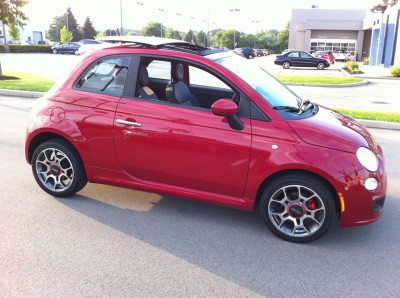 The exterior design is based on the original Cinquecento, built from 1957 to 1975; however its rear engine format has been reversed. The modern 500 has the engine up front and is now front-wheel-drive. Fiat's stylists did a great job of concealing the powertrain flip by placing the engine behind large round headlamps, a stubby hood, and outline of a grille that all echo the original. Some find the shape as pleasing as a gondola. Others aren't quite as enamored with the cutesy looks.
The 500's canted hatchback with chrome-detailed taillamps is a classic touch. Sport editions, like my test car, ride on stylish 16-inch alloys and come dressed up with a rear spoiler, chrome exhaust tips and fog lamps.
Inside, Fiat 500 passengers might feel like a Toyota Yaris snuck out and co-luxuriated with a Ferrari. Painted dash surfaces, a leather-wrapped steering wheel, heated leather seats, and vast choice of colors make the interior feel like it came from a car costing many multiples more – even if much of it is hard plastic. A Bose audio with USB input is there for all you audiophiles and iPod addicts.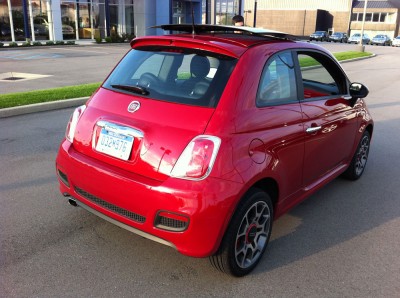 In my mind, there must be a rolling lane through the Italian countryside that's calling my name. Granted, the 500's 101-hp 1.4-litre four-cylinder engine, connected to a five-speed manual transmission, is not so exotic. A stiff clutch and tiny pedal could give you charley horses, but once mastered, the car revs to redline and can be clicked through the gears with the snap of a wrist. A button puts the car into Sport mode for quicker throttle response. If the engine's verve doesn't move you, then maybe you'll be won over by the excellent 30/38 mpg city/highway fuel economy averages.
Driving the 500 is what sets it apart from the average city car. The steering is precise, the four-wheel anti-lock disc brakes are strong, and a full range of electronic controls keeps the car under control. An independent front, twist-beam rear suspension system is engineered with cost in mind, but sport-tuned shock absorbers and springs grasp the road. You can toss the car around without fear of putting it into a ditch. The 500 is also calm, quiet, and comfortable on the highway. It's not as sporty as a Mini Cooper, but it makes a better long-distance companion than a Smart Fortwo.
It's easy to hone a passion for Italian goods; I wouldn't give up my Persol sunglasses for anything. While J-Lo is hocking gussied up Gucci editions of the 500, the best way to experience Italy here is to buy a Fiat 500 and drink gallons of Lavazza coffee while driving it. With an as-tested price of $19,500, the Fiat 500 Sport becomes la voce della ragione, the voice of reason.
2012 FIAT 500 Sport
Four-passenger, FWD Hatch
Powertrain: 101-HP 1.4-litre I4, 5-speed manual transmission
Suspension f/r: Ind/Twist beam
Wheels: 16"/16" alloy f/r
Brakes: Disc fr/rr with ABS
Must-have feature: Style, efficiency
Fuel economy (city/hwy): 30/38 mpg
Manufacturing: Toluca, Mexico
As tested price: $19,500