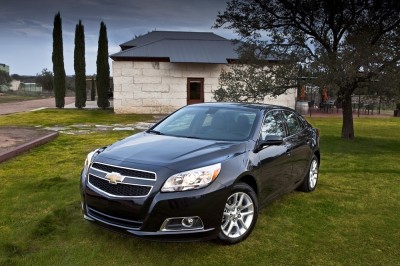 Chevy's Malibu will be "lightly electrified" when re-designed for 2013. "What in batteries does 'lightly electrified' mean," you may ask? Apparently, "hybrid" was too much for the last Malibu to live up to. Its system was expensive and did little to wean the car off fossil fuels. Re-booted and uplifted, the 2013 Malibu ECO with eAssist benefits greatly from junk, err lithium-ion batteries, in the trunk.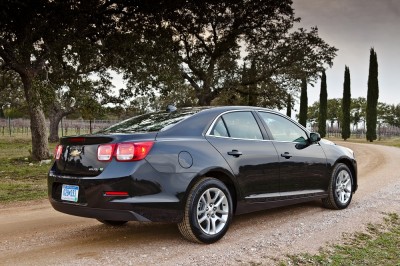 The system stores energy during deceleration and through generators in the brakes, then assists the gasoline engine when a little extra power is needed heading up a hill, getting off the line, or to keep the transmission from shifting down and guzzling more fuel. To keep things simple, eAssist can't run the Malibu only on electricity. Most drivers should expect a 3-year pay-back from these fuel savings.
It's not all about the electric system. The 182hp 2.4-litre four-cylinder engine under the power dome hood earns its keep, as does the quick-shifting six-speed automatic transmission with manual shift mode. All Malibus will come with four-cylinder engines. eAssist contributes 15hp additional thrust, making it the most powerful Malibu until a turbo debuts later next year. Fuel economy is rated 25/37-MPG city/hwy.
Malibu is a stylish car, familiar in its big cross-bar grille and Camaro-inspired quad taillamps,. There's also a lot of engineering hidden in the design details. The headlamps and grille greet the wind with smooth curves while sharp creases in the rear help to provide the car with a minimum of drag resistance. Behind the grille are shutters that close to divert airflow when not required for engine cooling. Lightweight alloys and low rolling resistance tires hold the road and earn a modest bump in MPGs.
Careful attention has been paid to airflow (i.e. wind noise) around the mirrors, and extensive insulation provides a quiet cabin in which you can enjoy Chevrolet's MyLink® system. Voice controls USB-connected MP3 players, CDs, Pandora internet radio, and XM satellite radio. Bluetooth is standard; navigation is optional. Go old-school and tune in your favorite AM or FM station with a big tuning knob – much better than small fiddly buttons.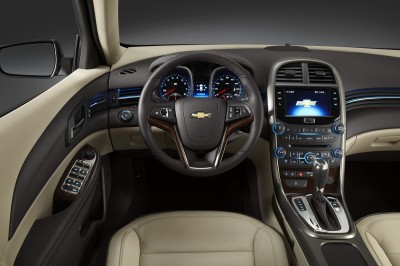 The cabin's upscale materials, blue lighting that seeps out of the dashboard, convincing fake wood, and round gauges in square housings could have come from a Cadillac that copulated with a Camaro – it's elegant and sporty. Rear legroom is a little tight, but shoulder space was increased. Safety is enhanced with 8 airbags: Dual front, front side, side curtains, and front knee airbags.
Hot-shoeing it through Texas hill country, just outside of Austin, the car shows its athletic side. The chassis felt nicely planted as I pushed it through hairpin corners, only once eliciting nanny-genies from the electronic stability program. Although there's no hydraulic pump assisting the steering, the electric system felt more natural than other's I've tested. Still, if you want a sports car, buy a Camaro.
Families of all types bought the outgoing Malibu, but not so many with a hybrid system. I like the new Malibu much better. Lightly electrified and styled to impress, Malibu ECO sales begin this spring with a base price of $25,995.
2013 Chevy Malibu ECO
Five-passenger, FWD sedan
Powertrain: 197hp (total) 2.4-litre I4, Lithium-ion batteries
Suspension f/r: Ind./Ind.
Wheels: 17"/17" alloy f/r
Brakes: Re-gen disc fr/rr with ABS
Must-have feature: Style, MPGs
Manufacturing: Oshawa, ON
Fuel economy (city/hwy.): 25/36 mpg
As tested price: $34,470