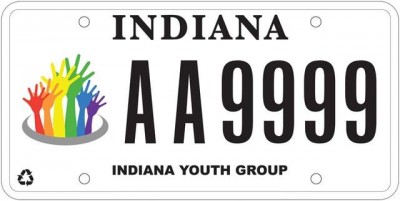 Before we head out of the office for a much-needed weekend break here are a couple of news items that crossed our desks over the past 24 hours:
Take a spin through the nearest parking garage, and you'll see a number of specialty license plates. Most come announce the driver's support for a particular college or, occasionally, advocacy group. Due to the conservative nature of government, those groups tend to live on the right side of the political spectrum, but now, Indiana and South Carolina have become the second and third states, respectively, to offer specialty licence plates supporting LGBT equality. (Maryland got there first, way back in 2008. Woot!) I've already posted about this news elsewhere, so rather than repeat myself, click here to read the full story.
Rosie O'Donnell has been in the news a good bit lately, waxing nostalgic about yesterday's top-secret lesbian parties and blasting most of the GOP presidential candidates for their virulent, anti-gay remarks. But our friends at Queers4Gears picked up on something else Rosie recently said: she assured Piers Morgan that Tom Cruise is straight as a board. How does she know? Because he drive race cars. Oy. Catch the write-up here.
Have a great weekend, and drive safely!