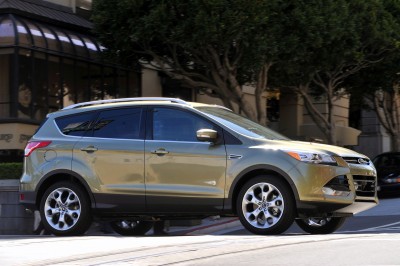 Ford's Escape has always been the stuffy little nerd that was well-mannered, but never seemed to have much fun. Its attire was as conservative as a tweed suit and the interior was about as boring.
That's not to say the Escape wasn't popular. Since arriving a decade ago to give hell to Japanese benchmarks like the Honda CR-V and Toyota RAV4, it has been perfect for urban travel and soft-roading. But clearly, Ford's compact crossover needed to cut loose and find a good stylist.
With the 2013 model, the Escape has been reborn. Gone is the "two boxes on wheels" profile of the original Escape and replaced by a sleek multi-faceted design influenced by suave silhouettes, like those of the Focus and Fiesta, with a hint of Explorer in the wrap-around taillamps. Ford claims the new model is 10% more aerodynamic. I'd say, at least.
Inside, there is a big expanse of windshield and convergence of curves and angles. It's a bit busy, but everything is easy to use, and there's attention to detail. The shifter glides fluidly through its notches, and knobs turn like fine pens. I really like the available heated leather seats, thick leather-wrapped steering wheel, Bluetooth, and deep cupholders. (Hey, I'm addicted to soda.)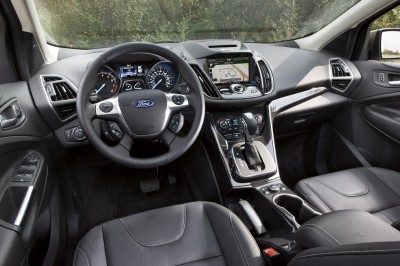 Then, there's SYNC with MyFord Touch that theoretically directs the infotainment system through voice, steering wheel buttons, or touchscreens — if it is in a good mood. My past experiences with SYNC caused cussing when it refused to do something as radical as finding "Elvis Presley" on my iPod, but the new version is better. I almost wore out the cool under-bumper sensor that raises the tailgate with a foot wave.
Hitting the gas brings only joy, even if V6 and hybrid options are M.I.A. The base powertrain is a 168hp 2.5-liter four-cylinder connected to a six-speed automatic transmission. Better are the available 240hp 2.0-liter EcoBoost and 178hp 1.6-liter EcoBoost four-cylinder engines. The turbos deliver smooth, savory torque without burning excessive fossils. All three engines deliver over 30 mpg highway with front-wheel drive.
The chassis is just as sophisticated. Using 25 sensors, the all-wheel-drive system analyzes wheel speed, accelerator position, and steering angle to determine where the driver wants to go and how to best execute his or her demands. Curve Control automatically slows the vehicle if drivers enter a corner too quickly; Torque Vectoring Control helps accelerate through a turn. It's an impressive amount of technology for a small crossover.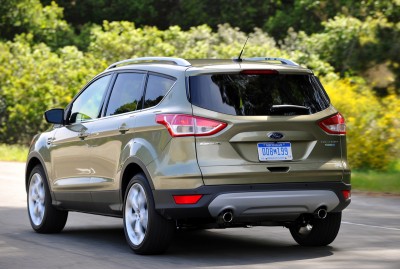 If all of that doesn't excite you, the 2013 Escape is available with Ford's BLIS blind-spot warning system and Cross-Traffic Alert that gives a heads-up when vehicles approach from the sides or kids' toys are behind it when backing.
The coolest feature, though, is the automatic parallel parking system. I'm pretty good at parallel parking, but the Escape is much better.
Still smart, but a lot more stylish, the all-new Escape is sure to make more affluent friends than its predecessors. The 2013 Escape starts under $23,000, but an as-tested price of $31,540 puts it up against lofty versions of the Honda CR-V, Chevy Equinox, Jeep Compass, Toyota Highlander, and Subaru Outback.
2013 Ford Escape SEL
Five-passenger, AWD crossover
Powertrain: 240 hp 2.0-liter T4, six-speed automatic transmission
Suspension f/r: Ind/ind
Wheels: 19"/19" alloy f/r
Brakes: disc/disc fr/rr with ABS
Must-have features: Style, power
Fuel economy: 21/28 mpg city/hwy
Assembly: Louisville, KY
As-tested price: $31,540