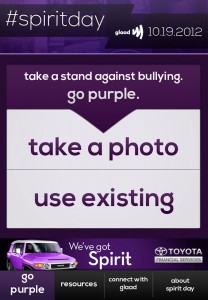 Are you wearing purple? You should be: today is Spirit Day, a nationwide event that draws attention to the dangers of bullying and generates support for LGBT youth. Purple is its signature color.
Spirit Day is an initiative of the Gay and Lesbian Alliance Against Defamation (GLAAD), and this year, Toyota Financial Services has joined the cause by creating a new "Go Purple for #SpiritDay" app for Android and iOS smartphones. Toyota say that the app "provides users with anti-bullying resources, calls to action, and a tool that can turn photos purple". Those purple photos can then be shared on social networks like Facebook and Twitter to increase awareness of Spirit Day.
Ann Bybee, the vice president, corporate strategy, communications, and community relations at Toyota Financial Services says that "Going purple for the day is a small but powerful way we can all show our support for those who have been bullied or who fear being bullied. It is so important to raise awareness that bullying isn't acceptable. At Toyota, we have always embraced a guiding principle of 'respect for people,' which has made us the company we are today. And it is a principle that includes not only our employees and customers, but everyone, without exception."
So far, Toyota is the only automaker that we know of with an official Spirit Day affiliation. (Industry friends: correct us if we're wrong!) However, there are plenty of other corporations onboard, including American Apparel, AT&T, CNBC, Delta Air Lines, Hewlett-Packard, Logo, MTV, the NBA and WNBA, the New York Stock Exchange, Warner Brothers, and Yahoo!.
Is your workplace participating in Spirit Day? Let us know in the comments below. And be sure to download the Go Purple for #SpiritDay app from Google Play or iTunes.