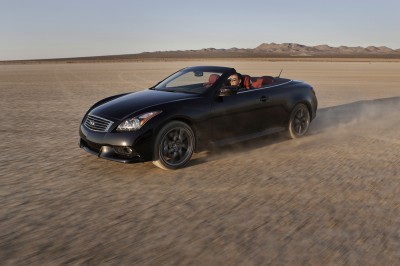 At a concert the other night, I asked myself, "If I were the 30ish director of the Indianapolis Symphony Orchestra, what would I drive?" Only car people ask such silly questions when they should be enjoying a perfect violin, but I may have the answer: the Infiniti G37 IPL Convertible. Mr. Urbanski is a classy gentleman who's still young enough to tussle his spiky hair in a car like this.
The G37's styling says that you have class, but aren't opposed to flipping back the power hard top, summoning Studio 54 on satellite radio, and having a go at the throttle. Just be careful to keep things out of the trunk: you could crunch a laptop — or a piccolo — in a heartbeat.
Passengers enjoy heated leather seats (ideal for fall weather) and automatic climate control that adjusts according to top position and vehicle velocity. The stellar Bose Open Air Sound System includes headrest speakers and automatically changes tuning based on exterior noise.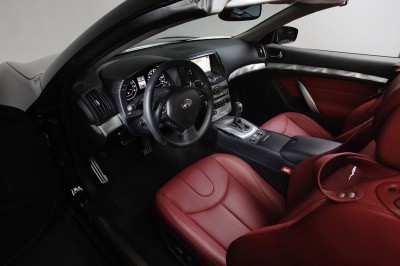 The G37's interior is as sumptuous as a Ravel suite. Monaco red leather seats and aluminum-look trim on the dash, doors, and console go together like Tchaikovsky and Liberace. Thick padding on the doors imbues a sense of opulence. Instruments that adjust with the steering column and Infiniti's "piano key" navigation and radio controls make driving easy. True, Infiniti could kick it up with French stitching on the dash like its luxury competitors, and there is some weird creaking on rough roads, but compared to most cars, the interior is sporty and pretty.
The G37 is sumptuous on the outside, too. Its curvaceous lines would be equally appropriate on a Ferrari, but the elegant chrome grille surrounds, aggressive facias, high rear deck, and seamless hardtop all look great. I would definitely choose the IPL package and its 19" alloys for wet-sexy looks.
Planting a big foot in the car's throttle adds heat. All IPL convertibles come standard with a 3.7-liter V6 engine that's rated for 343 hp and 273 ft-lbs of torque. There's a throated roar out of the tailpipe that sounds not unlike Pavarotti's thunder. Fuel economy is rated 17/25 mpg city/hwy.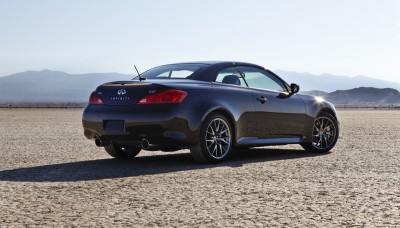 Last year, I drove the G37's platform-mate, the 370Z — which, like the G37, features a paddle-shifted seven-speed automatic transmission. As expected, the Nissan was a two-seat roadster designed to handle like a champ. It rode well for a sports car, but was a little stiff in the legs. I prefer the G37, which has crisp suspension motions, tight steering, and plenty of power. Yet, it retains enough interior refinement and slightly softer suspension for comfort. It is a car you can relish with the top down on weekends, but it would also be comfy on a cross-country journey or while creeping through traffic.
You could discount a young orchestra director as inexperienced until you hear the product of his work. Just the same, you could deny the Infiniti a first thought compared to the Mercedes E-Cabrio, Audi A5, or BMW 3-Series. But I wouldn't until you take it for a spin.
2013 Infiniti G37 IPL Convertible
Four-passenger, RWD hardtop convertible
Powertrain: 343hp 3.7-liter V6, seven-speed automatic transmission
Suspension f/r: Ind/Ind
Wheels: 19"/19" alloy f/r
Brakes: disc/disc fr/rr with ABS
Must-have features: Power, styling
Fuel economy: 17/25 mpg city/hwy
Assembly: Japan
Base/as-tested price: $60,600/$62,415