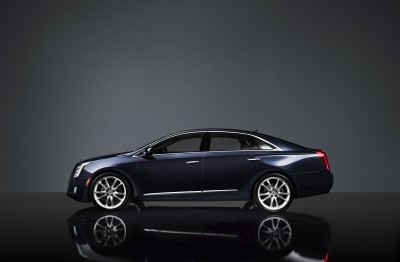 Even while tearing up German race tracks with the hyper-powered CTS-V and compact ATS sport sedan, Cadillac maintains traditional luxury vigilance with the XTS. It does so with style and technology that are second to none.
It's a pretty sexy car. There's the big satin-silver eggcrate grille, stacked headlamps, and long roof that flows into the decklid. Dual exhaust outlets go through the rear bumper, 20" alloys fill the flanks, and illuminated door handles welcome you at night. God save Cadillac, there are proper fins out back. It is one of the best-looking Cadillacs in decades. I couldn't help staring at it like it was a '67 Eldorado.
The interior is handsome too. Our test car came with dark gray wood trim, contrasting jet black and wheat leather, and purple stitching in the seat and doors — pretty pissy. Beige light seeps from the dash and doors at night. Heated/cooled leather seats, limo space in the rear, and a hushed cabin add comfort. Bose audio, with speakers in the front seats, creates the ambiance of a theater.
My partner loved fondling the CUE system. The instrument cluster is actually a re-configurable LCD screen. An iPad-sized center touchscreen scrolls with the swipe of a hand, but goes one further by gently thumping your finger to confirm selections. Slide your finger along the chrome strip beneath to adjust volume. Beyond CUE, the XTS is available with a multi-color heads-up display system for speed, engine revs, radio setting, and safety alerts.
If that isn't completely overloading, wait until all of the safety systems activate. Forward collision, rear cross traffic, blind spot, and lane departure alerts keep the car beeping and flashing warnings. Should drivers fail to take heed, the car automatically brakes to avoid a collision. Rump-shaker seats notify your posterior when you're about to do something dumb-ass stupid — like back into an object. It's a bit much.
Cadillacs were once exclusively powered by V8 engines, but the XTS is driven by a 304hp 3.6-liter V6 connected to a paddle-shifted six-speed automatic transmission. It provides enough power, but turbos wouldn't hurt. All-wheel-drive is standard. Fuel economy rates 17/26 mpg city/hightway, but I'd be all for an eAssist hybrid version to touch the mid-30s.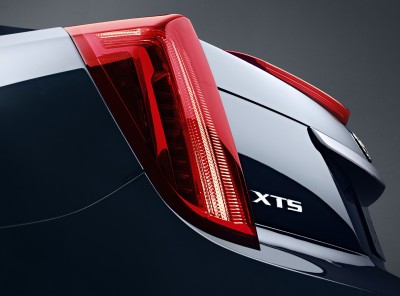 Modern handling comes by way of real-time adjusting Magnetic Ride Control and rear air springs. The chassis provides comfort over rough pavement, but also a willingness to perk up for the right country road. Brembo discs stand by up front as a sentinel against excessive speed. Interstates are swallowed with ease.
Despite the Brembos and AWD, the XTS is no sport sedan. When all of the creased sheetmetal is peeled back, it rides on essentially the same architecture that cradles the Buick LaCrosse and 2014 Chevy Impala. Comfort was prioritized over setting records on Germany's famed Nurburgring. The XTS handles well, but it definitely will not challenge a CTS-V for enthusiasts' attention.
All considered, the XTS is a modern full-size Cadillac. It is not the flagship sedan that GM's luxury brand eventually needs, but it handily carries the torch in the breach.
Prices for the XTS start at $44,075, but our loaded Platinum Collection model came to $60,385.
2013 Cadillac XTS
Five-passenger, AWD sedan
Powertrain: 304hp 3.6-liter V6, six-speed automatic transmission
Suspension f/r: Electronic Ind/Ind
Wheels: 20"/20" alloy f/r
Brakes: disc/disc fr/rr with ABS
Must-have features: Style, technology
Fuel economy: 17/26 mpg city/hwy
Assembly: Oshawa, ON
Base/as-tested price: $44,075/60,385