Ed. note: Our own Sam Miller-Christiansen attended this week's media preview of the 2013 Detroit Auto Show. Below, you'll find a recap of his second day on the floor. Full disclosure: during his visit, Sam was the guest of General Motors, but he had plenty of time to explore offerings from other automakers at the show.
* * * * *
If the first day of the Detroit Auto Show is like Christmas for car worshipers,  the second day is a bit like New Year's Eve: it's still a lot of fun, and there are some cool things to see, but you don't get overloaded with presents. That's not to say I didn't have a great time, and there were definitely some interesting vehicles to be revealed, including…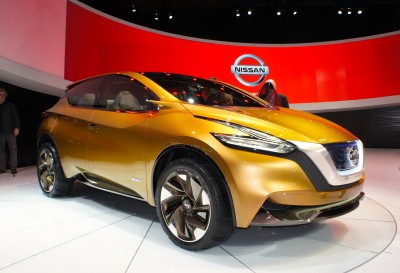 Nissan Resonance Concept
Clearly, this is giving us some hints at what the next Nissan Murano will look like. A gorgeous car in its first generation, the second generation that's currently on the road looks a bit like an alien insect with an eye problem. Does this Resonance Concept give me hope for the third Murano? Not quite. The Resonance looks like a sexy rodent with that big ol' buck tooth up front. It's also a little too fanciful and dreamy to be a direct indication of how the next Murano will look. The back made me think of a Juke, which is not a good thing. I'll withhold further judgment until the production model arrives. That said, if you're into really hot mice, this could be the ride for you.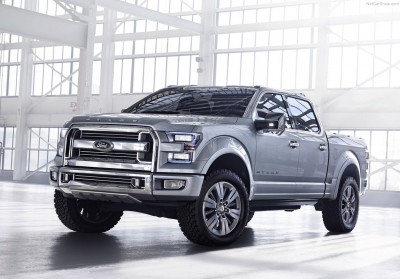 Ford Atlas Concept
The Ford Atlas Concept is a big deal because it foreshadows the next generation of F-Series trucks, the second-best-selling vehicle in the U.S. after the Toyota Camry. It's an understandable evolution, as Ford would never throw out its best-selling baby with the bathwater. The interior is also evolutionary, but appears more high-tech than what most truck buyers may be used to. The Atlas has a surprising emphasis on efficiency for a truck, employing technology like active grill and wheel shutters to reduce aerodynamic drag for improved fuel economy. Not the most exciting concept, but a very important one.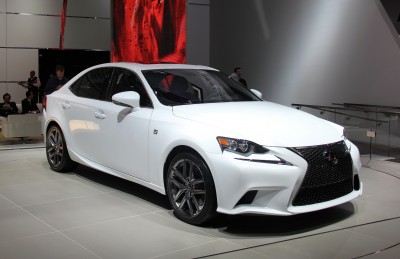 2014 Lexus IS
Those headlights: that's what the new 2014 Lexus IS is all about. Lexus certainly took a chance with the bold headlight arrangement, which places the LED daytime running lights in front of the actual headlight pod. The problem is that it looks entirely contrived, and the entire design is a touch too busy. The IS reads like the punky teenage daughter of the Lexus tribe. Just last year she was sweet and kinda pretty, but this year she's got piercings, eyeliner, and a bad attitude. The problem is that Lexus seems to have gone straight from "understated and bland" to "wacky and controversial" without finding that sweet spot in the middle of those two idioms. The interior is a step up but I can't help but think "Yaris" when I look at that steering wheel.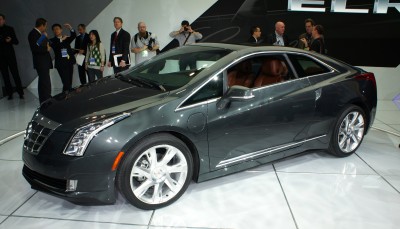 2014 Cadillac ELR 
General Motors was majorly repping down on the Cobo Hall floor. Following up on the Corvette launch of the previous day, Cadillac revealed its ELR extended-range electric car on Tuesday. (Ed. note: Nick gave us a slightly longer look at the ELR earlier today.) It uses basically the same systems as the Chevy Volt, but DAMN this is one sexy electric scooter. The interior expands on the themes we've already seen in the ATS and XTS, but the ELR is a bit more luxurious than those whips, thanks to its gorgeous Opus leather. I don't think the Volt has gotten nearly the amount of attention it deserves, but you can't count on the gorgeous ELR to get the word out about GM's industry-leading Voltec system.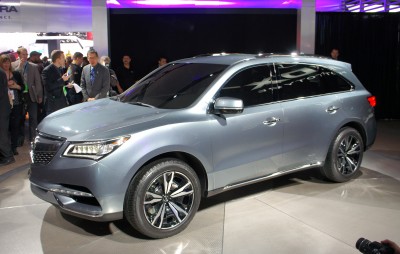 Acura MDX Prototype
Stop being coy, Acura. This is 99% what the production MDX will look like — which means that apparently the next Acura MDX will look like a Japanese interpretation of the Dodge Durango, but with an ugly front end. Acura didn't show the interior, but we can expect it to be a very safe evolution of the interiors we've already seen from the brand. What else can I say here? Yawn. Those lights are kinda interesting. No, actually they're just gauche.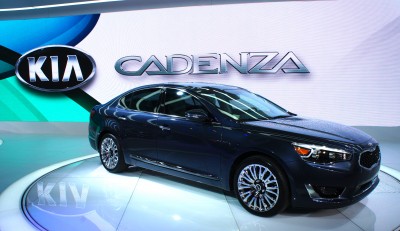 2014 Kia Cadenza
Someone better check on hell to make sure it hasn't frozen over: Kia is now offering a near-luxury large car that can go head to head with the best in the business. From a design standpoint, the Cadenza seems like a mix of Audi and BMW styling cues (for better or worse). It's an attractive whole, but not the strongest design to come out of Kia recently. The interior continues the Audi/BMW mashup theme, with upscale materials and great fit and finish. It's a solid entry for Kia that will surprise many people, but how many shoppers will actually visit a Kia showroom looking for this kind of car? Only the sales charts will tell.