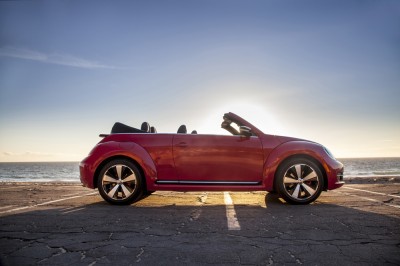 Although Volkswagen kicked off the whole retro thing in 1998 with the "New Beetle", it doesn't want you to think of the current third-generation Bug in those terms. To be honest, the New Beetle was anything but retro. Like the latest iteration, it rode on the most-advanced Golf architecture, driven by an engine over the front-driven wheels. It looked almost futuristic. With a new design that bridges the future-bubble with its iconic ancestor, the 2013 Beetle Convertible evolves.
Retro or not, designers went for a familiar look. It's wider, lower, and longer to stretch the previous-generation's bubbly personality — less cute and more butch, if a Beetle can be so. The windshield sits closer to the driver, more vertical, providing a sporty driving position and a stylistic connection to original Beetles. Power tops stow in stacked heaps over the rear spoiler and I'd want it no other way — as soon as spring arrives, that is.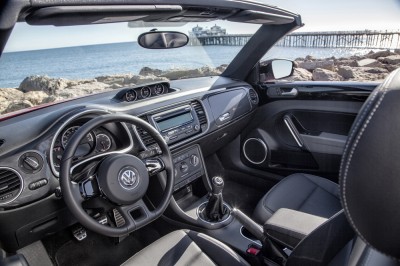 Even though the exterior styling is less Toon Town than in years past, it fails to prepare your for the transformation inside. Gone are the three-picnic dash, arching windshield, and center control pod. Instead, designers fit in a small glovebox in the upper dash, body-color doortops and dash, and a large speedometer to make purists feel at home. I prefer VW's high-quality leatherette seats to leather, especially when heated, for durability and repelling freak rain spurts. I would sell my two cats for the optional Fender audio system.
An array of powertrains should suit most drivers. Base Convertibles go with a 2.5-liter five-cylinder engine, mated exclusively with a six-speed automatic transmission that generates 170 horsepower and 21/27 mpg city/highway. Stepping up to the 2.0-liter turbo-four grants 200 horsepower, 21/30 mpg city/highway, and a choice between six-speed manual and DSG automatic transmissions. Diesel fans will dance in the street over the 2.0-litre TDI that generates 140 horsepower and 236 ft-lbs of torque. Best of all, fuel economy is rated 28/41 mpg city/highway — the most economical of any convertible available today.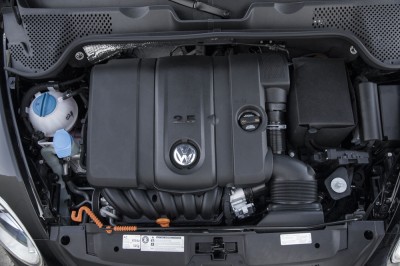 I've driven the Turbo and it is a better choice, but there's nothing wrong with the pep of our car's 2.5-liter engine either. I'm sure I would enjoy the torquey diesel and its fantastic mileage even more. A light touch and sure-footed four-wheel independent suspension carve smooth moves. Much of the body structure and windshield frame were reinforced for a noticeably quake-free experience.
There's no denying the Beetle Convertible's popularity. VW sold 330,000 soft-top copies of the original Beetle over 32 years and almost 235,000 of the New Beetle Convertible in just eight years. Still, Beetle Convertibles are clearly not for everybody. No matter how enjoyable they are to drive, and as cool as they look, meat-shredding straight guys are unlikely to sign up. Good thing I'm not a meat-shredding straight guy. My partner and I owned a New Beetle and we both like this one much more.
The Beetle is nasty competition for other "non-retro" rides like the Chevy Camaro, Mini Cooper, Fiat 500, and Ford Mustang convertibles. Price as-tested came to $24,995.
2013 VW Beetle Convertible 2.5L
Four-passenger, FWD convertible
Powertrain: 170 hp 2.5-liter I5, six-spd auto transmission
Suspension f/r: Ind/Ind
Wheels: 17"/17" alloy f/r
Brakes: disc/disc fr/rr with ABS
Must-have features: Style, ride
Fuel economy: 21/27 mpg city/hwy
Assembly: Puebla, Mexico
Base/as-tested price: $24,995/24,995