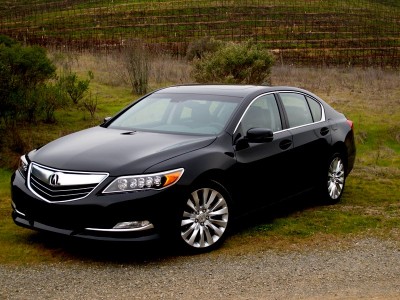 We didn't go into Acura's first-drive press event for its new, range-topping sedan now known as the RLX with astronomically high hopes, given the wallflower-like nature of its predecessor, the RL. The old RL was nice enough, but in no way was it revolutionary, sexy, or state of the art. And it certainly wasn't going to blow the mind of its no doubt slightly bored driver, who probably wondered why he didn't get a TL instead.
But after experiencing the game-changing wild child that is the 2014 Acura RLX, we think it's time that Mercedes, Lexus, and even BMW take note of how markedly competitive this new car truly is. This is odd because a GS350, E350 or 5-Series are all rear-wheel-drive, and according to the auto journalism rulebook, RWDs are always superior to front-wheel models like the RLX.
Funny, if we weren't mistaken we would say that Acura engineered the new RLX as a bitchslap to every repetitive traditionalist to show them front-wheel-drive can be fun too. Plus, if you live somewhere that has seasons and weather you would probably prefer a front driver — unless spinning around in circles after hitting black ice patches is your idea of a good time. Frankly, we'd rather go cow tipping,  and trust us when we say that is not on our bucket list, much less our lunch pail list.
Thankfully, we packed our superhero lunchboxes and headed off for drives on winding Napa Valley back roads, leading us finally to the Sonoma County Raceway, where we really got to put the RLX and back-to-back E350, GS350 and 535i models to test. Make no mistake, we know how great Acura models are and have been in the past, so why were we somewhat reticent to believe in an Acura flagship that appeals to driver pleasure centers as well as those seeking serene comfort? In this case we simply didn't know how many engineering tricks Acura still has up its sleeve.
The answers to all of our doubts and questions, dear readers, were found behind the wheel of the new RLX, which proved once and for all that you don't need to be a rear-wheel-drive luxury sedan to carve corners with the best of them. In fact, we think that the P-AWS four-wheel steering system (which stands for Precision All-Wheel Steer and is not a reference to kitty cat claws) will convince any luxury sport sedan shopper that the RLX handles like no vehicle they have driven before.
Now, without an engineering degree it might be a bit difficult to understand how Acura worked such miracles with its P-AWS system but as you would expect, it allows you to turn the rear wheels in the optimal direction during various driving scenarios. This optimization of the wheel toe-in or toe-out (i.e. when the wheel is pointed inward or outward) provides extremely predictable and stable cornering, even in bad weather. It may also lengthen the life of your tires — though that claim came from Acura, so don't complain to us if your tires don't last as long as you had hoped.
The point here, people, is that this P-AWS system makes understeer nearly undetectable and gave us a level of confidence on the rainy race track that may or may not have led to a rather long sideways power slide around one long sweeping turn. Not once did we fear losing control of the vehicle, although we do hope no one at Acura saw us do it.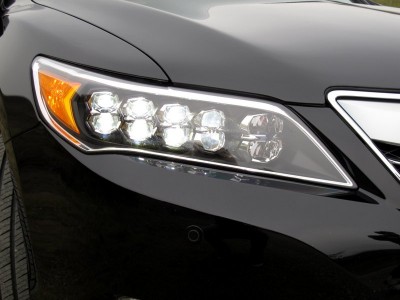 Interior and Exterior Judgments
The 2014 Acura RLX is a naturally pretty and well-balanced design when viewed from the outside, with LED front headlamps giving the face a unique appearance akin to someone with the compound eyes of a spider. The traditional Acura grille holds together the handsome corporate face that not only faithfully screams "upscale" but is also capable of looking like a working professional's car. As for that, the back seat offers best-in-class legroom so this car may be a hit for real estate agents who sell multi-million-dollar homes across the country. Truly, if you take five adults with you for any period of time, then the RLX is your finest choice.
Otherwise, the leather lined interior is quite simply one of Acura's most stunning pieces of handiwork since the original NSX, what with its refined simplicity that the easy-to-figure-out RLX also manages in a smaller dose. Honestly, the RLX has way too many high tech features not to require some more buttons and at least a control knob when compared to the old NSX which (gasp!) didn't even have a navigation system. Oh, how quickly automotive expectations change.
The RLX has an interior that is definitely pushing the boundaries. Audiophiles will be interested to know that the once-vaunted Acura/ELS audio system is no longer the top rated unit: this honor now goes to an awesome sounding Krell system available in upper-level trims. Your ears will never want to hear music anywhere else after experiencing this sound system, trust us. Most especially you won't want to be hearing music at a Justin Bieber concert, since that act renders adult ears deaf from all of the pre-teen shrieking. And his singing.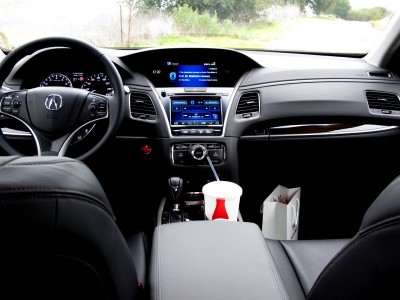 Vs. the Competition
The 2014 Acura RLX is equipped with a new, direct-injected 3.5 liter 310 horsepower/272 ft-lbs of torque V6, which offers up instantaneous and very linear acceleration from a stop. At freeway speeds there's always plenty of accelerative thrust left in reserve for passing or just reveling in the glorious crescendo this motor makes as it reaches redline. Noises are well muted, with only the slightest hint of tire roar heard in the cabin — ironic as the RLX comes with noise-cancelling wheels. (How noisy were they before?) Making up for this is the RLX's solid EPA fuel economy ratings of 20 city/31 highway.
Admittedly, if you're looking for an isolation chamber or a silent crypt-style driving experience, the RLX not be the best fit for you. This isn't to say that the RLX doesn't coddle, though: during our highway drive time, we tested Acura's new collision mitigation braking system (CMBS) as well as the lane-keeping assist system (LKAS), which use cameras to monitor the traffic ahead as well as the lane markers, so that not only will the car come to a complete stop if the traffic ahead of you does, but it will also turn the wheel to keep you in your lane.
Yes, the car can practically drive itself in emergency situations. After you come to a complete stop, just push a button to return to your preset speed. No other automaker's system is so complete in its ability to prevent you from having an accident, as was demonstrated to us on the Sonoma County Raceway, our final destination (thankfully, we don't mean the movie). There, we compared the RLX's safety tech with similar systems in the Lexus GS, which will happily return all control to the driver after braking the car to 35 miles per hour with little to no warning. Hey, at least you'll only crash at 35 mph in their system, eh?
During laps on the very wet and slick rain-soaked Sonoma County Raceway, we were amazed at how well the RLX's four-wheel steer system nearly eliminates any plowing or understeer in high-speed cornering and how in control we felt, even when we were driving at speeds that were a bit out of control. During comparison laps on a cone laden autocross course, we were amazed at how well the RLX kept up with the handling of a 535i and how horribly wooden the Mercedes E-Class felt as it skidded and smacked into cones on the way to a very disappointing finish.
So, were we suitably impressed with the RLX? Would we recommend it as heartily as the much-vaunted and nearly holy BMW 535i?
Prepare your hate letters now, but yes, we were impressed, even to the extent that we found the BMW's amount of turbo-lag and easily confused transmission a bit of a turn off. In isolation we might not have noticed it, but powering through turns felt easier and safer on the slick tarmac in the RLX, as power was immediate and predictable, with none of the on/off nature of a turbo motor.
Trim levels and Pricing
The 2014 Acura RLX is a relative steal in this often-overpriced segment, with starting prices coming in at $48,450 for a solidly equipped example — though one that lacks both in-dash navigation ($50,950) and the essential Acura/ELS audio system ($54,450). These trim upgrades also include features like Milano leather trim, a blind spot warning system, and more, so double check Acura.com to see which model suits you most like, well, a finely tailored suit.
Beyond this, you can add the aforementioned Krell audio package (we would) for $56,950, with the top of the heap being an Advance Package-equipped model, which just happened to be the only available test cars at the initial drive event. The Advance Package model goes for $60,450 and includes the aforementioned collision mitigation braking system (CMBS) as well as the lane keeping assist system (LKAS) to ensure you stay safe in your heated/ventilated front seats.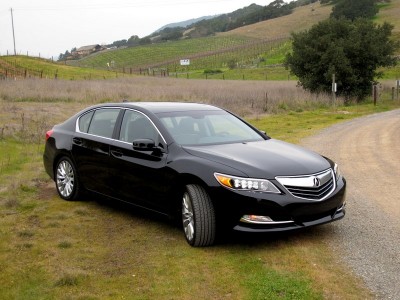 Conclusion (Do You Want to Buy One?)
If we were in the market for a midsize luxury sport sedan, the new 2014 Acura RLX should be a sore temptation, due to its relative affordability, terrific handling, class leading technology, handsome styling, terrific interior ergonomics, and simply because you won't see someone coming and going in your exact same car every other minute. Do you ever turn your head when you see a Mercedes E350? No.
With its relative rarity, the RLX will attract attention wherever you go, yet it will always manage to look discreet and classy enough for any situation or occasion. And on the driving front, we can guarantee that it will always excite you, but never leave you exhausted from the experience. Unlike that 22-year-old we hear you're dating.