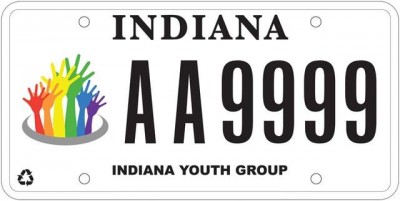 The past year has been an historic one for the LGBT community. America elected a president who believes in marriage equality and put a record number of LGBT politicians in office at the federal, state, and local levels. Voters approved marriage equality at the ballot box and fended off attacks from our foes. Elsewhere around the globe, marriage equality and other LGBT rights have been progressing, too.
All that forward movement makes what's happened in Indiana doubly sad.
As you might recall, an organization called the Indiana Youth Group has been working hard to create a specialty licence plate in support of LGBT young people. At one point, it looked as if the group was on the verge of success, when the whole process fell apart (due in part to some of the Youth Group's own actions, which may have been technically illegal).
After the collapse, the Indiana Youth Group began discussions with the state's Bureau of Motor Vehicles. The Youth Group had hoped that agreeing to a suspension period as penance for its missteps would allow the LGBT plate to move forward. However, this week the BMW cut off all negotiations with the group.
In fairness, that's not really the BMV's fault. The move results from a law passed by Indiana legislators, which creates a special commission to identify and recommend specialty license plates.
Now, the Youth Group has two choices: to begin a formal appeal, or to apply to the as-yet-unformed commission for a specialty license plate. Both paths appear to put the group back at square one.
Interestingly, Representative Ed Soliday, who pushed for the new law, says that he didn't order the BMV to cut off negotiations with the Youth Group. He also claims that his bill wasn't targeted at the Youth Group directly, but rather at the proliferation of specialty plates.
The situation is frustrating, to be sure — but maybe it's to be expected, too. Speaking of the politically charged atmosphere around the issue of marriage equality in Illinois, Reverend Phyllis Pennese recently said, "The soup always boils just before it's done and the soup is boiling now…. That's why there's all this fury around this issue because it's almost about to be done."
We hope so, reverend. We really hope so.
[via Towleroad]