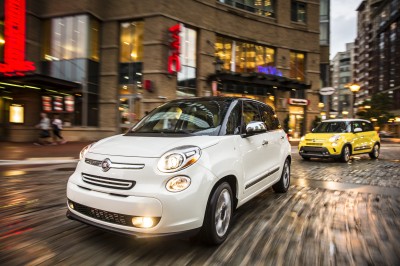 Fiat, through its Chrysler-centric Studio retailers, has sold over 100,000 tiny 500 models in the U.S. The 500 is a sweet little expression of Italian fun, especially in Gucci, Cabrio, Turbo, Abarth, and electric "e" editions.
That said, unless gas fires upwards to $5 or beyond, the two-door 500 will remain a niche cutie. Which is why Fiat is launching the 500L with additional portals.
While the styling seems to mimic the Mini Countryman, the 500L is obviously from the Fiat family, given its big round headlamps, stubby nose, and rounded taillamps. Designers make a big deal about the car's nearly 360-degree visibility, made possible by wide expanses of glass. Most trim levels exhibit a clean Italian aesthetic, but the Trekking model was given the mini-SUV treatment for American sensibilities.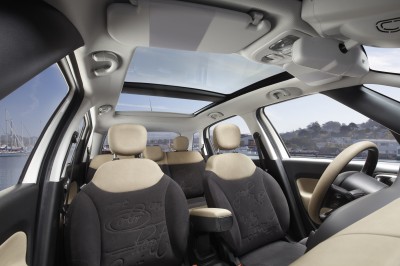 Beyond the addition of a couple of doors, the 500L is considerably larger than the 500. Moving up to Chrysler/Fiat's "compact-wide" vehicle architecture, it will share powertrains and chassis with the Dodge Dart and Jeep Cherokee. Unlike the Dart, however, which feels pudgy and harbors engines and transmissions that don't seem to like each other, the 500L seems peppy and light — exactly the opposite of what you'd expect.
Despite its molto cool style, the 500L is essentially a mini-mini-van. Step in and out easily, ride high, and enjoy a clear view the road and surroundings. The super-sized glass sunroof makes an Amtrak lounge car seem claustrophobic. Squarish steering wheels, lots of storage cubbies, and a ginormous shift knob make a statement, as do contrasting-color dash coverings and Chrysler's UConnect touchscreen infotainment system on premium models. Beats by Dr. Dre audio thumps across America, but not yet Italy.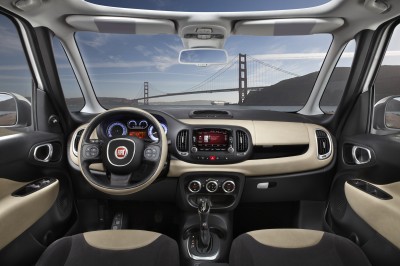 It's a good thing the car has a vigorous powertrain, because for now, you only get one choice. First seen in the sporty 500 Abarth, the Fiat-sourced 1.4-liter MultiAir Turbo four-cylinder engine delivers 160 horsepower, 184 ft-lbs of torque, and up to 33 mpg hwy. Owners can choose between a six-speed manual or six-speed Euro Twin Clutch automated transmission. (A traditional automatic is expected later.) The manual is easy to shift; the Twin Clutch is best enjoyed in manual mode. AWD is not available.
Building on tradition, the 500L comes in a variety of packages. Base "Pop" models start at $19,100. Move up to the "Easy" line with 16" alloys, a leather-wrapped steering wheel, and body-color mirror caps for $20,195. American-inspired Trekking editions with graphite facias, 17" alloys, and uniquely painted dashboards retail from $21,195. "Lounge" models include 16" wheels, a vinyl-wrapped instrument panel, heated leather seats, automatic dual-zone climate control, and chrome body moldings for $24,195. All we need are the Gucci and Abarth editions to have some real frolicking fun.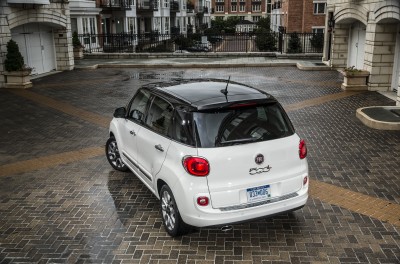 From the basic Pop to the Abarth, there was a 500 for almost every taste — provided you liked to lick micro cars. Now, there's one for bigger appetites, purveyors of burgeoning families, and the cool-quirky alike. Undoubtedly, there will be hip commercials announcing that the Italians are coming, complete with de-frocked hotties, but really, that won't be necessary, since everybody will realize from its familiar looks that a four-door Fiat has arrived. Competitors include the Mini Countryman, Kia Soul, Nissan Cube, and Buick Encore.
Storm Forward!