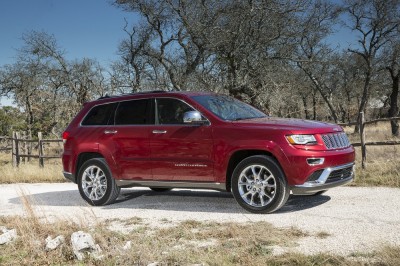 Real luxury is never having to worry about where the road will lead. While my partner was slaving away doing bank duty last weekend, I took the re-invigorated 2014 Jeep Grand Cherokee to my favorite road. I've traveled this sliver of pavement since I was a baby, but apparently the state had other plans for my day. There was a detour. I paid it no mind, swerved around the barricades, and hit the gas with full confidence the Jeep could handle anything in its way.
What was the worst that could happen? Drive through a ditch to get around the roadwork? Ford a stream? Cross a field? Bound over a beaver? None of this would be a problem for the über Jeep.
Über is the right word, since the Grand Cherokee was developed on the same vehicle architecture as the Mercedes-Benz M- and GL-Class SUVs. It's easy to see that inherent greatness. As with the Mercedes, Grand Cherokee is available with a height-adjustable air suspension named "Quadra-Lift," which lowers for aerodynamics on-road or ratchets to the rafters for rolling over small villages off-road. It will even squat at curbs. When I drove the big 'Benz, Tour mode chattered over bumps while Sport was a tad firm, but Jeep dialed it in just right.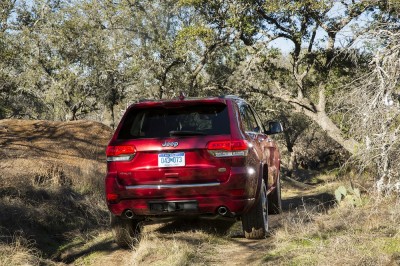 If you stop to admire the ditch before heaving over it, you might notice a few styling tweaks on the Grand Cherokee, which project a premium aura. Slimmer headlamps, a shorter grille, and elevated front facia give the front a more streamlined appearance – made slicker with LEDs that outline the bi-xenon HID headlamps. Larger taillamps with LED lighting and dual exhaust tips buff the rump. Designers created a look that is both muscular and smooth – something our kind might appreciate.
Slide inside to discover this Jeep is as much about comfy as capability. Brown stitched-leather dash coverings, suede headliner, and heated/cooled saddle leather seats are every bit as impressive in Summit trim as they are in Mercedes design editions. All of the trim that would normally be chrome was copper – very nice. Openpore wood trim, dual-pane sunroof, and 825-watt Harman Kardon audio system continued to put a crush on the Germans.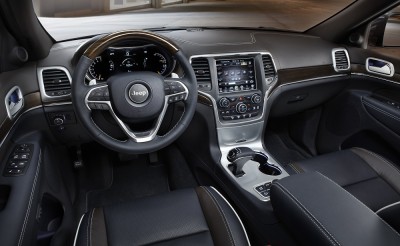 In the dash are two touchscreens – an 8.4" unit for the Uconnect infotainment system and another 7" for the configurable instrument cluster. (I prefer mine '80s-style with a big digital speedometer.) My Aunt Martha's old preacher could figure out Uconnect with its brightly-colored icons. Throwing a little technology at safety, the vehicle is available with Forward Collision Warning with automatic Crash Mitigation braking, hill-ascent/decent control, electronic stability programming, Blind Spot monitoring, Rear Cross Path Detection, and rear-view camera.
Our grand Jeep came stoked with Chrysler's 5.7-liter Hemi V8, capable of belting out 360 horsepower and 390 ft-lbs of torque – perfect for tearing up a steep hill or thumping little peasant cars on the open road. It will also tow 7,400 lbs, should the need arise. A new eight-speed automatic transmission slips neatly between gears and, in combination with cylinder deactivation, contributes to fuel economy of 14/20 mpg city/highway on 4×4 models. I'm sure that won't impress enviro enthusiasts, but there are ways to improve the digits.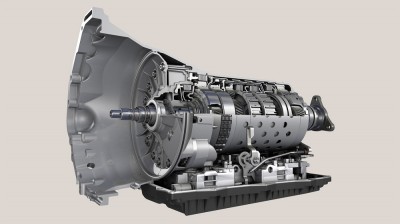 Never de-activate the Eco mode that optimizes transmission shifts, cylinder de-activation, and vehicle ride height to get the most mpgs. If you don't need the shove of a Hemi, consider the 290-horsepower 3.6-liter V6 that achieves 25 mpg highway or the 3.0-liter V6 diesel that posts up to 30 mpg highway. In the end, a big and capable 4×4 SUV is still just that. If you want over 30 miles per gallon, buy a crossover. Jeep would be happy to sell you a Patriot or Compass.
Fortunately, I found a nice gravel road to circumvent the construction, but a sophisticated 4×4 system stood at the ready. It can be switched to Sand, Mud, Auto, Snow, or Rock modes – the latter of which raises the suspension to its maximum height of 11.3". All modes modulate the electronic throttle, torque transfer between wheels, and electronic traction control systems for the best combination of performance parameters.
If Fiat's plan for Jeep is to take on Land Rover globally, the Grand Cherokee Summit is a good sign. It's a vehicle capable of playing against the world's best, and it does so in a way that's authentic to Jeep's American heritage. While an as-tested price of $54,685 is certainly not cheap, maybe you can think of it as a Mercedes with a steep discount! Competitors include the Range Rover Sport, Mercedes M-Class, GMC Yukon, and Toyota Land Cruiser.
Storm Forward!
2014 Jeep Grand Cherokee
Five-passenger, 4×4 SUV
Powertrain: 360hp 5.7-liter V8, eight-speed automatic transmission
Suspension f/r: Ind/Ind
Wheels: 20"/20" alloy f/r
Brakes: disc/disc fr/rr with ABS
Must-have features: Style, xapability
Fuel economy: 14/20 mpg city/hwy
Assembly: Detroit, MI
Base/as-tested price: $28,795/54,685