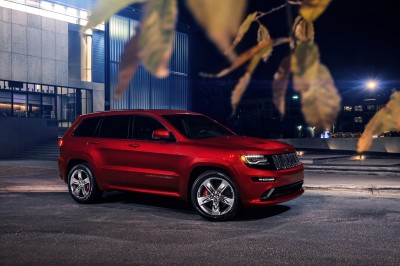 Take nearly 70 years of Jeep four-wheel-drive experience, mix in a healthy dose of Mercedes engineering, stoke it with a big HEMI V8 engine, and you get this:  the 2014 Jeep Grand Cherokee SRT.  It's a mix of automobile that only total looney-nuts would conjure, but let's thank all things holy that they did.
The heart of this beast is a 6.4-liter HEMI V8 that pumps out 470 horsepower and 465 ft-lbs of torque, routed to the all-wheel-drive system through an eight-speed paddle-shifted automatic transmission.  Variable displacement allows the engine to run on four cylinders to minimize fuel use at cruise.
When the twin elephant exhausts bellow, it's enough to scare the chickens three counties away.  You can also tow up to 7,200 lbs. of mini-yacht, mobile mansion, or classic automobiles.  Fuel economy?  It's EPA-rated 13/19 mpg city/highway…if you really care.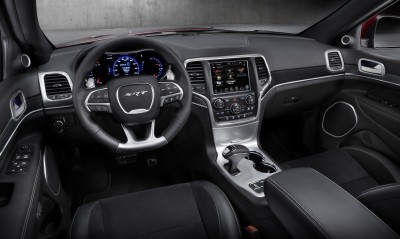 Inside, you know the SRT by its thickly-bolstered suede/leather buckets, thick, leather-wrapped steering wheel with satin silver trim, and carbon fiber dash panels.  The world's easiest-to-use touchscreen controls 825 watts of Harman Kardon audio, navigation, radio, climate control, and comforts like a heated steering wheel and heated/ventilated front seats.  An LCD screen in the instrument cluster can be configured for a digital or analog speedometer — whichever you prefer.  You feel frisky just sniffing the leather.
Full on, you admire the front facia that was re-styled for 2014 to include LED running lamps, LED halos for the headlamps, and blacked-out sections around the lamps and grille.  Twin hood nostrils seemingly snort and grunt as air is rapidly displaced through them.  The side profile is as formal as any Cherokee, although lowered onto 20" alloys.  Around back, the trailer hitch is neatly concealed behind a plastic panel.  Should you shred rubber, open the hatch, lift the cargo floor, and lose your breath over a full-size spare tire!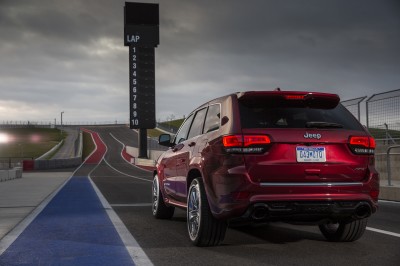 While most Grand Cherokees are happy thrashing challenging trails, mud, and muck, the SRT is best enjoyed on paved highways and track days.  Those 20" treaded steamrollers aren't optimized for snow and ice, but they grip asphalt like Big Bob grabs ice cream cones.  A five-mode drive control systems lets pilots adjust performance for "Track," "Sport," "Auto," "Snow," and "Tow", while the electronic suspension system adapts in real-time to given road conditions.  Launch Control, activated with a button in the center console, optimizes the powertrain to mimic the best professional drivers when whacking off 0-60 times.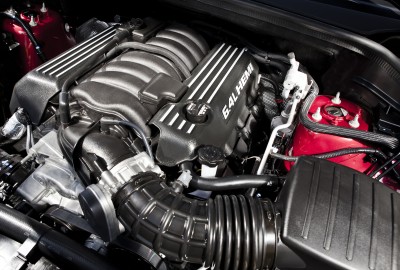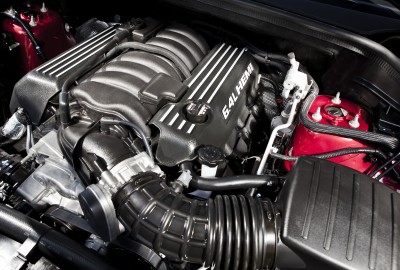 The one button that really cracks me up is labeled, "Eco".  Pressing it causes the throttle to be less sensitive, transmission to upshift earlier, and the engine to stay in four-cylinder mode longer.  It works, but using Eco mode in a HEMI-stoked full-size SUV that challenges world-class sports cars?  Seriously?
There's no other place you can get all the Grand Cherokee SRT offers.  It has Jeep heritage, underlying Mercedes chassis expertise, and boy, you have to love that HEMI.  To really experience any SRT in its natural habitat, sign up for the SRT Track Experience, during which professional drivers help you wring the most of your ride.
Price as-tested came to $68,070, making it ravenous competition for the Mercedes ML63 and BMW X5 xDrive50i.
Storm Forward!
Send questions and comments to Casey at AutoCasey@aol.com.
2014 Jeep Grand Cherokee SRT
Five-passenger, 4×4 SUV
Powertrain: 470hp 6.4-liter V8, 8-spd automatic transmission
Suspension f/r: Ind/ind
Wheels: 20"/20" alloy f/r
Brakes: Brembo disc/disc fr/rr with ABS
Must-have features: Style, God's HEMI
Fuel economy: 13/19 mpg city/hwy
Assembly: Detroit, MI
Base/as-tested price: $63,660/68,070