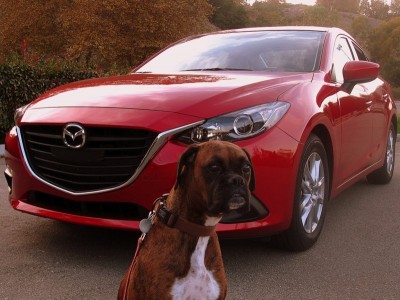 As you all know, we've got a (fully grown) pup called Roxy. We love her to the moon and back so she's probably the most spoilt dog we know. We hire a Dog Walking Kingston service to take her for her exercise every day when we're busy, we get her groomed every 2 weeks, she travels basically everywhere we go. And because we take her so many different places, whenever we review a car we always make sure we account for how dog-friendly it is. Whether that's how easy the seats are to clean, how quickly we can install a metal car dog guard, or boot size — we always take it into account. In fact, that's that is what started the We Let The Dog Decide series! Let's get this review started!
When the 2012 Honda Civic was first released it was raked over the coals for uncharacteristically subpar driving dynamics,interior quality and the continued use of a five-speed automatic which apparently was outlawed during the time of Moses. Fast forward to last year and Honda gave every journalist human and canine who complained a serious smack down by improving the interior quality to best in class, bettering the ride, lowering road noise and improving the steering and handling feel. Frankly, we thought Honda perfected the Civic in 2013 but this year the company made yet more changes.
First off Honda replaced the five-speed auto with a new CVT design and then added a more advanced touch screen audio/infotainment/navigation screen that operates with pokes and prods much like a smart phone. Much to our chagrin, however, Honda forgot to add a volume knob instead opting for a touch operated sliding volume scale which never responded well to our touching. It was a bit touchy, we'll say. Thank goodness the Civic has steering wheel mounted volume controls because clearly it wasn't designed to respond to the touches of our paws.
But if Honda has intentions to totally dominate the compact car segment, Mazda has other ideas in the shape of its 2014 Mazda3 hatch and sedans with SkyActiv and "Zoom Zoom" technology. So it is guaranteed to be ridiculously fuel efficient as well as fun to drive which is a combination that gets us foaming at the mouth. What to do when picking between these two compact car heavyweight champs? What, be an idiot and buy a Corolla instead? No, we turned to our in-house exclusive canine road tester Roxy Hamel to help us make this tough final call. Here, yet again, we let the dog decide.
Exteriors, Bodystyles and Interior Dog Friendliness
The 2014 Honda Civic is available as either a two door coupe or four door sedan whereas the 2014 Mazda3 is available as a four door sedan or handy and stylish five door hatch. Roxy is a touch European with her tastes so she leaned towards the Mazda3 hatch as her favorite bodystyle although the Civic sedan is a clean and handsome design. Any coupe, however, will prove a challenge for dog owners as Roxy proved very unwilling to get into our Civic two door's back seat since it is a tight squeeze to get in there. We did try the back seat once, as humans, and somehow on the way out got our leg caught in the Civic's front seatbelt and did a nice face plant on the pavement. Not our finest moment.
Also, the back seat of the Civic coupe has built in cupholders along the sides of the folding bench seat that are shaped like no water bottle we have ever seen. Not sure what Honda intended they be used for, perhaps a water bottle used by a very flexible Klingon? Lastly and more seriously, don't let your dog ride in the front seat-airbags can easily kill your pet in the event of an accident. No matter, our main point here is that four door versions of either the Civic or Mazda3 make tons more sense for a dog owner than any coupe on the market.
As for quality of interior materials we found that, in spite of the solidity and high quality of the Civic's interior, that the Mazda3 was easier to clean and had leather that felt just a touch more durable. Neither car will be destroyed by a dog like Roxy-a 44 pound short haired boxer who did admittedly somehow managed to leave more fur than we care to see all across the Civic's epically huge dashboard. Also, that touch screen leaves fingerprint marks that would be unsightly to Lady Macbeth-out damn fingerprint! Where is my Windex? We're paraphrasing Shakespeare here.
The 2014 Mazda3 has a very minimalist interior with simple controls for the audio, climate and navigation system standard on our Grand Touring model which translated into a vehicle that tidied up with ease on one occasion when Roxy wasn't invited along and we had four humans in the car. Rarely does that happen but Roxy is a bit of a back seat hog. And to her, the Mazda3 also scored points for the fact that its back seat was not only roomiest but also felt softer and more comfortable over long drives.
(Winner: 2014 Mazda3)
Performance, Safety and Fuel Economy
Yes, the Honda's CVT automatic took some getting used to as it operates best via the use of the paddle shifters on the steering wheel and although Roxy and her driver generally find them to be annoying transmissions, Honda makes the best ones in the industry. When left in automatic mode sometimes we felt like it took a bit too long for the 1.8 liter 143 horsepower/129 lb. feet of torque 4-cylinder VTEC engine and gearbox to react to a need for lots more speed. The 405 freeway in Los Angeles can be treacherous and during one drive a dozing Prius driver decided to veer into our lane at which time it was the Civic's amazingly agile steering and handling which saved us, not the quick reaction time of the gearbox.
We do wish, however, that Honda offered the option of manual gearboxes on higher trim levels like EX and EX-L for the sedan and coupe much like Mazda does with every Mazda3 equipped with the perfectly capable 2.0 liter 155 horsepower/150 lb. feet of torque SkyAvtiv 4-cylinder which revs smoothly and cleanly all the way to its redline. The Mazda3 has one of the most deliciously smooth and easy to use 6-speed manual gearboxes on Earth. Yes, you can buy a 3 with the 2.5 liter 185 4-cylinder and 6-speed automatic from the 6 sedan or the 2.0 liter with same gearbox but if you can handle a clutch pedal Roxy says you should always pick the Mazda3's manual transmission. It, along with razor sharp steering and an expertly calibrated suspension, transforms any trip into a sporty, fun and involving adventure for the driver. And dog if you roll down the windows so they can feel the wind in their fur, of course. Simply put, the Mazda3 loves to play more than a puppy in a chew toy factory.
The Mazda's 2.0 liter never disappointed us when it came to straight line performance or with our as tested 39.4 miles per gallon average over a one week period with no attempt on our part to drive frugally. Our Civic managed a more pedestrian 34 miles per gallon over a week which admittedly is still impressive considering the fact that we have led feet and Roxy probably should not just have a harness but a racing helmet as well. But they don't sell racing helmets in Roxy's shade of brindle brown and just like any self-respecting gay man like her owner, all her outfits have to match or at least be complementary. And yes, dear readers, her harness and leash are a sassy shade of dark brown with visual interest added to her ensemble by a royal purple collar. Style and safety are Roxy's favorite words du jour.
Speaking of safety, we can't recommend the 2014 Mazda3 and Honda Civic higher as both are best in class when it comes to crash test ratings. Both of these cars bear the distinction of being the two compact cars that managed to score the highest IIHS (Insurance Institute of Highway Safety) crash test score of "Top Safety Pick Plus." And that gets the Roxy canine housekeeping safety seal paw of approval. Still, despite both cars being very safe Roxy is a "Zoom Zoom" girl at heart.
(Winner: 2014 Mazda3)
Final Canine Thoughts and Roxy Picks the Woofing Winner
For poor Roxy, this was a tough call to make as both the Mazda3 and Honda Civic make for terrific canine transportation implements. They both have tough interiors, stylish appearances and all of the available features you could want like leather seats, navigation, premium audio (she found the Mazda3 Grand Touring's standard Bose system to be superior and dogs do have better hearing), automatic climate control, blind spot monitoring, back-up displays and much more. Our 2014 Honda Civic EX-L tester stickered for $22,740 ($24,240 with naviagation) whereas the 2014 Mazda3 Grand Touring four door we drove priced out for just $22,745 and that includes standard navigation. So the 2014 Mazda3 is more smartly priced than the Honda and we found the Mazda's center screen far easier to control via a center console mounted knob than Honda's new smartphone inspired unit.
Add in the fact that Honda, once the seller of the best manual gearboxes in Civic's past, no longer offers most trim level buyers the option of a clutch pedal and we must admit that one fact cost Honda this contest. We, along with Roxy, love the sporty feel and control a manual gearbox brings to cars like these and we have no doubt that there is no better or more fun to drive dog car buy than the 2014 Mazda3. Roxy is a Mazda3 girl, through and through. And whatever Roxy wants, Roxy picks.
(Overall Winner: 2014 Mazda3)