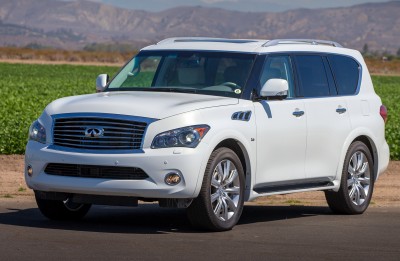 According to white-coat know-it-alls, being pudgy is a bad thing, but when referring to the 2014 Infinity QX 80, being fat is definitely where it's at. This SUV is hefty. A full-sized luxury vehicle that offers seating for seven or eight passengers is just what the doctored ordered, especially for those Brady Bunch broods. But is flabby a sight for sore eyes, or just a sight?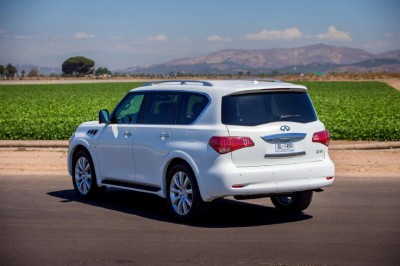 The QX 80 replaces the QX 56, and the latest and greatest sports a flattish roofline, spanking new front, and new LED headlights, turn signals, and fog lights. There are also 20- and 22-inch alloy wheels, and a few new hot colors to boot. The look is still large and in charge, but bigger is oftentimes better.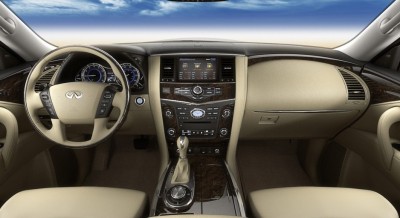 Inside the QX 80 is where the magic happens. The cabin is eye candy, swanky all around, with more than enough nooks and crannies; it is very evident that spare-no-expense materials have been used here. The supportive and wider leather seating front and back in the QX 80 is superb, especially for the thicker set; comfort here is taken to a high level. The 60/40 split power flip-fold rear seats are a hoarder's dream. One push of a button, and you can get whatevah — or whomevah — you want into the rear of the vehicle, without the hassle of cranking, moving, or reconfiguring a seat. And speaking of seats, they quite impressively move swiftly and out of the way just as soon as you press the button. The 16.6 cubic feet of space behind the third row in the QX 80 grows to a whopping 95 cubes with all of the rear seats folded.
As far as technology, the QX 80 has got this area covered, and its electronic interface is a cinch to use, really intuitive. The Around View Monitor gives you a no-squint, 360-degree bird's eye view of all that surrounds the vehicle. The touchscreen on the dash of the QX 80 is eight inches of impressively clear graphics.
Pairing your Bluetooth in the QX 80 will be hassle-free, and there are quite a number of automotive companies (which shall remain nameless) that should take note of how Infiniti and Nissan have practically perfected this technology.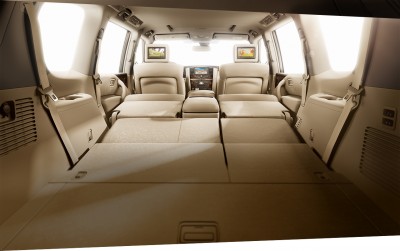 Listening to mellifluous sounds that come from the QX 80's Bose two-Channel, 13-speaker premium audio makes you want to linger longer inside the vehicle when you arrive at your destination.
Does stout and sturdy equal a smooth ride? Infiniti engineers are reportedly still making trips to the old drawing board to refine the QX 80's ride. As soon as you give her some gas, you can feel the QX 80's 5.6-liter V8 engine and 400 horses kick in, and acceleration is impressive. The SUV is also frightfully quiet and feels remarkably stable and solid — two factors that are crucial, especially when a vehicle is this humungo. The QX 80's agility is also a brow-raiser, the big boy is light on its wheels, and when fitted with the Deluxe Touring package and the automaker's advanced Hydraulic Body Motion Control system, its trucky DNA is practically a thing of the past.
Here's a coattail pull: rear-wheel drive is standard, with four-wheel drive (low-range gearing) it is available as an option. The QX 80 can also tow up to 8,500 pounds.
Safety is a big deal as far as Infiniti is concerned, and the QX 80 does not fall short. The SUV comes with stability and traction control, antilock brakes, a 360-degree parking camera, airbags every which way, and front active head restraints. Included with the Infiniti Connection telematics service are automatic collision notification, stolen vehicle notification, remote door access/locking, geo-fencing, and max speed notifications. The Technology package throws in a slew of other safety "wanna haves" like blind-spot monitoring, a lane-departure warning and keeping system, frontal collision warning, frontal collision mitigation. and a back-up collision mitigation system. As you can see, they've left no stone unturned when it comes to passenger safety. Pain and suffering potential will be greatly reduced but, of course, no car manufacturer can promise complete immunity from harm, so always make sure you know a good car accident lawyer just in case.
Gotta keep the fans in the back seat entertained? The QX 80 offers a DVD Theater Package that comes with a seven-inch color monitor in the back of each front headrest and wireless headphones and remote.
The nitpicks are that the QX 80's running boards should be wider in order to comfortably accommodate those with big feet. And getting up into the QX 80 is not an easy task for Lilliputians, kiddies, or AARP members, as the ground clearance is about 9.2 inches. The nearly three tons of fun is also thirsty but since it's a big ute, its gasoholism is kind of expected. The vehicle only drinks the 'good stuff' (i.e. premium gas) and has EPAs of 14 city and 20 highway. I managed to get about 13 mpg or so combined.
Bottom line: Infiniti has gone heavy on its craftsmanship with regards to the 2014 QX 80, and weighty in this case is a damn good thing!
Prices start at $62,700.