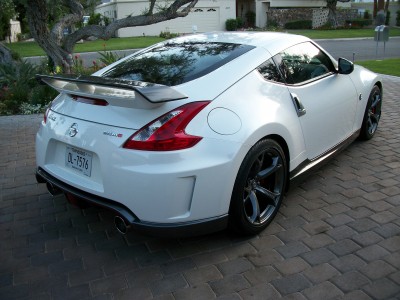 Man had just barely walked on the Moon when the first Z car landed on these shores- October of 1969, to be precise. Of course, back then it was the Datsun 240Z, and it was a remarkably nice, powerful and well balanced little car which pretty much started when you turned the key, which was a revelation to sports car drivers of the day. Not a Corvette, but a lot of fun for a screaming deal with a $3601 base price. At the time, it seemed to quickly become a favorite of young enthusiasts and those planning a midlife crisis.
Four and a half decades later and the now sixth-generation Z car is still with us. There've been stops and starts, and some regrettable misfires with two-plus-twos and two-tone paint schemes, but all in all the car remains true to its mission. I'm pretty familiar with the current iteration of the Z-car and reviewed it last year, but somehow had never spent time in the Nismo, so when the opportunity arose I gladly snapped it up.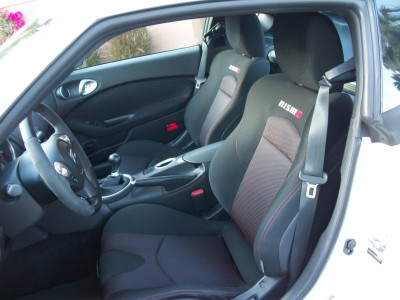 The Nismo is considered the ultimate edition of the 370Z, and much more than just a "track pack" with numerous cosmetic and mechanical enhancements. For starters, it has unique front and rear fascias that extend the length by approximately 6" over the base car. Add to that an integrated chin spoiler, side skirts, an underbody air diffuser on the rear fascia and a rear double wing spoiler. So it's not the car for skulking around anonymously and we haven't even gotten started. Throw in a gray lower body treatment with red striping, special gray 19" wheels with Bridgestone Potenza S001 tires (wider in the rear), a uniquely tuned exhaust with polished tips, and a retuned suspension.
Inside there's a lot of charcoal and red, including red stitching, black and red seat trim with the Nismo logo, and an alcantara wrapped steering wheel with a red leather accent at twelve o'clock, which proved remarkably engaging on twisty roads.
Lift the hood and there's an old friend- Nissan's pretty darn brilliant 3.7-liter VVT V-6 (VQ37VHR). I'll admit that this particular engine is one of my favorites, with a wide band of torque and a 7,400 RPM redline. It's fitted with a special Nismo engine cover and a cowl brace. In this application, it's rated at 350 horsepower, pretty much because of the special exhaust.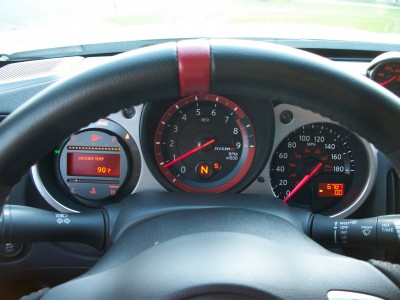 As interesting as the Nismo package is, it's also amusing what it is not. It's not offered with an automatic, instead Nissan's excellent six-speed manual with rev matching handles the shifting duties. It's doesn't come with Nav, just a large cubby on the dash. And it isn't cheap- the base price of our test car was $43,020, and with Bose audio ($1350), Nismo logo floor mats ($125), Illuminated sill plates ($200), a cargo mat ($95) a cool but too-small-to-take-seriously rearview mirror mounted camera ($790) and destination ($790), our Nismo retailed for $46,370. Not small change, and close to the price of the fully loaded Touring convertible we tested last year.
Before we get behind the wheel, let' just talk about the appearance. Make no mistake, The Nismo is the Godzilla of Z-cars- just ask my neighbors. The elderly-pushing-ancient lady next door who pretty much ignores my test cars came out in her bathrobe to tell me it reminded her of her husband's Porsche Carrera from four decades earlier. Another neighbor I had never met was out in the driveway taking pictures of it one afternoon, so the Nismo is one car that commands attention even when you're not driving the damn thing. So far, so good.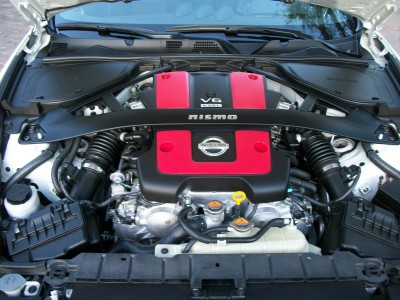 The interior get high marks as well, Instead of the sampler platter of textiles we saw last year, everything is black cloth and red trimming. The cloth covered sport seats are very supportive, the same fabric was applied to the door panels. and the entire cabin is very businesslike. The headroom was a welcome relief from the hairdo-destroying hellcat Camaro I had previously, and with the exception of the Senta-grade texture on the dash pad, the whole cabin was well coordinated.
Turn the key and the story becomes more mixed. Yes, the 3.7-liter and six speed stick is one of my favorite drivetrains on the market, but it's only 18 horsepower more than a base coupe- and a base coupe starts at a mere $29,990. The revised suspension handles brilliantly but the usual Nissan usual tradeoff of handling at the expense of ride rears its kidney-busting head. Don't get me wrong- the Nismo is downright delightful on smooth twisty roads (smooth is the key) and I'm crazy about the rev-matching six-speed, but here it's track-pack DNA comes to the surface. I have no doubt I'd be mad about it on an big oval, but the everyday ride over expansion strips and botts dots is rather firm. And that's fine, as long as you know what you're getting into.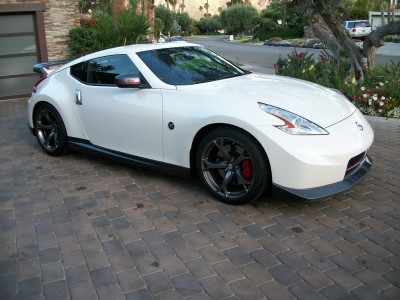 Which is pretty much an analogy for the whole car. If you want the ultimate attention-getting Z, the Nismo fills the bill. It's got a wow-factor that's pretty darn hard to beat for a car at this price point. If you have access to a track, you'll be crazy about it. It is the Godzilla of Z-cars. But as much as I love the drivetrain, this car screams out for more go to match the styling and the chassis. For me,  I'd go for a Touring Convertible with Sport package for roughly the same money and opt for the wind in my hair.