When you are LGBT, survived the gay 1990s and are now thriving in a pro-marriage state of the union, can you get any more fabulous? When you are Subaru, and especially if you are the Outback, well then, yes you can.
Across the board, everyone loves the brand new 2015 Subaru Outback, the little car that could and just gets better with age. This classic gay life staple is so good that for 2015, U.S. News and World Report found that car reviewers across the World Wide Web felt the Outback was the number one wagon of the new-car litter. (I know when I come out on top, I feel great too.) The 2015 Outback is indeed the chariot of fire that gets great gas mileage, has interior space comparable to larger SUVs and still makes Melissa Etheridge sound great, via USB, SD or Aux In (all standard, BTW).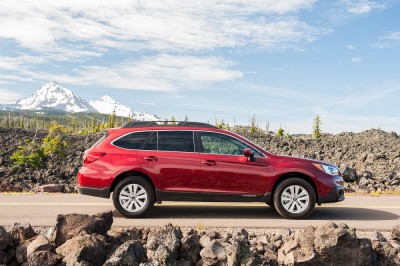 What's so gay and great about the 2015 Outback? First, there's lots and lots of space, far more than last year, picking up almost three more cubic feet of space. Goodness, that's almost one pocket bear and one baby dyke combined into one salt-and-pepper picnic package! As for length, this car is almost a foot longer than, say, the RAV4. Like anything that grows a few inches when you aren't expecting it, there is joy but there can also be some pain felt internally. Caution is advised when trying to park this grower. Those extra inches can force you to rethink your entrance and exit strategy. (It's the same length and the same girth as last year, but for some reason, it just looks bigger now, so be careful.)
I drove the top line 3.6R Limited, which retails for around $36,000. This one gets you a 6-cylinder engine with 256 horses (Roar!), which really does provide the pep needed to get this little pocket bear up and shooting. (Other reviewers say to avoid the 4-cylinder, and the tradeoff is mileage, almost ten miles a gallon more if you aren't firing on all six cylinders.)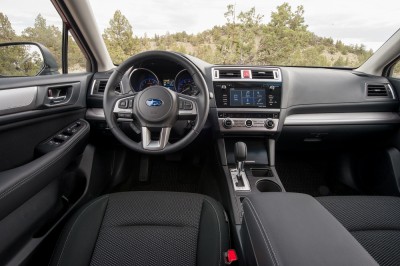 One of the very nice options for the Outback is something called 'EyeSight'. Though it sounds like a gay hookup app, this technology lets you see and feel everything around you (wouldn't that be great in a blackout room?). Let's say some queen decides to step out right in front of your vehicle as you cruise through the main drag. EyeSight will sense the queen and her Prada 2007 bag and automatically apply the brakes. Yes, you may lose your latte and she may lose her panini, but you will both be safe and scratch-free. Only a gay classic like Subaru thinks about keeping you and your pedestrian bodies safe during an intimate encounter, because, well, sometimes a chance encounter will and can impact you for the rest of your life.
And Subaru is once again ahead of the curve by offering a standard rearview camera on every car. You should always know who you are backing up against; let Subaru get you to relax and enjoy what's coming without 'smack'.
I really don't know how Subaru does it. Just like trendy queer bars, it was only the gayest of the gays who patronized these clubs in years past, but now all types of straight people flock to the gay bars and to the Outback so that they can be as cool as we queers have always been since the Cold War. The 2015 Outback is not really big, not really small … it's kinda in-between. Some like it hot, some like it cold, but with Subaru, it will always be butch and bold.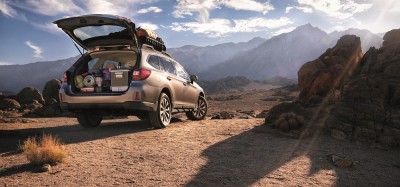 The 2015 Outback has been described by Edmunds.com as a "go-anywhere, do-anything" kind of car, and when you are a big gay car hopper like I am, that is high praise (and a rather apt description of the company I keep). To be sure, the Outback is all new for 2015, and some of the design elements are noticeable, I guess. I just focus on the great ride and how secure I felt in, much like when I am going out with lesbian friends who really do defend my honor, even when I mouth off to the wrong leather types (read: bikers).
And yet, maybe I've been driving the Outback for too long. This is a nice new car, yes, but I can't say anything sparked me. Maybe I am just too used to the Outback always being fabulous. Yeah, I enjoyed the 2015 model but I didn't immediately feel all the pizzazz that all these other breeder reviewers saw. I guess it's like when Lady Gaga finally went mainstream; we in the Gay Pride world were kinda bored once she released Artpop and Applause (Applesauce?) in 2013.
But that doesn't mean we don't love it anymore. Au Contraire, I pledge allegiance to the six stars of the Subaru logo and to Ms. Germanotta – and will remain faithful …. Or as faithful as a hot daddy bear like me can be. (That's my dollar-a-word press release copy and I am sticking with it!)
Once again, if you need a tough reliable kinda-compact car, regardless of orientation or ability to accessorize, the 2015 Subaru Outback is the car for you. I was actually considering buying an Outback last year, like my roommate Dave has, until a handful of banks (well, all of them) told me I should marry up and that might improve my credit score. Indeed, Experian and Transunion don't feel that being just a good time is enough….
But just because you can't buy doesn't mean you can't dream. Just like Toni Collette in the 1994 Australian movie Muriel's Wedding, where she dreams about walking down the aisle in white as ABBA sings, I too dream of someday owning an Outback. My fantasies even include what I like to refer to as 'car porn': various cutouts and bookmarks of models I find particularly titillating. They are all so big and strong and sexy – and look great standing bare in front of rocks, trees or stadiums.
Just as ABBA used to sing last century, Lay All Your Love on Me, Subaru!
Mamma Mia, Indeed!