Earlier this year, my videographer asked me what car he should buy.  He drove a Saab 9-3 with about 200,000 miles and it was finally costing a pile of money and displaying questionable reliability.  Whatever I suggested, it needed to be affordable, comfortable, and durable.  That became a long list until he said, "I need to be able to go wherever the story is no matter what the weather."  One thought:  Subaru!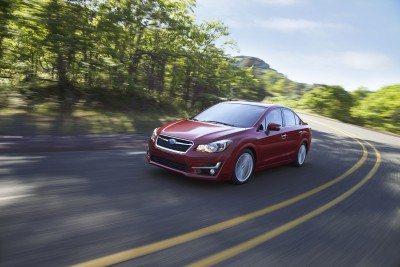 Subaru Impreza, that is.  Why?  Unlike the others in its class, it has all-wheel-drive standard.  There is no better feeling than waking up and seeing snow or ice and giving no thought about it.  Just get in and go.  It helps that the Impreza is also a handsome little guy.
Styling was updated for 2015 with new headlights, grille, and bumper.  It looks expensive, ready for any upscale driveway or carpark.  While my photog chose the five-door hatchback for utility, we drove the Limited sedan.  An arching roofline, deftly-etched body creases, snazzy taillamps, and 17" alloys put beauty in the pageant.  To me, the Impreza has better proportions than the larger Legacy.
My Saab-driving friend should also be happy inside.  Like his former Swede, the cabin is simple yet well-crafted.  Heated leather seats are supportive, the leather-wrapped three-spoke wheel demands to be gripped, and the large analog gauges are easy to read.  Four people and their stuff fit easily.  Flip the seats down to toss in larger gear.  Everything you touch is softly padded or silver-finished.  Push button starting and automatic climate control add convenience.
Listening to loyal-but-vocal customers, Subaru stepped it up with the safety and infotainment tech.  Our test car came with the automaker's EyeSight crash avoidance system, which uses stereo cameras for lane departure warning, forward collision alert, and adaptive cruise control.  They're effective without being annoying.  Speaking of, the touchscreen is much less annoying before.  Menus are easier to navigate and there are proper knobs for volume and tuning.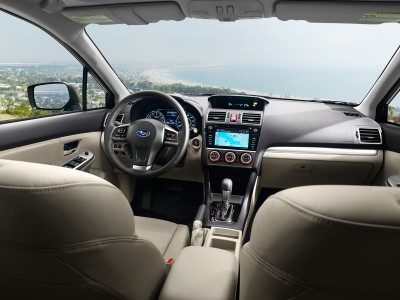 Subaru powertrains are almost as unique as their drivers.  As in Porsches, horizontally-opposed "Boxer" engines keep weight low in the chassis for improved handling.  The 2.0-liter four-cylinder in our car delivers 148 horsepower through a continuously-variable transmission.  I don't love CVTs because they scream like weedeaters, but Subaru's is well-behaved.  Expect gas mileage of 28/37-MPG city/hwy – quite good for an AWD compact.  Because of AWD, Subaru MPGs will always be lower than front-drive competitors, but they're now in the ballpark.
The joy of driving an Impreza comes from its sophisticated all-wheel-drive system.  Power can be shifted end-to-end or side-to-side to keep wheels gripping.  Toss it down any twisty road you want and the sport suspension takes it while torque is shifted about.  Utter confidence, no matter the conditions.
Beyond all this, Subaru spends significant amounts of money to environmental, social, and LGBT causes that matter to its customers and employees.  By 2016, Impreza will join Outback and Legacy at Subaru of Indiana in Lafayette, Indiana.  You should buy an Impreza because it is a very good car, but can feel good about owning one from a company that contributes to Americans and causes they hold dear.
There are many entry-level luxury models I'd pass on the way to a Subaru showroom, which makes our test car's $25,885 seem very reasonable.  As for my photographer?  He's found joy without his Saab!
Storm Forward!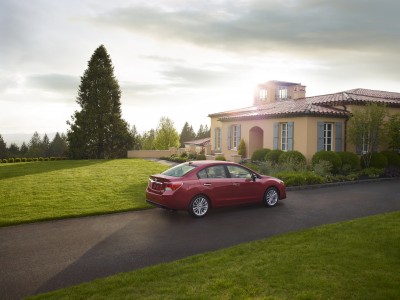 2015 Subaru Impreza Limited
Five-passenger, AWD Sedan
Powertrain: 148hp 2.0-liter H4, CVT
Suspension f/r: Ind/Ind
Wheels: 17"/17" alloy f/r
Brakes: disc/disc fr/rr
Must-have features: Style, Utility
Fuel economy: 28/37 mpg city/hwy
Assembly: Ota Gunma, Japan
Base/as-tested price: $18,195/25,885