Not everything stylish and well-made needs to be expensive.  IKEA and Target prove that every day.  But, when you think of well-engineered German touring cars, jumbo dollar signs probably dance across your face.  It doesn't have to be that way.  You can get a fine German automobile at Corolla prices.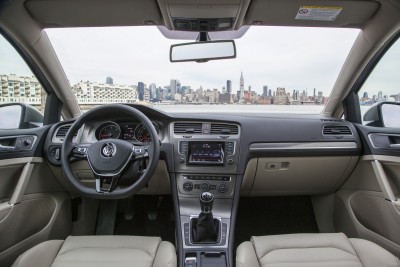 While it won't set your hair afire in Tungsten Silver Metallic, or with two doors and 15" alloys, the all-new 2015 VW Golf TSI looks sophisticated – an evolution of the Giugiaro design that debuted 40 years ago.  It's bigger, lighter, more streamlined, and drawn with tight creases. VW claims its drag coefficient dropped from 0.32 to 0.29 to reduce wind noise and enhance fuel economy.  From grille to hatch, you know it is a Golf.
Get around the big doors in tight parking spaces and you'll find an interior that's basic by VW standards, but befitting a luxury car by any other measure.  If you're looking for heated seats, Fender audio, automatic climate control, or a heated steering wheel, I laugh in your general direction.  Forget it.
Instead, our car came with VW's plush vinyl, padded doors, metallic-look center console, easy-to-use manual controls, and a touchscreen for audio and Bluetooth phone integration.  But, nothing feels cheap.  And, the perfectly-sized steering wheel is leather-wrapped.  No automaker makes connecting your iThings easier.  Or, just tune your favorite satellite radio station and rock on.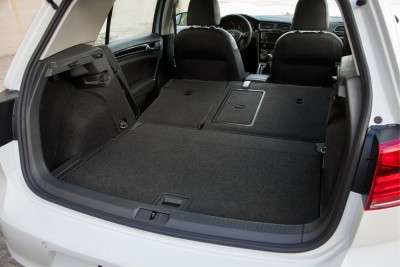 If you need to haul stuff, the inside is a cavern.  Rear passengers enter through flip-up front seats and are comfy once plopped.  Pop the hatch, deploy the rear seatbacks, and it's a little van – perfect for taking a bicycle to the park, hauling a dorm's worth of stuff, or moving into a first apartment.  Any messes can be easily wiped up.
Given the car's powertrain, you may make a mess of coffee or your baby's spitting laughter.  OK, the GTI and R will blow it into a heap, but there's no scoffing at the tire-squirking 1.8-liter turbocharged four-cylinder that delivers 170 horsepower and 200 lb.-ft. of torque.  Power is strong off the line, and while running full-Rabbit in the left lane.  Work the five-speed manual with care to enjoy 25/37-MPG city/hwy.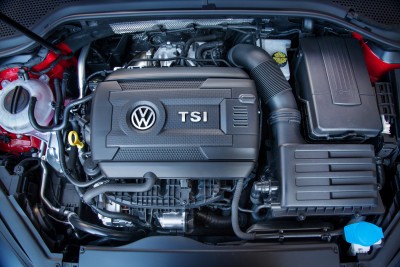 The Golf employs Volkswagen's new MQB modular architecture, which controls production costs while giving the car a solid, rattle-free structure.  Launch it over rough roads and the four-wheel independent suspension just soaks it up.  Electro-mechanical power steering is light, but precise.  I'm also reminded of the days when smaller wheels with thick tire sidewalls did a far better job of killing road harshness than today's low-profile rubber on giant rims.  The Golf seemed unbothered on roads that shake your moneymaker in other compacts.
If you want a perfect car, keep looking.  The two-door Golf looks boring, doors are huge, and the interior is fairly basic.  But, like Michael Graves kitchenware at Target, this Vee-Dub is smartly engineered, robustly built, and pleasantly styled.  A base price of $17,995, or $20,115 as-tested, defies the idea that a fully Germanized ride has to cost like you bought it from Prada.  Competitors include the Honda Civic, Toyota Corolla, Ford Fusion, Chevy Cruze, and Hyundai Elantra.
Storm Forward!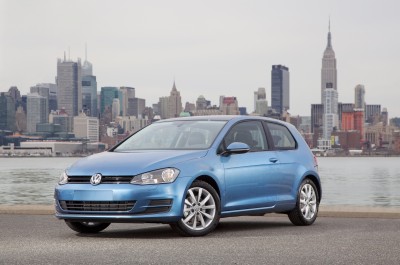 2015 VW Golf TSI
Five-passenger, FWD Hatchback
Powertrain: 170hp 1.8-liter Turbo-4, 5-spd manual trans
Suspension f/r: Ind/Ind
Wheels: 15"/15" alloy f/r
Brakes: disc/disc fr/rr
Must-have features: Handling, Efficiency
Fuel economy: 25/37 mpg city/hwy
Assembly: Puebla, Mexico
Base/as-tested price: $17,995/20,115