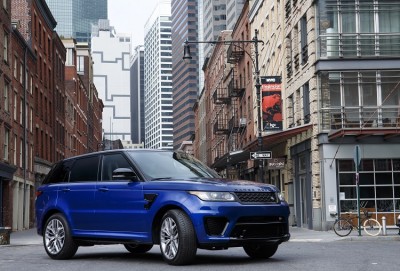 You were probably, just this morning, standing in the driveway trying to decide if you'll buy a Bentley Continental GT or a Cadillac Escalade.  I feel you.  Should you get that exquisitely-crafted and satisfyingly fast coupe or the all-road, all-capable, supremely comfortable SUV?  Well, I'm here to solve your dilemma.  Throttle the Range Rover Sport SVR.
How Land Rover turned its image of building hard-core luxury trucks, renowned for their off-road capability and favorites of British royalty, to high-performance street cars modified by its in-house tuner is rather astonishing.  But, it works and hail the product planners who had the vision.  It turns out the 45-year-old Range Rover design looks great chopped, lowered, and streamlined – especially painted Estoril Blue with blacked-out trim and 21" alloys.  Blue Brembo brake calipers lend a certain flair.  And, yet, you know what it is instantly.
This blend of sport, luxury, and capability continues inside where our Autobiography edition welcomed four lucky passengers with individual wrap-around seats – heated/ventilated in front.  As in all Range Rovers, you sit up high as if surveying your country estate – or in the SVRs case, your weekend track club.  You'll miss nothing from your ex-Bentley when you peer at the carbon fiber veneer on the console, dash, and doors.  A heated steering wheel, electrically-heated windscreen, panoramic sunroof, and 1700-watt Meridian audio system soothe any journey.  Adaptive cruise and blind spot warnings make them safer.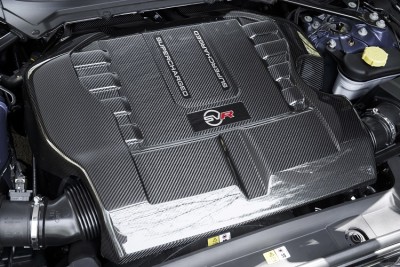 At the heart of this debauched carriage is a 5.0-liter supercharged V8 that dispenses 510 horsepower and 461 lb.-ft. of torque through a paddle-shifted 8-speed automatic transmission.  Tap into the throttle as cherubs sing and devils dance.  It's that kind of power.  Nearly pointless start/stop technology pauses the engine at rest to help deliver 16/19-MPG city/hwy.  Even with an aluminum chassis, doors, fenders, and hood, it's a heavy truck that gets shoved through the air with a bunch of gas.  You pay for the privilege.
You may worship at the engine's altar, but you'll tithe for the chassis and all-wheel-drive system.  The air suspension tames fast freeways and rough city pavement, but can also be height-adjusted for access, standard driving, off-road, or extended height for fording the occasional stream.  Of course, you might want to kick off the performance tread if that's your endeavor – all the better for exercising the Terrain Response System that adjusts the chassis and powertrain for General, Snow, Mud, Sand, or Rocks.  While fiddling on the console with the suspension and terrain mods, look for the little button with twin exhausts on it.  Press it whenever you want a delicious dose of exhaust rumble, but preferably not when leaving the 'burbs pre-dawn.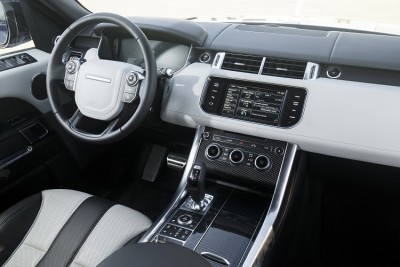 Having a vehicle that gives up little to a top-grade luxury coupe or fully-capable SUV comes with an equally impressive price tag.  While you can buy a Range Rover Sport for $64,950 and an SVR for $79,995, our princely version came to $126,360 – just slightly closer in price to the Escalade than Continental.  If that price leaves you unbothered, go forth and enjoy.
Storm Forward!
See Casey's video of the Range Rover Sport on YouTube and follow him on Twitter: @AutoCasey.
2015 Range Rover Sport SVR
Five-passenger, AWD SUV
Powertrain: 510 hp 5.0-liter SCV8, 8-spd auto trans
Suspension f/r: Elect. Ind/Ind
Wheels f/r: 21"/21" alloy
Brakes f/r: Brembo disc/disc
Must-have features: Style, capability
Fuel economy: 16/19 mpg city/hwy
Assembly: Solihull, U.K.
Base/as-tested price: $64,950/126,360