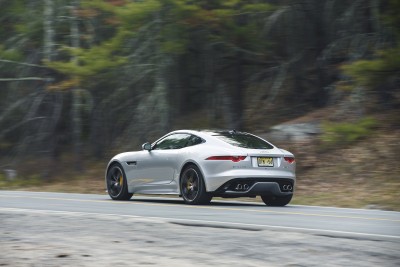 We have to get away. Not in the super chain, everything's the same, Hampton Inn kind of get-away, but a classic inn, stay a week if you wish kind of get-away. That was the thought when my sister-in-law, brother-in-law, and niece came to visit. My husband, daughter, and I love staying at the inn in Indiana's Pokagon State Park, a 2.5-hour drive up I69 from Indianapolis. We're all going to go! And, a Jaguar F-Type R AWD just happens to be in the driveway. It can go too.
One look and my brother-in-law calls shotgun. "The girls" can travel with our girls in our Mini Countryman.
Styling takes us back to the classic E-Type, recognizable with an oval grille, large headlamps, long sculpted hood, and rear haunches drawn tight over the wheels with contours and creases that make boys swoon. The long fastback and delicate wrap-around taillamps recall Jaguar's best designs. To update all this style for today, when designers must meet crash, pedestrian safety, and aerodynamically-enhanced fuel economy standards is quite a feat. Bang on!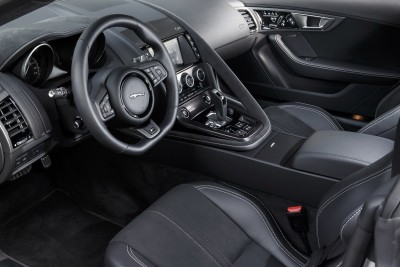 Unlock the doors and flush handles pop out for entry. Forget about wood-paneled clubrooms; Jaguar has gone high-tech with carbon-look console, stitched suede, and touchscreen for navigation, audio, and climate. A simple volume knob works better than tuning via screen. Suede and leather sport seats are all-day comfortable given adjustable side bolsters and heated cushions. Add in a heated steering wheel, glass roof panel, 770W Meridian audio system, and it's hard to complain. Back-up sensors/camera, front sensor, and blind spot monitor protect all flanks. We're ready to romp.
We have a little issue with luggage. Packing four adults and two toddlers into the luggage holds of the Mini and Jag was challenging. I packed all of my stuff into an outlet mall Coach duffle – because I wasn't about to schlep out of the Jaguar looking like airline trash. My husband, packing for two, filled a large suitcase – plus two bags for diapers, books, and his electronic accoutrement. There's enough space under the F-Type's power-operated hatch for a week away, but pack light.
My husband says, "We'll follow you." To which I reply, "No you won't!"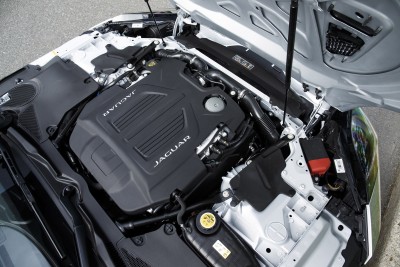 Half-way to the park, I'm basically idling the Jag in the right-hand lane as my husband decides to get spunky by pulling up next to me. My sister-in-law gives a sly look, then a thumbs up. That's all it took. I pressed my foot to the floor as the exhaust roar from hades erupted, a split before the 550 horsepower supercharged 5.0-liter V8 re-cogged the 8-speed automatic transmission and kicked the all-wheel-drive system. We were gone! My brother-in-law cackled. When not out-pacing Minis, we saw a reasonable 15/23-MPG city/hwy.
But, the Jag isn't just about mind-bending acceleration. It's actually a pretty tame pussy cat, lulled by an electronic suspension system that grabs corners by their apexes, but rides comfortably otherwise. Drivers can adjust the car's performance between comfort and sport, but press the button with twin exhausts to awaken the neighborhood. After a late-night ho-down (seriously – banjos and all), we put the exhaust in quiet mode to creep back to the inn.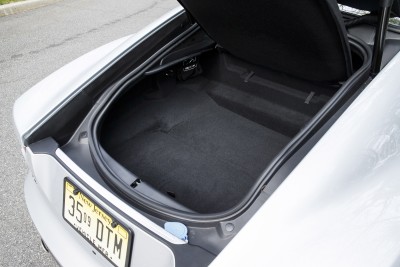 On our last morning away, the park was hosting a sea plane fly-in. Very cool. But, when I heard most of them would have a difficult time exceeding 80 mph in a headwind, I laughed. If we left in a running race to our modes of transport, there's a good chance the Jaguar would be in my driveway before the plane landed nearby. And, I guarantee, we'd have a lot more fun.
You can get an F-Type for $65,000, but the R AWD came to $128,695. At that price, competitors include the Chevrolet Corvette Z06, Porsche Cayman GT4, Mercedes-AMG GT-S, Aston Martin Vantage, and sea planes.
Storm Forward!
Follow Casey on Twitter at @AutoCasey.
2016 Jaguar F-Type R Coupe
Two-passenger, AWD GT
Powertrain: 550 hp 5.0-liter SCV8, 8-spd auto trans
Suspension f/r: Elect. Ind/Ind
Wheels f/r: 20"/20" alloy
Brakes f/r: disc/disc
Must-have features: Style, performance
Fuel economy: 15/23 mpg city/hwy
Assembly: Castle Bromwich, U.K.
Base/as-tested price: $65,000/128,695