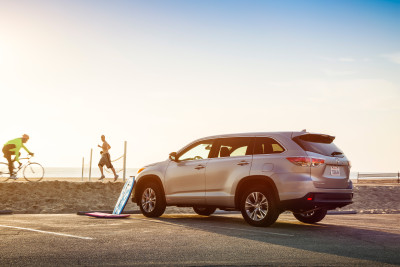 My roommate Dave dented up one of those Hugh-Jass flat screens and needed to replace it with some that's even more Hugh-Jass. He found a deal at Costco for a 70-inch flat screen TV, but alas, there was no way he could get it home in his practical and smaller SUV. Sammy Gomez to the rescue, and off we went to retrieve this bargain, of which there were only a few left. A couple of heave-ho's from us two bear-ly military veterans and it lay perfectly flat and safe inside the 2015 Toyota Highlander. The impression on me was indelible: protect yourself and your electronics with a vehicle that cares as much about you as it does about its bottom line.
Of course, the 2015 Toyota Highlander is more than just a convenient way to make large purchases and carry them with you and a friend. This year's Highlander gets high marks across the internet, with the only real downside being that compared to other similar vehicles (Hyundai Santa Fe, Jeep Grand Cherokee), the interior space falls a smidge short. Admittedly, this is a functional car for a more-or-less functional family. The interior is nice but not frilly or plush, and you don't have to worry about getting it dirty. Cheerios, smoothies and mud-laced footprints clean right up.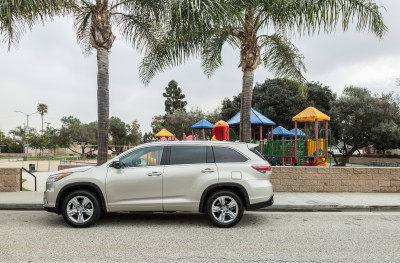 The base engine is a four-cylinder that offers plenty of power, though you can get a six-cylinder engine if you really want something that goes Grrrr! every time you punch it. Mileage is about 20 / 25, and that's good for the class. To me, this year's Highlander seems smaller than last year's model, but I have been assured they are the same size. Parking is a snap, especially with a standard rear-backup camera. I found it fun to drive, or maybe I should say that it was pleasant. To me, if I can drive a car with no intensity coming from it, that is fun, and that is exactly what I want in a smooth ride. Save the headaches for your love life.
Another beauty of the 2015 Highlander is that it is relatively easy to maintain. Here's a great how-to article from car guru Jason Lancaster about how you can use nail polish, toothpaste, bungees and other items (that I know you keep in your heavy-duty makeup kit) to gussie up your Highlander and make it prettier and more functional. Click here for all these 'hacks', to include how to sleep in your car (for fun, not out of necessary, I hope).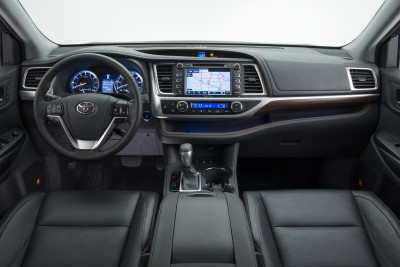 I have to admit, I like the 2015 more than the 2014 Highlander, and I was left with a subtle positive impression that wasn't loaded with words like wow, cool or even golly. It was just a nice, reassuring feeling that this is vehicle worth keeping around. Parking it in San Francisco, Seattle or other tight cities could be a drag, so be sure where you live can support what you may love.
From all of us at gaywheels.com, we hope you are truly enjoying this holiday season. Get the bargains, not the headaches.
And as always, drive safely. Even a fender bender can ruin a good bargain or afternoon sitting on Santa's lap.