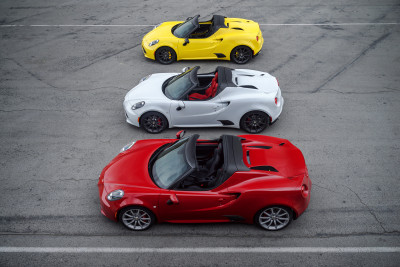 To be blunt, the 2015 Alfa Romeo 4C Spider is race car, not a car made for casual Americans.
I say that because the creature comforts on this car are extremely few: the seats are cramped, the car sits uncomfortably low – and there is no power steering. If you have ever had rotator-cuff surgery, you shouldn't drive this car. It goes too fast for someone who really does not have a massive amount of upper-body strength.
For just over $77K, you get an inline-four cylinder engine – yes, no V8 or V6, but this compact all-aluminum engine is turbocharged and delivers 237 hp with 258 lb-ft of torque. It's powerful, sits in back of the car and cramps out the trunk space, which you will need for all the other gear this Spider needs to get down the road. Pack smartly, as there is no room in the trunk, even if there is room at the inn.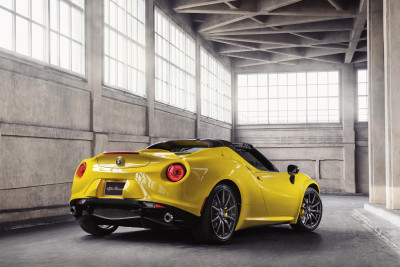 Before you get going on the Alfa, you will need to learn all about the buttons related to shifting gears: A/M, 1, R and N. Each is a button (not a sequence) and each does something different in a somewhat logical fashion. The trick here is to learn how to drive the Spider before you actually drive the Spider.
Here's the upside: this thing is fast, meant for racing and, honestly, not for driving. It has a carbon-fiber body that makes it lightweight. The engine is intentionally just four cylinders; again, to make it lighter. You race this car, not drive it. When actor James Dean died in a car crash in 1955, he was driving a Porsche 550 Spyder. Note the theme here: spiders can crawl very fast because of all eight legs working in unison. Spiders can out-crawl their prey and eat them. I'm just saying……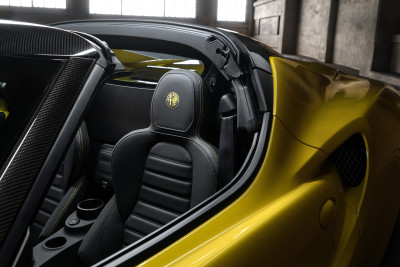 Don't drive this car in the city or anywhere near it. Shifting is rough and noticeable, especially when you have to do such plebian things like stop at stop lights and yield to oncoming traffic or health nuts on bicycles. Steering is an excruciating workout that will require a nice Ben Gay / Aleve combo once the engine has stalled. The car's body is wide, almost as wide as a big car. Your side and rear visibility is limited (which is what sent James Dean crashing). And as Elmer Fudd says, be very, very careful on city streets where even the shallowest of drainage ditches on the road can cause a screeching scraping that, well, it hurts.
A few other notes: the radio controls are too small. There is no power steering. The seats are not made for American rear ends. It sits lower to the ground than a cheap beach chair. And the cup holder is small and difficult to reach if you have not done your hot yoga. Other than that, Mrs. Kennedy…..
Many people are just gaga about Alfa Romeo's return to the United States with this kind of race car. My feeling is: Meh. But admittedly, I am not a race car guy. I don't get the point, I will admit. But I do feel incredibly sexy when I get into one ….
My challenge, even 20 years ago, was being able to get out of one.