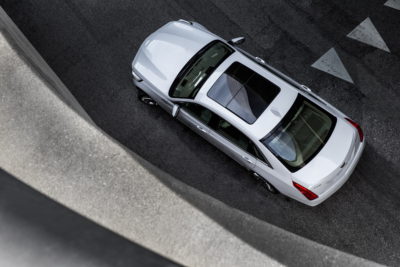 Cadillac President Johan de Nysschen is trying to turn the historic brand into a fashion statement, highlighted by its new "Cadillac House" display space at its New York City headquarters. While Cadillac has a long history of being a fashion statement, bolstered by iconic owners like Elvis Presley, Marilyn Monroe, and Frank Sinatra, the brand is also delivering some great cars like the CT6.
Cadillac needs a proper flagship. There's the Escalade – Cadillac's true flagship – and the XTS, but neither are the kind of large, technologically-advanced sedans on which competitors build their reputations. Think cars like the Mercedes-Benz S-Class, BMW 7-Series, and Audi A8. This isn't that car, but it's close.
You may mistake the CT6 for the mid-size CTS, but up close, the car has presence. It stretches in length between the short- and long-wheelbase 7-Series, but shy of the benchmark S-Class. Placing it on the runway are brand design cues like the textured chrome grille, light blade running lamps, smooth flanks, formal roofline, and vertical LED taillamps. Large 19" polished aluminum wheels plant it. If you saw this car deep in the Black Forest at midnight, you would know it's a Cadillac. Lighted doorhandles welcome passengers.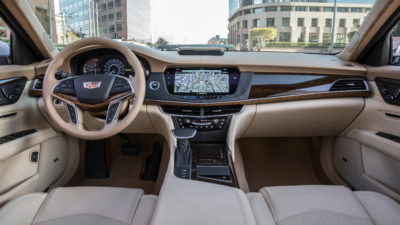 The cabin is Cadillac's best attempt yet at an environment that supplies the aura of old world craftsmanship over cutting-edge tech. "Cut-and-sew" perforated leather swaths the dash and goes beautifully with planks of polished Mineral Poplar Burl wood, and glistening Bronze Carbon Fiber trim. A dual-pane sunroof brightens both rows of seats while heated/ventilated front seats, heated steering wheel, and heated rear seats enhance comfort.
Infotainment is controlled through Cadillac's controversial CUE system that utilizes touchscreens and voice. Swipe through music selections as with an iPad. Volume is adjusted through a small "swipe pad" below the touchscreen; just twitch your finger left or right to raise or lower sound. With the 34-speaker Bose Panaray audio system ($3,700 option), satellite radio, and Bluetooth smartphone connections, it's easy to fill your ears. It's delicious. Summon the world through your iThings, Apple CarPlay compatibility, and the car's 4G Wi-Fi hot spot.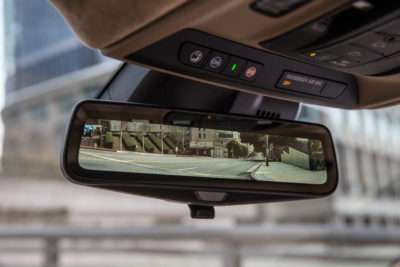 A considerable array of technology ensures safe travel. The rearview mirror is actually a thin video screen, connected to a rear camera. Our car also came with GM's Safety Alert Seat that vibrates in the direction of danger. There's also side blind zone alert, rear cross traffic alert, forward collision alert, and lane keep assist systems. A pedestrian detection system alerts drivers and can auto brake to avoid low speed collisions. The big sedan can even parallel park itself.
Fashion or otherwise, the powertrain makes a statement. You can get the CT6 with a 400 horsepower twin-turbo V6, normally-aspirated 3.6-liter V6 and all-wheel-drive, but our rear-drive model came with the 265 horsepower 2.0-liter turbo-four engine with auto start/stop. It mates with a paddle-shifted eight-speed automatic transmission that helps it attain an impressive 22/31-MPG city/hwy. Not efficient enough? A plug-in hybrid that can go 30 miles on a charge and achieve 65-MPGe arrives for 2017.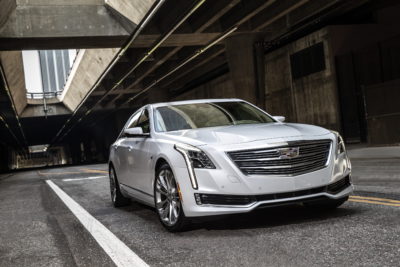 The CT6 is not as sporty as I wished, but far more athletic than most drivers will expect. Despite a lightweight body structure with 11 different materials to imbue strength and agility, the car does not feel as precisely tuned as the smaller CTS. Magnetic Ride Control tames the big wheels over rough pavement, and provides a comfortable ride on the highway, but lacks a true sport mode for enthusiastic drivers. A little finessing would provide the true driver's car the CT6 has the ability to be.
Until a proper flagship arrives, the CT6 is the Cadillac of Cadillacs – the best four-door the brand has ever fielded and a well-honed stepping stone to the upper echelons. Escalade has proven for two decades that the stylishly affluent are still enamored with the Cadillac vibe and sumptuous comfort. Cadillac only needs to reach a little higher to fully arrive. Expect to pay at least $53,495 or $65,315 as-tested.
Storm Forward!
Contact Casey at [email protected]; follow him on YouTube and Twitter.
2016 Cadillac CT6
Five-passenger, RWD sedan
Powertrain: 265 hp 2.0-liter Turbo I4, 8-speed automatic transmission
Suspension f/r: Elect. Ind/Ind
Wheels f/r: 19"/19" alloy
Brakes f/r: disc/disc
Must-have features: Power, Interior style
Fuel economy: 22/31 mpg city/hwy
Assembly: Detroit-Hamtramck, MI
Base/as-tested price: $53,495/65,315