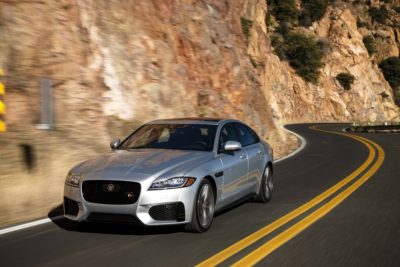 A Jaguar is about proportion and balance – and an understated roar. There's the long hood, prone stance, sumptuous cabin, and a powertrain bred to leap up and scat away. Think of the classic E-Type, XJS, XK8, and today's F-Type. Take all that is Jaguar, mash it into a sleek sedan, and you have the second-generation XF.
It's a smooth blade, shushing the wind with a sleek 0.26 drag coefficient – better than most sports cars. It presents as a Jag from the ovoid cross-hatch grille, long hood, fastback roofline, and elegant narrow wrap-around taillamps. Fenders with crisply formed shoulderlines draw tight over 20" wheels. Adaptive LED headlamps with auto high beams, LED running lamps, sculpted rocker sills with gloss black inserts, and hunkered windows embrace the modern age.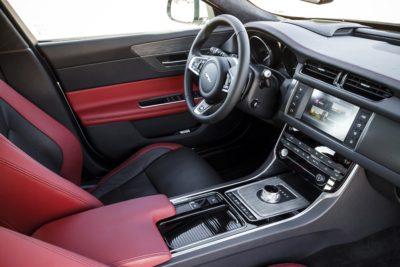 Moving inside, the XF hides its secrets – like vents with rotating covers and a knurled shift knob that retracts when the engine shuts off. It's all so British agent of itself. In Jaguar tradition, passenger space is cozy. One sits low in the car with a high console and wide dashboard. Long gone are expanses of burled walnut as the dash and doors wear panels of aluminum and stitched coverings. A sweep of woodgrain arcs from door to door beneath the windscreen. Heated and ventilated front seats, heated rear seats, and a heated steering wheel add all-season comfort
Open the big glass moonroof and explore the infotainment suite controlled from a four-quadrant touchscreen in the center dash. It's not the easiest to use, but isn't the hardest either. Radio stations can be direct tuned, but there's a starter button where you expect a volume knob and a volume knob where a tuning knob should be. Argh! Ergonomics are not Jaguar's strong suit, though the power bootlid may disagree.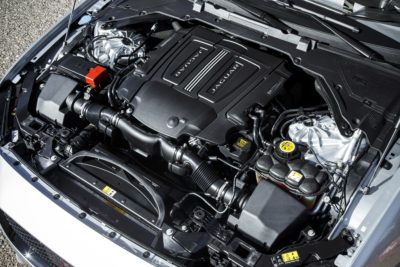 But, spend some time in the car, and you'll focus more on features like the thumpin' 380-watt Meridian audio system and head-up display. Stereo cameras support the Lane Keep Assist, adaptive cruise, and crash mitigation systems. Safety is further enhanced with a rear camera, blind spot monitor, and driver condition monitor. The cameras also recognize speed limit signs so drivers can automatically limit their vehicle speed to avoid tickets.
Forget that mess and kick it in the scamp. Under the swoopy bonnet is a 380 horsepower 3.0-liter supercharged V6 engine that trumpets through twin exhaust outlets. It connects to the rear through a paddle-shifted 8-speed automatic transmission. Auto Start-Stop may save fuel, but it's super annoying and there's always that unsubstantiated feeling the engine won't re-purr quickly enough to dart across traffic. Given the XF's performance, it's difficult to complain about 20/30-MPG city/hwy.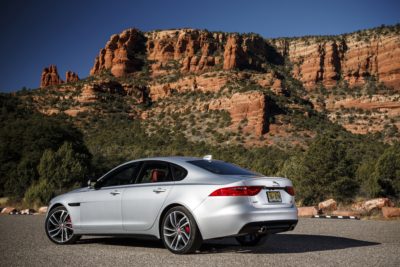 Forward motion liberated by the spirited V6 is amplified by the car's lightweight aluminum architecture. Stomp on it at almost any speed, and you'll grin big grins as the car thrusts you forward on a cloud of torque. Drivers can adjust the car's attitude through JaguarDrive that configures the throttle, suspension, steering, and transmission for Eco (damped throttle response), Normal (moderate throttle, suspension, steering), and Dynamic (heavy steering, sensitive throttle, auto-varying from stiff to supple).
Without doubt, the XF-S is stylishly fast, cosseting passengers in fat cat luxury and technology. Still, there's a fair amount of very un-Jaguarlike hard plastic on the center console and doors. Even in "Norml", the suspension struggles to keep the four 20" steamrollers from transmitting every bump directly to your bum. Powered air vent covers are unnecessary, but very cool.
British secret agent style and performance are the XF-S calling cards, carving its niche against competitors like the Cadillac CTS, Mercedes-Benz E-Class, BMW 5-Series, and Lexus GS. A base price of $47,450 – $67,235 as tested – puts it on balanced footing against all that roars.
Storm Forward!
Watch Casey's video review of the XF-S above, then follow him on YouTube and Twitter.
2016 Jaguar XF-S
Five-passenger, RWD sedan
Powertrain: 380hp 3.0-liter SC V6, 8-speed auto transmission
Suspension f/r: Electric ind/ind
Wheels f/r: 20"/20"
Brakes f/r: disc/disc
Must-have features: Style, powertrain
Fuel economy: 20/30 mpg city/hwy
Assembly: Castle Bromwich, U.K.
Base/as-tested price: $47,450/67,235