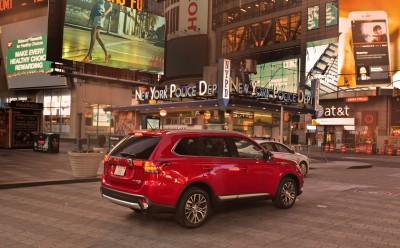 To be honest, few ever really consider anything from Mitsubishi when it comes to cars.
Right now, the new girl in school is the Honda HR-V, at least in the freshman class of peppy smallish SUVs with spunk and style. The HR-V really is a fun performer and quite a looker. The 2016 Mitsubishi Outlander competes with the Honda HR-V, which also kinda competes with the Honda Fit, a smaller, not quite SUV, but without a tape measure, who can really tell?
The Outlander for 2016 is all new, coming with sharp-looking alloy wheels, newly-designed LED lights everywhere and styling cues which really do look sexy and racy. In terms of looks, the Outlander can keep up with the new kids in class – not that anyone really notices your baby SUV when you pull up at the leather / drag bar, but in this case, they might.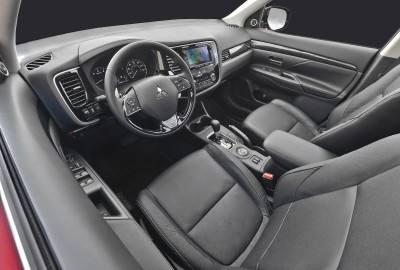 One feature I really enjoyed were the paddle shifters, which allow you to shift and control the car without taking your hands off the steering wheel. The paddle shifters on the 2016 Outlander are on the steering wheel and not stuck without movement on the column, like most are. That means you can shift while turning and not get your fingers caught in between the holes of the steering wheel. It's a little thing, yes, but, hey, when you have just spent an hour preparing your nails, you notice things like that.
But to be honest, cyberspace has not been kind to the 2016 Outlander. Consumer Reports called it dated, specifically saying that if this were 1996, the Outlander would feel special. Ouch. But indeed, others have had little true praise for this year's Outlander. I wouldn't say it's a dullard, because I did enjoy driving it. There is more than enough pep to get you from brunch to lunch to dinner to cocktails, and perhaps a cannabis shop to look at the cannabis grinders and then a pet supply store. And yet, once you are deemed the Charlie Brown or Napoleon Dynamite of the class, it can be hard to rise to a level where you are seriously considered for the Homecoming or Prom court. U.S. News and World Report pretty much has it trolling in the bottom of all its SUV lists. Whether or not it's warranted is questionable since their rankings are based on a collection of reviews around the web.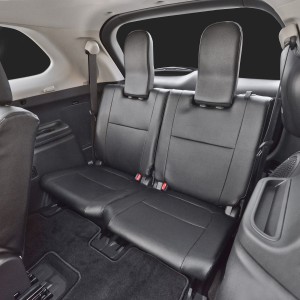 Pricewise, the Outlander is on par with all the smallish SUVs on the market, including popular cheerleader Miss HR-V. While you can get into the base trim for around $23,000, you don't get much for it … well, not compared to what other similar models offer for the base price. I mean, you do get the alloy wheels and a very good warranty. It really all depends on what's important to you.
I tested the Sport 2.4 SEL AWD and that really was a lot of fun. If you do want to consider the Outlander, I would look at the Sport trims, which are only a few thousand dollars more. But I would also take time to research and see what works for you.
Sometimes in the car-buying realm, you just need a good reliable car that doesn't do anything but keep you safe and relatively happy. The 2016 Mitsubishi Outlander is definitely that car – perhaps not much else, but those who do own one like it.
And so it goes. Given this election cycle, safe and reliable and relatively easy on the eyes may be our best bet. As the Donald Trump train turns into an unsalvageable train wreck, we should do more than just admire the shock and awe of it all. In order to do that, a safe and reliable and probably unimpressive exit, in a decent vehicle, is in order.
Go Outlanders, Outliers and Highlanders!