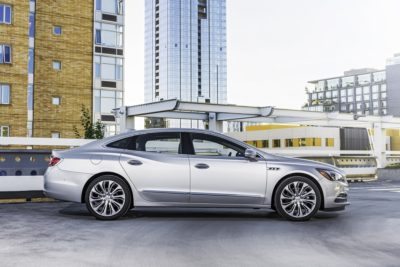 A couple of years ago, Buick rolled out the Avenir concept car on opening night of the Detroit auto show. It was a big, proud sedan riding on a rear-drive architecture. It's big wide grille, winged Buick logo, ventiported fenders, and flowing haunches projected contemporary style while connecting it to historical Buicks. It appears Buick is moving further away from a rear-drive luxury sedan, leaving that domain to Cadillac, but the 2017 LaCrosse speaks fluent Avenir.
The new LaCrosse replaces a car that was designed in Shanghai and was admired for its sleek, smooth lines. This one has a lot more character and dynamic stance. The day I drove the car home, my neighbor cruised up on his bicycle, admiring the car. He thought it looked a lot sportier, more German, and definitely more exciting. I think most people will agree.
De-emphasizing waterfalls, Buick's new grille is surrounded by chrome and adorned with a winged tri-shield logo. A chiseled hood, near-fastback roofline, and 20" wheels give it dynamic proportions while elegant chrome-lined L-shaped taillamps and angled stings of LEDs up front tie it to global models like the Regal. Portholes up front and a hint of "sweapspear" in the rear body sculpting confirm its identity as a Buick.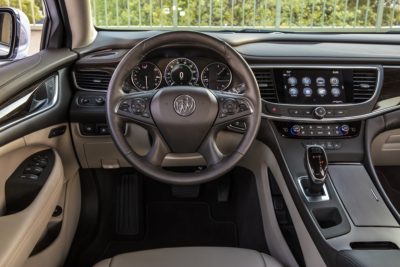 Favorite features of the outgoing LaCrosse's interior included sweet-smelling heated/ventilated leather seats, curved center console and control stack, and diffused lighting creeping from dash crevices. It also had stretch-out rear legroom. That all returns for the new model, but the center console is a flybridge design with storage beneath. A panoramic sunroof floods in light while the power-adjusted heated steering wheel feels and looks delightful. I'm not a big fan of large expanses of faux wood, but the LaCrosse wears it well. Active noise cancellation provides a library-quiet cabin.
The technology suite rivals the segment's best. A revised touchscreen makes accessing navigation and USB- or Bluetooth-connected devices intuitive. The big volume knob is appreciated, and so is a direct-tune function, but a tuning knob would work even better. The 11-speaker Bose audio system, reconfigurable LCD instrument display, and head-up display make driving more enjoyable. Safety is fortified with forward collision alert, lane keep assist, rear cross traffic alert, side blind zone alert, and adaptive cruise control. Automatic parking assist, pedestrian detection, and front automatic braking do their parts too.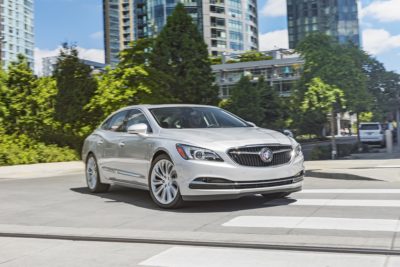 Between fenders of portholes runs a 3.6-liter V6 engine that delivers 310 horsepower and 282 lb.-ft. of torque – routed to the front wheels via a new 8-speed automatic transmission. Beyond being incredibly smooth, the powertrain offers ample power to stomp the big sedan down the road with vigor. And, I usually despise auto stop/start that pauses the engine at stops to enhance fuel economy, and normally reach for the off button immediately upon starting so-equipped cars, but the system in the LaCrosse is virtually undetectable other than the tachometer falling to "0". Fuel economy rates 21/31-MPG city/hwy.
Despite all of the flashy bodywork and shushful power, the LaCrosse is no sport sedan. It's a big American luxury car and should be considered such when one thinks of flogging it rapidly through corners. The chassis provides a comfortable Interstate ride, and does a good job of a rumbling over rough pavement, but those big 20" wheels keep the suspension busy and sometimes let harshness seep through. Hit the Sport button for a tighter suspension and steering. The steering could be livelier, but the car handles well given its purpose of spoiling passengers from sea to shining sea.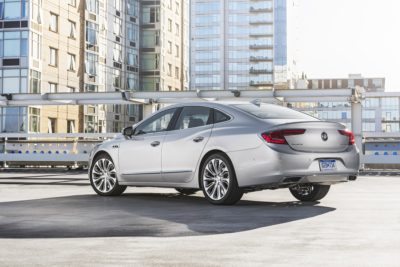 I liked the previous-generation LaCrosse and its Asian-American style very much. It was a beautiful car to behold and a tranquil living room to drive. The new car keeps all of the comfort and features I liked, amps them up, and drapes them all in styling that's sure to appeal to younger drivers. If you liked the old one, you'll like this one even more. A base price of $32,065, or $48,495 as tested, puts LaCrosse against the Toyota Avalon, Lexus ES, Acura TLX, Chrysler 300, and Nissan Maxima.
Storm Forward!
Watch Casey's video of the 500X above, then follow him on YouTube and Twitter: @AutoCasey.
2017 Buick LaCrosse
Five-passenger, FWD Sedan
Powertrain: 310hp 3.6-liter V6, 8-spd auto trans
Suspension f/r: Ind/Ind
Wheels f/r: 20"/20" alloy
Brakes f/r: disc/disc
Must-have features: Style, Power
Fuel economy: 21/31 mpg city/hwy
Assembly: Detroit, MI
Base/as-tested price: $32,065/48,495