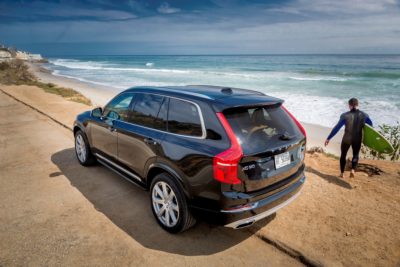 Even the key fob is a work of art, leaving a first impression of the XC90's specialness. When Ford sold Volvo to China's Geely nearly a decade ago, it was not known if the Swedish automaker would survive, thrive, or follow Saab into oblivion. Drive the new XC90 and you'll be sure Volvo has risen to compete with the world's best. The new XC90 is not just good – it's a crossover that will delight Volvo aficionados and give other automakers fits.
While more streamlined, the XC90's exterior still looks like the shipping container it traveled in from across the Atlantic – though in black paint, looks like a ride for the Swedish Mafia. It's clearly the next-generation XC90 with its strong shoulders and curve-following taillamps that rise from bumper to roof. A larger and more detailed chrome grille is adorned with the brand's famous logo, but is flanked by new trademark "Thor's Hammer" LED headlights. Our Inscription edition rides on 20" wheels. It looks like it's ready to traverse Nordic nights and Saharan deserts.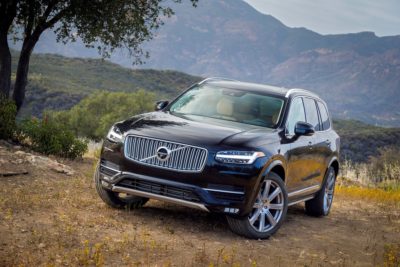 No matter which you cross, you'll be comfortable. Interior design adopts a Scandinavian ethos finely strewn with light wood, Nappa leather, and laser-etched switches for volume, engine starter, and performance control. Front seats heat, cool, and massage. Rear seats are also heated and enjoy their own touchpad for climate control. Three rows of passengers ride under a panoramic sunroof.
I've listened to some cherubic automotive audio systems, but sound produced by Bowers & Wilkins in the XC90s cabin is deific – truly fit for God's own cloud. It uses air compression to turn the cabin into one big subwoofer. Nothing buzzes or vibrates no matter how obnoxiously you crank it up. I Bluetoothed my phone and luxuriated in Susan Boyle, Audra McDonald, and Elvis' new albums with the Royal Philharmonic Orchestra, I even dreamed of California summer with the Beach Boys. I could have lingered there forever, discovering every song anew.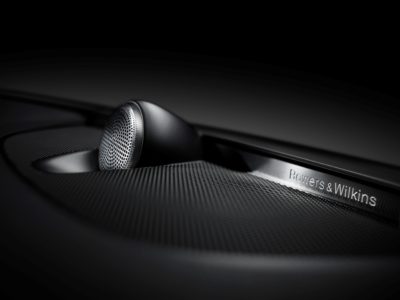 But when I saw the large touchscreen, rarely a sign of simplicity, I was ready to start my rant. But, after a few moments, I was swiping through logical screens to conjure entertainment, navigation, and climate controls. Swipe right for a full menu of crash avoidance systems: Lane keep assist, adaptive cruise control, forward collision mitigation with pedestrian/cyclist detection, blind spot warning, and rear cross path detection. Also control automated parking, unparking, and heads-up display systems. It's easier than ordering pizza online.
So, the XC90 only has a 2.0-liter four-cylinder engine. While that may not sound like a glamorous powertrain for such a chariot, that little engine is supercharged to get off the line quickly and turbocharged to give it deep lungs at speed. All in, the engine produces 316 horsepower – routed to the all-wheel-drive system through an 8-speed automatic transmission. Dial the laser-cut console switch for Eco, Comfort, Off-Road, or Dynamic. In the last mode, the throttle is hair trigger sensitive and the steering feels heavier. It will toss your hair back! Keep it in Eco and don't disable auto stop/start to see 20/25-MPG city/hwy.
Every inch of the XC90 reeks of quality, elegance, and safety – like a Swedish Range Rover. It's quick, relatively efficient, and flaunts a cabin fit for royalty. If this represents the future of Volvo, and the new S90 sedan plus a 53-MPGe plug-in XC90 indicate it does, these are going to be very good years in Gothenburg. A base price of $45,750, or $72, 805 as tested, puts the XC90 against the Audi Q7, Jeep Grand Cherokee, Acura MDX, Mercedes-Benz GLE, BMW X5, and Cadillac Escalade.
Storm Forward!
Watch Casey's video review of the XC90 above, then follow him on YouTube and Twitter: @AutoCasey.
2017 Volvo XC90
Seven-passenger, AWD Crossover
Powertrain: 316hp 2.0-liter Turbo/SC I4, 8-speed auto trans
Suspension f/r: Ind/Ind
Wheels f/r: 20"/20" alloy
Brakes f/r: disc/disc
Must-have features: Safety, Audio
0-60 mph: 6.6s
Top speed: 130 mph
Fuel economy: 20/25 mpg city/hwy
Assembly: Gothenburg, Sweden
Base/as-tested price: $45,750/72,805