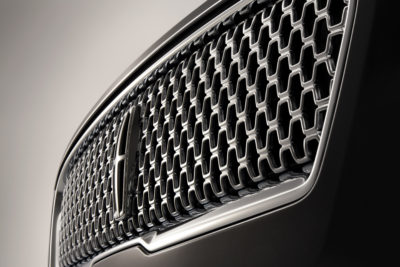 So, who hasn't salivated at seeing those Matthew McConaughey TV commercials for the 2017 Lincoln MKZ? The actor, who has been the brand's spokesperson going on two years now has without a doubt managed to get tongues panting with desire for not only him, a sexy man, but for the sexy sedan he's selling. Anything luxurious is titillating, no argument here, and Lincoln has managed to serve up the heat in this department with quite a number of their vehicles including the MKZ. The 2017 Lincoln MKZ sedan has had a facelift that would have made even the late great Joan Rivers a hatah. After being on the market for a few years now, the MKZ still draws longing stares from passersby. So why is this latest Lincoln a sexy beast?
"Bye Felicia" went MKZ's once monstrous toothy grille that has now been replaced by a striking Jaguar-esque one, framed by a chrome stripe along the bottom and sleek redesigned headlights with available LED lighting. The elegantly contoured midsizer's "makes you wanna look" exterior is no doubt, Euro-inspired. The Lincoln's cabin is definitely on fleek, decked out with really posh interior styling, seamless fit and finish, and brimming with all the latest infotainment technology. (The available Black Label [BL] trims offer sumptuous leather upholstery and rich woods.) Seating in the front takes comfort ten ways with optional lumbar versions that do a body good. The comfort factor is however compromised in the rear, where six-footers plus will not want to be long-haul motoring passengers, due to the sedan's sloping roofline and less than generous legroom. Even though the MKZ is long on looks, spacing in the rear is surprisingly abbreviated.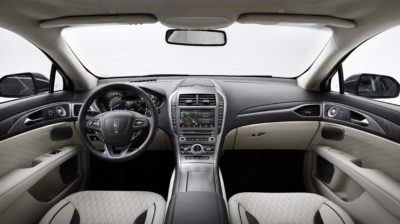 The big boyz at Lincoln actually heard the pleas from consumers, who hated their center console's sliding bars that have now been replaced with confusion-free and well-damped controls. The kicked-up-a-notch SYNC 3 interface with its capacitive touchscreen, offers functionality bar none such as an optional pinch-to-zoom navigation system, responsive voice recognition, and Revel audio system that produces eargasmic sounds via either 14 or optional 20 speakers. The MKZ also offers a decent amount of trunk space, 15.4 cubes (11.1 in the hybrid models). One of the most seductive draws about the five-passenger Lincoln is that it features the largest fully retractable panoramic glass roof available in a sedan.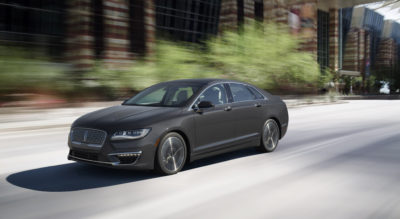 The MKZ comes in three powertrains—a standard turbocharged 2.0 liter GTDI 4-cylinder that produces 245 horses and 275 lb-ft of torque. The Select and Reserve trims also come with a turbo 3.0 liter GTDI V6 that offers 350 horses and 400 lb-ft of torque (the all-wheel drive V6 spits out a not-too-shabby 400 horses). The MKZ Hybrid has a 2.0 liter 4-cylinder mated to an electric motor and lithium-ion battery pack with a total system power of 188 horses. Giving the MKZ (V6 BL) some gas ignites its fun factor in a huge way; the ride is smooth, quiet, yet commanding and sporty. The MKZ's steering is precise and when it blasts into and out of corners with aplomb, the grip is plentiful. The suspension absorbs road land mines nicely, while keeping the tires firmly in contact.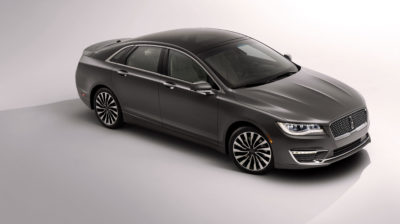 As far as safety goes, the MKZ has got it covered—airbags, traction control, emergency brake assist, and available must haves include blind-spot monitoring, adaptive cruise control with stop-and-go ability, pre-collision with pedestrian detection, lane-keep assist, auto-park, front sensors, and rain-sensing wipers with de-ice capability. The Insurance Institute for Highway Safety awarded the 2017 MKZ a rating of 'Superior' for front crash protection.
For the hoity-toity set, Lincoln is offering a nearly $6,000 option for membership to its Black Label club available with the top reserve trim level of the MKZ. The membership includes complimentary car washes and yearly detailing, an extended warranty, service pick ups/loaner drop-offs, reservations and a special menu at partner eateries. Here is what could very well seal the deal for many BL Lincoln shoppers, an online concierge will direct potential buyers to a dedicated staff member at a certified dealership. A mobile showroom will then visit the potential buyer to present a selection of material samples for their preferred vehicle. Lastly, buyers will be directed to a BL studio at a Lincoln dealership and receive assistance with configuring their sedan with leather and wood selections. The BL line offers six unique exterior colors and four interior themes and there is remote vehicle delivery available within 30 miles of any BL dealership.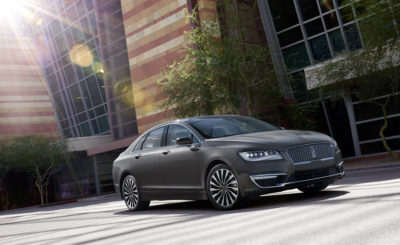 With moves you'll savor, the 2017 Lincoln MKZ has a superb combination of overall sophistication, sports sedan reflexes, plush appointments and plenty technological advances; it is truly spirited touring elegance or simply put, a sexy beast!
Prices start at $35,170. Need more info? Visit Lincoln.com.
Follow Ruth (aka Car Chick™) on Facebook.