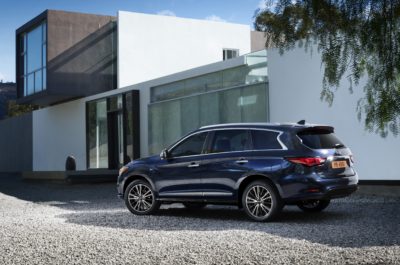 No doubt, the Infiniti QX60 luxury SUV is luxurious and made for those who want to be a little butch with a car while still maintaining a Princess Grace-fullness about it all.  I was particularly impressed with how much room there is–enough, in fact, to actually get seven average-sized adults in the car.  Many manufacturers promise you all the features of a clown car but nowhere to put the clowns.  With the 2017 Infiniti QX60, there is plenty of room for all the clowns, queens and relatives you may need to transport.  Send in the Clowns, indeed.
U.S News and World Report calls this year's QX60 the "blue light special" for luxury midsized SUVs. I take that as a compliment, since the QX60 is a pretty good overall value that starts at $43,100, and for another $1,500 you can get all-wheel drive. Many luxury-type SUVs start at well above $50K, and that's for the basic luxury, which sometimes is just a few steps up from drag queen glitter assembled at Party City. If you need a car that you don't mind getting dirty, this ain't it. Simply put, the 2017 Infiniti QX60 is your elegant SUV with sizable third-row seating that will make you feel like you are using the nicest free soaps and shampoos at the nicest hotels. (Hey, that's how I felt, and it was such a clean feeling too.)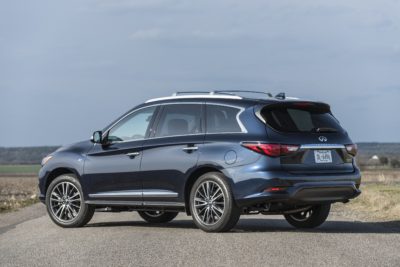 Infiniti likes to keep it simple when it names its cars and offers trims.  You have two choices: the base trim or the base trim with all-wheel drive. All QX60s come with a 3.5-liter V6 engine that churns out 295 horsepower and 270 pound-feet of torque. This will give you some zing and offer a combined 22 miles-per-gallon of fuel economy. The elegance includes leather "appointments" everywhere to go along with really cushy cloth that's also cozy. The feel of the interior is genuine and ahhh-inspiring, not flimsy or rushed.  It's a pretty nice ride all the way around.  A blue light special indeed, one that comes with that extra helping of buttermilk biscuits and cocktail sauce made with real horseradish (hey, that's my idea of livin').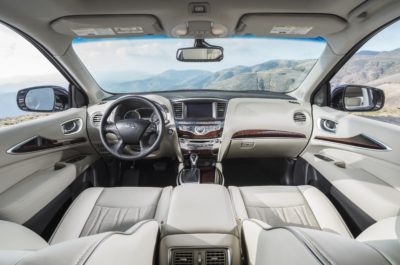 Yet if you want some of the true luxuries of the automotive world, like Bose sound system, voice recognition, aluminum wheels, heated steering wheel, moving object detection, dual 8-inch color monitors ….. well, that will cost you extra.  There are many 'extra' packages available (i.e. Premium, Premium Plus, Theater, Deluxe Technology) that can give you all that snazzy stuff, including some very important safety technology.  But be careful. When all was said and done, the trim I tested came in at just over $60K. That puts it right smack in the middle of the luxury SUV competition, which includes the BMW X5 or the Lexus RX350, a car I really like.
If you can afford a high level of luxury, you really should check out the 2017 Infiniti QX60. It's not the top-top tier, but it's not the priciest either. Think of it as the condo you can purchase with the money you got from your grandmother after she passed and all the lawyer's fees have been paid: you'll be fine and comfortable and feel like you still made out okay.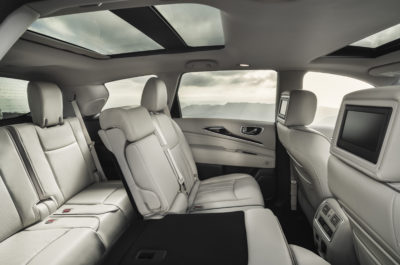 Luxury used to mean a lot of things. In the not-so-distant past, the name Trump used to mean luxury, yet now it is toxic, and those with money are really moving away from Trump swiftly.  Infiniti, on the other hand, will always mean luxury and will never get into politics.
And those Infiniti-Infinites probably realize that the woman most qualified ever to be President of the United States lost the seat to the man who may single-handedly make Twitter a losing tech giant.
I'm just saying….