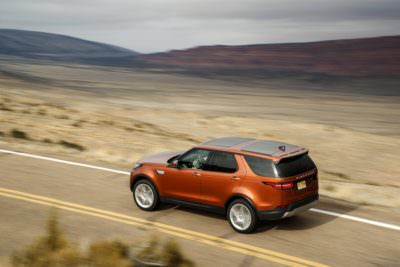 I had seen the sleek new Land Rover Discovery in photos and didn't really think it was that big of a deal. I mean, it looked like another fancy off-roader and not that much different from the Discovery Sport. But, then I encountered the beast at an off-road course during vintage car racing weekend at the Indianapolis Motor Speedway. Dear Saint Titanica, it was quite an imposing being in shiny sheetmetal.
Compared to the LR4 the Discovery replaced, it looks less like a boulder-busting box and more like the very upscale all-roader it is. Up front, hood lettering over a mesh grille creates a familiar face accented by LED headlights. But, come around to the side. Look at the photos. See those little wheels? Yeah – they're 20" alloys! That shows you the proportion of this thing in full flank. But, looks are deceiving because a new aluminum body structure is up to 1,000 pounds lighter than LR4, enabling more spirited performance and improved fuel economy. Might as well go ahead and choose copper-hued Namib Orange paint.
Open those big doors and step inside to discover a cabin nearly equal to the full-luxe Range Rover. Intoxicating soft Windsor leather seats look suave in light cream with orange piping. Front seats and the steering wheel are heated; second and third row seats can be power-deployed from the cargo compartment. Of course, the hatch is also powered. Tri-zone automatic climate control and dual pane sunroof keep everybody comfy.
There's also a mountain of technology within. Up front, drivers enjoy a head-up display with traffic sign recognition, rear camera, front/rear parking sensors, and rain-sensing wipers. The infotainment touchscreen could be easier to navigate, but sweet-sounding Meridian audio is not difficult to understand. Autonomous emergency braking, adaptive cruise control, and lane keep assist enhance safety.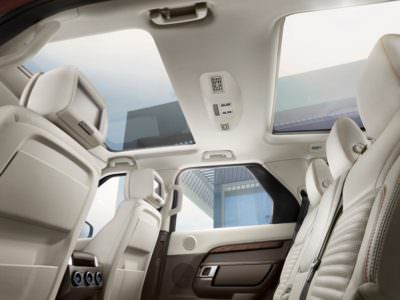 To make the Discovery more interesting, we tried it with a diesel engine: A 3.0-liter six-cylinder turbodiesel making 254 horsepower and a stout 443 lb.-ft. of torque. Shifted through a smooth eight-speed automatic transmission, the powertrain delivers 0-60 mph in 7.7 seconds and 21/26-MPG city/hwy. when driven gently. Choose our vehicle's towing package to pull over 8,000 lbs.
Throttling the Discovery is about more than stomping power. On the off-road course at Indy, the articulation of the air suspension, able to be raised for off-roading or lowered for entering, demonstrated purpose. A two-speed transfer case with locking center differential gets power to all four wheels without waste. Advanced hill descent control keeps it at a steady speed while a knob in the console adjusts the Terrain Response System for varying conditions like snow, mud, and hills. Driven deftly, there's almost nowhere the Discovery can't go.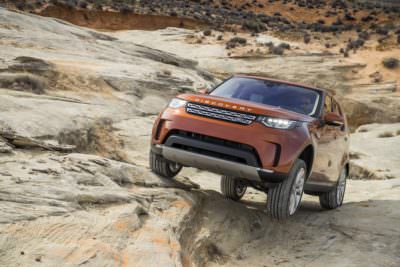 A Land Rover is first and foremost a seriously-capable off-road machine. And, the new Discovery is definitely that – from its adjustable air suspension to its powerful diesel engine. But, this Land Rover is also beautiful, sleek, and loaded to the roof with luxury and technology. A base price of $49,990, or $66,945 as tested, puts it against the Audi Q7, BMW X5, GMC Yukon Denali, and Jeep Grand Cherokee.
Storm Forward!
Watch Casey's video review of the Land Rover Discovery above, then follow him on YouTube and Twitter: @AutoCasey.
2017 Land Rover Discovery Td6
Seven-passenger, 4WD SUV
Powertrain: 254hp 3.0-liter Turbo-diesel, 8-speed auto transmission
Suspension f/r: Ind/Ind
Wheels f/r: 20"/20" alloy
Brakes f/r: disc/disc
Must-have features: Luxury, Capability
0-60 mph: 7.7s
Fuel economy: 21/26 mpg city/hwy
Assembly: Solihull, U.K.
Base/as-tested price: $49,990/66,945