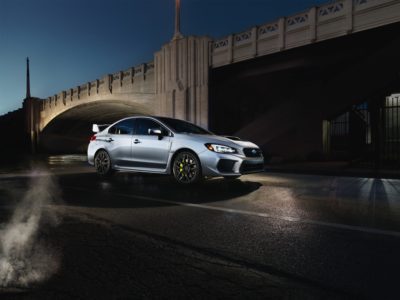 These days, every person and every item has to be put into some sort of box or else it can't be quantified and its worth can't be calculated and ranked. Thus, many automotive reviewers feel that the new 2018 Subaru WRX (formerly the Impreza) is a compact car.
Why? Well, they had to put it somewhere, and that seemed like the best place to put it. Sure, it's got four doors and can act like an everyday sedan-about-town. It's on the petite side of the gay-borhood, so, yeah, let's call it a small car. But honestly, it is so much more than that.
Where do I begin?
This is a powerful car, kids. It's only a 4-cylinder 2.5-liter Boxer engine (a flat engine where the pistons are horizontal, or flat, and literally go at each other like 'boxers' in a boxing match). This engine, however, is a dual-overhead cam turbocharged racer that offers 305 horses and 290 pound-feet of torque. That's an amazing amount of power for such a small "compact" car.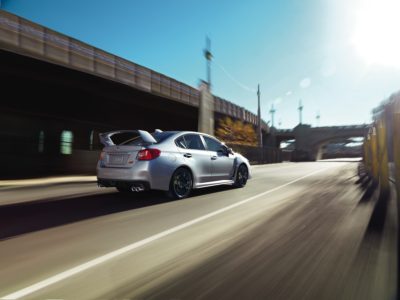 Like all Subaru models, the WRX comes with All-Wheel Drive. Often, people who live in colder climates cannot get anything sporty that is also safe on wet or icy roads. The WRX is a notable exception. Indeed, this is the perfect sportscar for people who experience a lot of adverse weather.
One thing that really stands out when you first see the car is the pronounced spoiler on the lid of the trunk, which looks almost as big as the trunk itself. The purpose, of course, is to help reduce drag (the bad kind) so that the car speeds through life more smoothly. But for the WRX, the spoiler is more than that: it's a defining feature. Know that the spoiler and everything Subaru has put into the WRX is meant to give you the power of a race car, which means you need to be careful on roads where the cops hang out.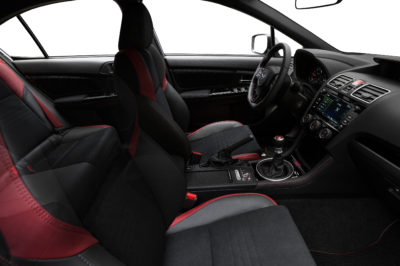 Yet one place where you get a sense of how small this 'compact' car is: the trunk. All you get is 12 cubic feet of cargo space. Cutting to the chase, don't buy the WRX if you need lots of interior room on a regular basis.  This car sings and zooms and makes for a great urban sportscar that can also handle a real racetrack if need be. But its day-to-day practicality is nonexistent.  This is your Sunday fun-day let's-have-a-good-time car.
And if you really want to have a good time, upgrade to the STI trim. This one comes with a stronger engine, stiffer suspension, better brakes and all those things that really put the race into race car.  And you still get AWD, which is amazing because to get the power they need, most sportscars are Rear-Wheel Drive–something you don't want to have on an icy road.
One more note of caution: if you are a person of size and your friends are similar, this might not be the car for you.  It was tight for me but perhaps not for someone who eats a lot of kale. As always, make sure you like the fit and the feel.
Hmm. Spicy and saucy or tame and leisurely however and whenever you want it, no matter what's on the road ahead? How gay is that?