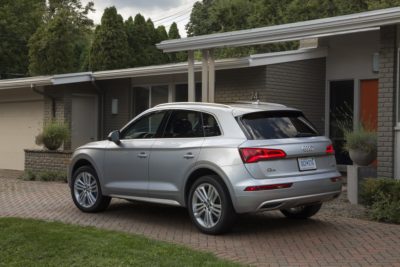 It's often not the wrapper, but what's inside that counts. That's not to say Audi doesn't make some pretty suave wrappers, because it does. Following in the Bauhaus tradition, Audis are understated and elegant. But, it's the brand's exquisite interiors and smooth driving dynamics that really set it apart. Put four aboard and head to the fast lane–or just the club, because this Audi of compact crossovers has much to appreciate.
Audi's style comes from a void of style–at least that's what you'd think on first glance, but first glances demand second, third, and fourth glances. And when you glance more, you realize subtlety takes immense skill. The front is dominated by Audi's big, imposing grille, but crisp creases and flowing curves head rearward from there. LED headlamps, LED taillights, and 20" wheels put points on it.
Move into the cabin and prepare to be spoiled. The interior is deceptively simple, graced with gray oak wood inlays and swaths of stitched leather. Heated and cooled leather seats, heated steering wheel, huge dual-pane glass sunroof, and tri-zone automatic climate control keep everybody comfy. Crank up the Bang & Olufsen audio system. The power hatch opens wide for all four passengers' luggage to slide inside. As the driver, I enjoyed the head-up display and flatscreen instrument display that expands to show much of the world on a giant navigation map.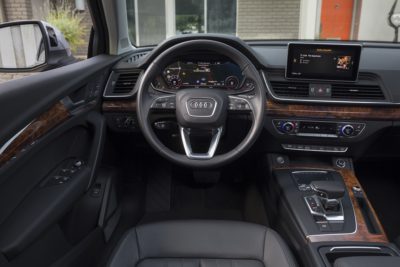 It would be difficult to complain about the powertrain. It starts with a 2.0-liter turbocharged four-cylinder that delivers 252 horsepower and 273 lb.-ft. of torque. It finds its way to the Quattro all-wheel-drive system through a 7-speed automatic transmission. Auto stop/start, which can be defeated, enables 23/27-MPG city/highway. There's just a hint of turbo lag while creeping through traffic, but fully throttled, it all comes ready to play. Use the Audi Drive Select system to configure the throttle, steering, and chassis from Eco to Sport.
Nobody creates a chassis like Audi. The four-wheel-independent suspension system virtually erases rough pavement. Romp it through a corner and nothing will disturb it as it claws its way around. Out on the open road, it settles and provides precise feedback, encouraging drivers to stomp down further and enjoy the gusto from the left lane.
Beyond the inherent safety of quick chassis reflexes, the Q5 comes with the entire electronic toolbox to avoid accidents. Adaptive cruise control keeps a safe distance on the highway and is the basis of the forward collision mitigation system. Lane keep assist, blind spot warning, and rear cross path detection do their part too. A rearview camera and parking sensors keep paint on bumpers.
The Q5 is luxurious in its simplicity. It looks like timeless wealth, goes like a scolded Greyhound, and cossets its passengers in all-encompassing luxury. It's also pretty good at keeping everybody safe. We'll forgive the fact it's built in Mexico instead of The Fatherland. A base price of $41,500, or $56,100, makes it competitive with the Cadillac XT5, Mercedes-Benz GLC, BMW X3, and Lexus RX.
Storm Forward!
Send questions and comments to Casey at AutoCasey@aol.com. Follow him on YouTube @AutoCasey.
2018 Audi Q5 2.0T
Five-passenger, AWD crossover
Powertrain: 252hp 2.0-liter T4, 7-spd auto trans
Suspension f/r: Elect. Ind/Ind
Wheels f/r: 20"/20" alloy
Brakes f/r: disc/disc
Must-have features: Style, Engine
Fuel economy: 23/27 mpg city/hwy
Assembly: San Jose Chiapa, Mexico
Base/As-tested price: $41,500/$56,100