Editor's note: Kia is the only major automaker in America that doesn't offer benefits or protections for its LGBT employees. We encourage you to consider that when making your next car purchase.
---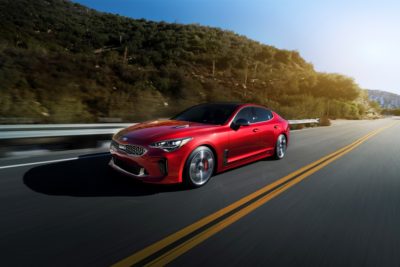 Four-door coupes are all the rage among Europe's luxury automakers. Think about the Mercedes-Benz CLS, Audi A5 Sportback, Aston Martin Rapide, and BMW Gran Coupe. But, dang those cars are expensive. What if you could buy a German-designed four-door coupe with a world-class chassis and powertrain for a fraction of the price–kind of a working class Porsche Panamera? Kia has the car, and it's called the Stinger.
Lending credence to the Stinger's German persona is the fact that it was designed in Kia's Frankfurt studio under Gregory Guillaume and Peter Schreyer–the head of Hyundai-Kia design and a former style wizard at Audi, respectively. The Stinger looks like a Panamera and Dodge Charger consummated their relationship, but the Stinger has better proportions than either of its (alleged) parents. It's low, wide, and exotic with a sweeping rear roofline. It glistens with LED headlights while 19″ alloys fill the fenders. Fender and side vents are faux, but look convincing–and appropriate. There's even a little Fisker Karma in the taillamps. I found most pokey drivers didn't even put up a fuss when they saw that angry mug in their rearview mirror and just slid right on over to the right lane. But, what's the best part of the Stinger's design and performance? Let's start with the kia stinger exhaust system. You can tell Kia has worked hard to perfect this. However, you may still want to consider an aftermarket system to add more grunt!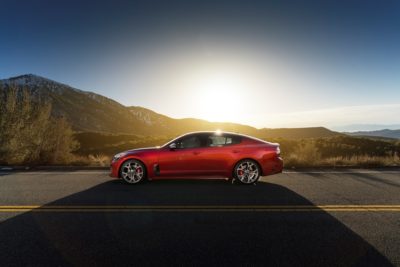 It was one of those weekends where I just want to load up the family and enjoy a long drive. Fortunately, four people ride pretty comfortably in the low-slung cabin and all of our gear easily fit beneath the power hatch. My four-year-old princess, who thinks she must take every toy she owns everywhere she goes, was not denied her luxuries. Her parents enjoyed heated and cooled leather seats, heated steering wheel, power sunroof, and Harman Kardon audio with under-seat woofers. The dark red leather and metallic accents were especially fetching. My job was made easier via the head-up display and safety features like adaptive cruise, forward collision warning/mitigation, lane keep assist, blind spot warning, and rear cross path detection.
Throttle down and move out. Base models come with a 2.0-liter turbocharged four-cylinder engine delivering 255 horsepower and zipping from 0-60 mph in 5.9 seconds. That's adequate, but our GT had a bit more under the hood: A 3.3-liter twin-turbo V6 kicking out 365 horsepower and 376 lb.-ft. of torque–all routed to the torque-vectoring all-wheel-drive system through a paddle-shifted, eight-speed automatic transmission. Properly driven, it will click 0-60 mph in 4.7 seconds. By comparison, a Panamera V6 RWD does it in 5.4 seconds, and Audi's A5 Sportback takes 5.7s. It's a potent machine by most measures. Partly thanks to auto stop/start, which can be disabled, fuel economy rates 19/25 mpg city/highway.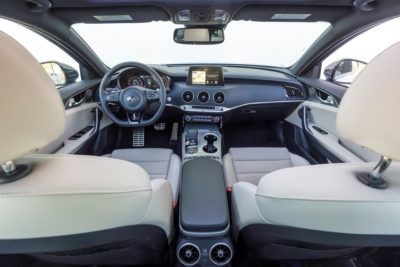 Holding all of this together is a sported-out version of the Genesis G80 chassis that was conjured from day one as a sport sedan. An electronic suspension with continuous damping allows drivers to twist a dial for different driving modes: Eco, Smart, Comfort, Sport, and Custom. Each varies the suspension firmness, steering weight, and throttle response from comfortable to corner-carving exuberant. Brembo disc brakes deploy the parachutes. The car feels suave in all modes, but despite all of the hoopla over the chassis being sussed out on German's famed Nurburgring, there's not much difference between Comfort and Sport and it doesn't feel as planted as it could when disturbed in flight. A Porsche, it is not.
But, the Stinger offers something no Porsche offers: A base price of just $31,900. You can't even buy a tiny Mercedes CLA for that. Add on all of our car's accouterments and powertrain upgrades to see a sticker of $52,300. That may seem lofty for a Kia, but the car more than earns the price. It's sexy, sassy, and ready to kick some, well, butt.
Storm Forward!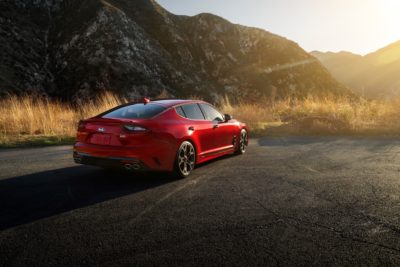 Watch Casey's video review of the Kia Stinger above; follow him on Twitter and YouTube @ AutoCasey.
2018 Kia Stinger GT
Five-passenger, AWD sedan
Powertrain: 365hp 3.3-liter TTV6, 8-sped auto transmission
Suspension f/r: Elect. Ind/Ind
Wheels f/r: 19″/19″ alloy
Brakes f/r: Brembo disc/disc
Must-have features: Style, Engine
0-60 mph: 4.7s
Fuel economy: 19/25 mpg city/hwy
Assembly: Sohari, Korea
Base/As-tested price: $31,900/$52,300