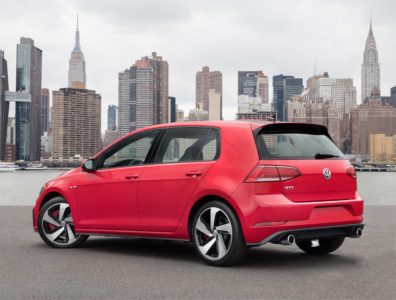 I love driving the 2018 Volkswagen Golf GTI!
This a spirited car that goes all over the country with a muscular 2.0-liter engine cranking out 220 horses. Few small cars can pull that off, much less do it well.  The Golf GTI does it beautifully–and impressively when you consider that this car is easy to park, easy to maintain, and kinda the perfect spouse in so many practical ways.  Unlike most of your marriages, this one may be a keeper.
Consumers today demand a whole lot more from their vehicles than those of yesteryear.  Whereas my generation (you know, those old queens who survived AIDS and the Reagan-Bush years) thought having a car with an 8-track tape player and cigarette lighter was the cat's meow, nowadays, people want everything in a car.  There's no time to manually roll up a window or break out the tire gauge to check the tire pressure. A car has to be self-sufficient, and the 2019 Volkswagen Golf GTI is more than capable of taking care of itself and you–sorta like how Rosie the Robot took care of the Jetsons.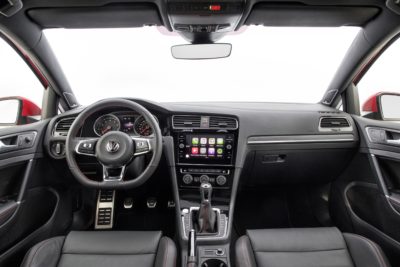 U.S. News and World Report, a stalwart of great journalism last century and still a great resource for real and accurate information, proclaims that the 2018 Volkswagen Golf GTI is one of the top small, compact, baby SUV cars on the market.  Phrases used to describe the car include "lively acceleration", "sharp handling", and "excellent infotainment system" (yes, infotainment is now a word that clears spellcheck). All this complements the refreshed styling and improved performance from last year. I dunno, I'm hard-pressed to say I can tell the difference between the 2017 and 2018 models, but that's good, because last year's GTI was great and fun (so you may want to look for a used 2017 GTI, which will be cheaper).
Starting at $26,415, this car is affordable, however defined. Mileage is 25 city and 33 highway, so fuel economy is decent (again, in "my day", that kind of advertised mileage usually indicated a fraud). The base S trim comes pretty well equipped with features like heated front seats and Apple CarPlay and Android Auto.  Amenities like a sunroof and nifty entertainment features are standard on the one-up SE trim. The top trim is the Autobahn and, well, it has all a girl could want in a car (e.g. self-parking, leather), but know that it's not truly ready for the Autobahn.  But close.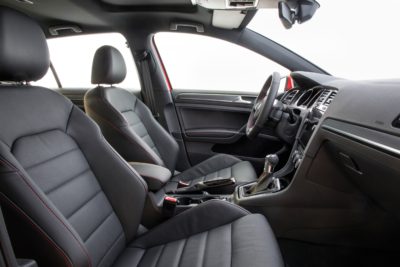 If you're looking for a solid, reliable, fun small car, you should also take a spin in the Honda Civic, which almost across the board is also a top favorite for 2018.  Pricewise, the Golf GTI and the Civic are on par with each other.  I think it really comes down to preferences.
Yes, as I sit here in my rocking chair wearing my shawl and typing my review on an IBM Selectric 300, I'm still amazed at how cars have improved and how much consumers demand and actually get.  Maybe my generation wasn't as demanding as we should have been….
… but we did survive and brought along a whole new generation of LGBTs who didn't have to live in the fear that we did.  And for that, I am very proud.