The summer Concours season is reaching its climax next month with the Monterey Car Week. In the weeks rolling up to one of the most prestigious automotive weekends in the U.S.A. are smaller events that follow similar tenets of a top-shelf automotive exhibition, but with their own special atmosphere.
The Concours season actually begins in February in Boca Raton, Florida. The season really kicks off in March with the Amelia Island Concours d'Elegance held near Jacksonville, Florida. Other major Concours events are held in Greenwich, Connecticut; Plymouth, Michigan, and other locales.
The apex of these events arrives in August with the ultimate week of classic, rare, and special automobiles held across the Monterey Peninsula in California. That week culminates with the Pebble Beach Concours d'Elegance. The season actually continues into November with the event on Hilton Head Island in South Carolina.
To translate, a Concours d'Elegance means a competition of elegance. These events use a French evaluation format to score a vehicle for specific criteria based on originality, condition, and other factors that are measured against these wonderful machines. These are considered the most prestigious events on any automotive calendar.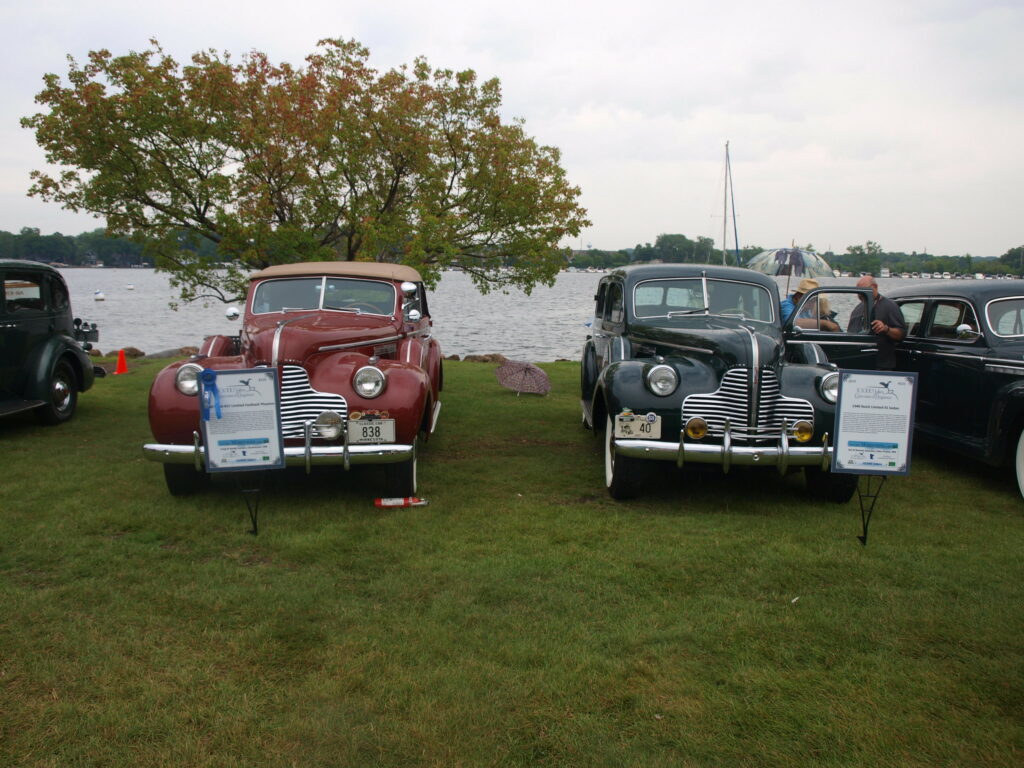 Though not on the map as a major (or second-tier) Concours in the U.S.A., I attended the 10,000 Lakes Concours d'Elegance held west of Minneapolis in the quaint lakeshore town of Excelsior. This show is now in its seventh year and has grown to a list of 155 entrants ranging from cars from the early 1900s to the 1980s, with several boats and motorcycles.
From its first show in 2013, the 10,000 Lakes Concours d'Elegance continues to be an event with a charitable element. This year's beneficiary organization is Bridging, a Twin Cities-based organization that helps furnish homes of those who cannot afford to do so. Established in 1987, the organization's focus is on families transitioning out of homelessness and poverty towards making a home for themselves.
One thing I love about the 10,000 Lakes Concours is the lack of high levels of pretense you would find at the most prestigious events across the country. The atmosphere is more laid back and casual, even though there is a competition for classes and Best in Show. Still, the location on Lake Minnetonka lends itself to a level of elegance one expects from an event of this caliber.
This year's event had some spells of rain, which did not dampen the spirits of the participants. I saw covers being put on – and off, as soon as the rain stopped. Underneath those covers were some of the finest automobiles, boats, and motorcycles ever assembled in the show's history.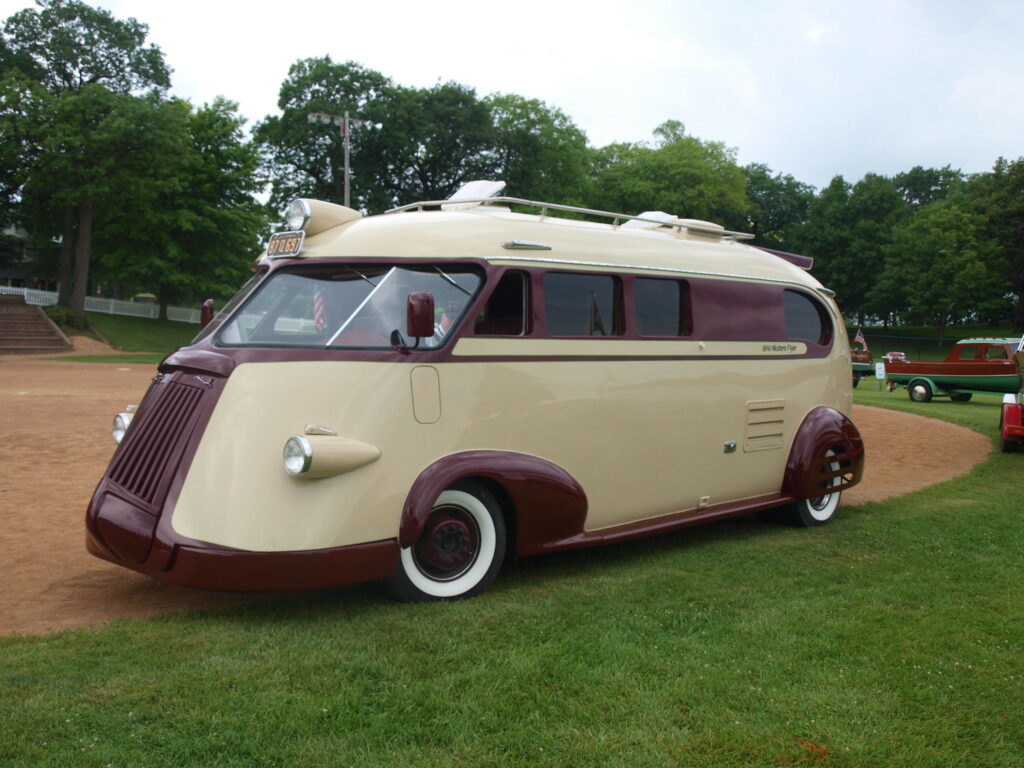 One such vehicle was a 1941 Western Flyer motorhome that stood on the softball field at Excelsior Commons. This special entry had an aerodynamic Art Deco design that attracted many visitors to this charming earth-tone home on wheels. If one vehicle attracted visitors to the show, it was this one.
Since this show had cars and boats, there were combined entrants were hitched together. One was a 1961 Imperial hardtop sedan with a classic small boat on a trailer behind it. The big Imperial sat alongside a red 1966 Dodge Coronet convertible with a white interior and a matching small boat on a trailer.
The show featured a small collection of Chrysler 300s from the Letter Series ranging from two 1955 originals to the early 1960s. Alongside the lake was a 1931 Stutz with a collection of 1940-41 Buick Limiteds, a few 1941-47 Cadillacs, and a rare 1934 De Soto Airflow. We even had a matching pair of Triumph Spitfires in orange from 1978 and 1979.
This is just a sampling of what was shown at the 10,000 Lakes Concours d'Elegance. Nothing extremely rare and exotic – unless you count the Lamborghini LM002 sitting on the softball field. But, this is part of the charm of this show of being a laid back event.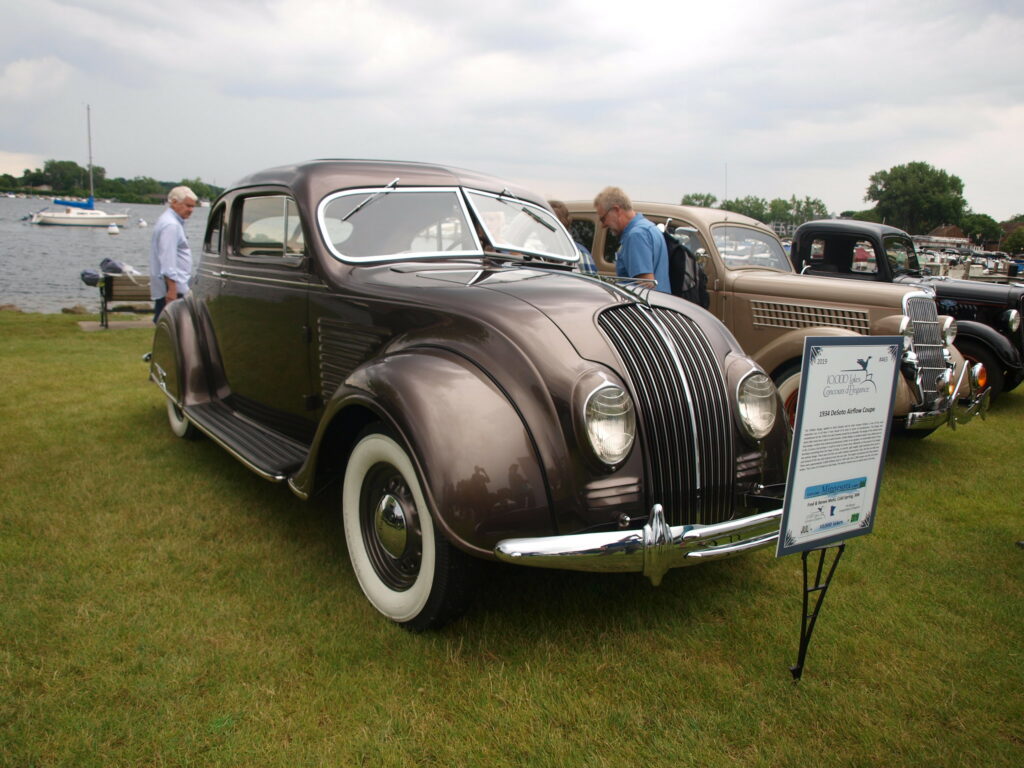 As someone who has attended a majority of the seven 10,000 Lakes Concours d'Elegance, I was asked to do something extra for this year's event. Every year, participants were encouraged to dress up in period costume to complement their entry. I was asked, alongside a local television personality, to be a "celebrity judge" for this contest.
At first, I thought I would take the approach of, say, Michelle Visage of RuPaul's Drag Race and "judge" accordingly. Nope. This was a very laid back event that my role was to simply tie the costumes with their vehicles on a historical and appropriate basis. Therefore, the winner we picked were simply great – an older couple and their 1928 Pontiac ready for a night out at the speakeasy.
If you go, know that tickets can be purchased in advance for a discount. Proceeds from this event will go to their beneficiary organization, hence why the higher-than-usual ticket price. If it is a wonderful day on the south shore of Lake Minnetonka, you will definitely enjoy yourself and the cars, boats, and motorcycles on display.
If not, there may be a Concours event near you – or, just a flight away.