Editor's note: This test-drive was conducted before any lockdowns for coronavirus went into effect.
The 2020 VW Tiguan is small, kinda midsized SUV that can slide right into the middle-of-the-road of all the SUVs that are out there on the market right now.
It's unassuming in so many ways, and that's a good thing. The car is easy to drive with no major hiccups and, perhaps, no major thrills of note. There is plenty of room for groceries and dependents, assuming you do not need to transport and overabundance of either.
There is a third row of seats for your enjoyment but its functionality is limited to the size of your passengers. That said, the 2020 Tiguan, which is (for the most part) just like the 2019 and the 2018, is an SUV that is worth consideration, whether you are just an out-and-about single or a start-up family with a (less than) start-up income.
Prices start at just under $25K and as is the case with all Volkswagens, you'll get a standard 4-cyliner, 2.0-liter turbocharged engine, which across the board proves to be quite peppy – and even fun.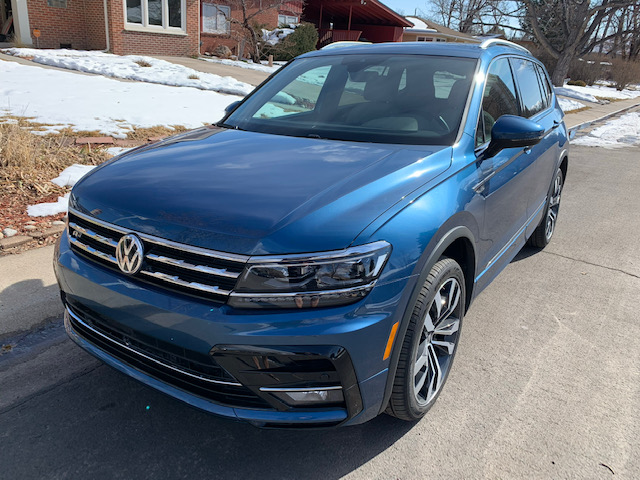 Forward collision warning, automatic braking and blind-spot monitoring are standard on all trims, but there are some excellent safety and comfort features to be had if you spend a few extra thousand dollars to get them. Front-Wheel Drive is standard and that's how you get the third row of seats, but should you want the optional All-Wheel Drive, the third row disappears (sorry).
Tech-wise, VW makes use of their systems relatively easy no matter what your skill level is. I personally like to just hop in, press a few buttons and know that within seconds, I will be listening to all my Whitney Houston dance remixes. I do not need to know how to rewrite or rewire the car in Cobol or C++ or whatever the greatest and latest software language is. Thankfully, VW takes my age and talents into consideration (wink).
I had fun driving it around town. I test the 2020 Tiguan 2.0T SEL Premium R-Line with 4Motion. Yes, it does sound snazzy because it is: featured here, this is the top-tier trim that has all the bells and whistles and gluten-free glitter, to include 20-inch alloy wheels with all-season tires, ten-way power heated leather driver's seat, hill-hold control and hill-descent control, Fender audio and park-distance control (front and rear). To name a few.
This top-tier baby comes in at $39,815, once all is said and done. That really may be a lot more than you need or can afford – so, again, just something to know.
This is a crowded car category, all these baby SUVs crowded into a big nursery, all cooing for your attention. The big pluses for the 2020 VW Tiguan include all the interior room (compared to competitors). The ride is nice and relaxed and you won't necessarily feel anything special, which is good. After a hectic day (and which days aren't anymore?), do you really want anything special?
Mileage is 22 city / 29 highway when you get FWD and 20/29 with AWD. I personally love the R-Line, so if you test the Tiguan (or any VW), try the R-Line.

Enjoy. Stay safe. Wear a mask when out in public – please.