As if cars could not get any smaller……
The 2020 Hyundai Venue is a brand-new model and it is five-inches shorter than its slightly older and longer sister, the Kona (a car I really, really like). It is technically and Compact SUV but it's really a small car designed for us city slickers who live where space is at a premium – and where we don't need a wagon train to get our grub or get our work done.
Personally, I like small cars, unless you have some serious haulin' to do. The Venue starts at $17,350 for a clutch (manual transmission) and you get 30 city / 34 highway mpg. It has just a little inline-4 engine that coughs out 121 horses. Heck, the tank can barely hold eleven gallons of petrol.
Yet – What's seriously not to like about that?
This car is small, to be sure (or maybe I just pack a lot of largess). Trying to pick up a 7.5-foot area rug from the Post Office and take it home required some gymnastics on my part – but truly, how often does one need a stretcher for such a purchase? Again, know your needs, then consider your desires, realizing that some of them, just like life, may not be fulfilled.
I love the handling of the brand-new Venue. Nice and responsive on roundabouts, for example. For a small car, the Venue really is agile, and not just in the sprint department. It knows how to bend and stretch and let Jesus Take The Wheel and make sure you can Spin 'Round Like a Record when needed. So many small cars can barely maneuver without training wheels. The brand-new Venue is an exception to that old thinking.
Just know ahead of time what you will and won't be getting for all that savings. 15-inch steel wheels and Front-Wheel Drive are standard (no All-Wheel Drive is available at any trim level). You do get Apple CarPlay and Android Auto. And you get automatic emergency braking as well as lane-keep assist on all trim levels.
(The top-tier designer trim, Denim, comes in at just over $22K and offers two-tone blue and white coloring – the only palette available for the trim – and simulated leather seating. )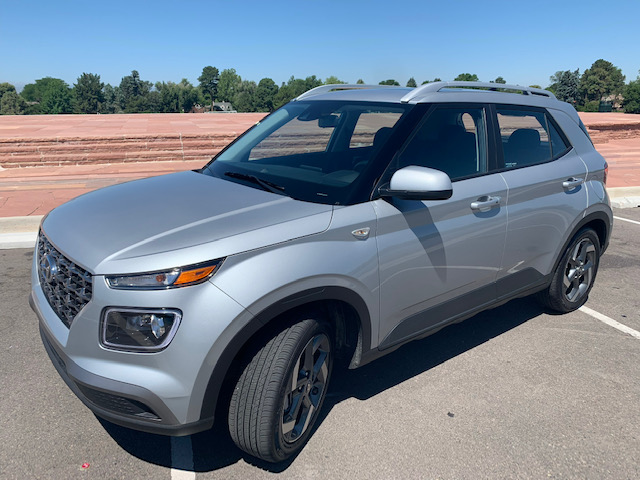 I tested the SEL trim, which technically is the top trim (since Denim is kind of a special trim) and it comes in about two-grand more than the base SE manual. At this height, you will get added items like Hill-start Control, remote keyless entry, power windows, rear disc brakes, a drive mode for snow….. you know, the kind of creature comforts that make your day go a little smoother. Sometimes.
In summation, this is a basic car. If you need something more than a vehicle to get you around town cheaply, consider the Hyundai Kona or higher. The Venue is a good place to start and maybe land assuming your needs are minimal. Compared to other cars on the bell curve, there is not much to the 2020 Hyundai Venue, but that's the point. This is the plain and simple car that will fulfill your hidden fantasies…..
Like having enough money to perhaps travel somewhere so you can wear as little as possible to go along with your face masks.