If you've watched television during the last few weeks, you likely saw commercials for a new Land Rover. You know, the one that fords water, rips across desert, rescues a ditch-bound truck, and even races horses and elephants. When it comes to adventure, it's committed. It looked so chic that we invited it for a visit. Time to meet the 2021 Defender, the latest generation of the original Land Rover – the most capable 4×4 in the brand's stable.
Like the original Land Rover, the Defender sports an aluminum body with strong shoulders, but this one flaunts smoothly stamped flanks. The front looks tough with satin silver trim and round LED headlamps, but the wide hood with non-slip pads looks made for off-roading. The side profile pays homage to classic Defenders with its high white roof with safari windows, but adds lower body cladding and 20" wheels with off-road tires. Rear views encompass classy square LED taillamps and externally mounted spare tire.
Interiors appear serious, but are considerably more upscale than the old Defenders that looked like you could open the doors and hose them out.  It still looks pretty rugged, though, with heated leather/canvas seats, heated leather-wrapped steering wheel, and padded dash materials that look like they can be scrubbed down.  Flatscreen instruments and wide touchscreen would fit in a Range Rover.  Devices connect to the cherubic Meridian audio system via Apple CarPlay, Android Auto, and Bluetooth.  Charge wirelessly with a pad in the console.  Customers can opt for all forms of wood veneers and soft Windsor leathers, but that would be ridiculous.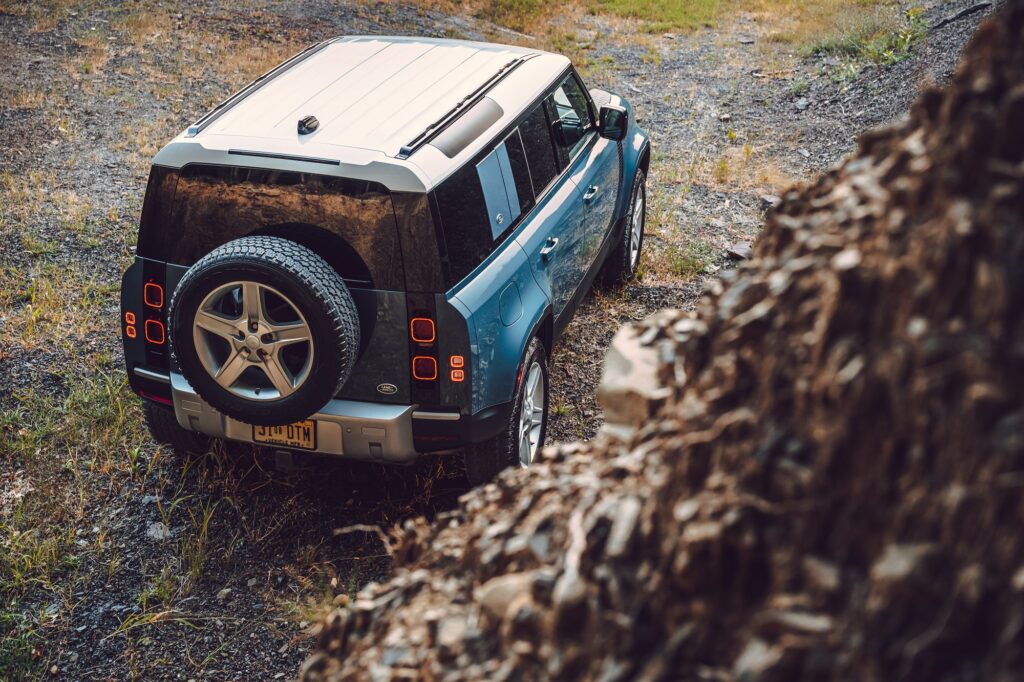 Step on the big pedal to unleash the turbocharged 3.0-liter inline-six connected to an 8-speed automatic transmission. But, as Ron Popeil would say, there's more. Six-cylinder models employ a 48-volt hybrid system, with lithium-ion batteries, to run an electric supercharger. All in, the system delivers 395 horsepower and 406 lb.-ft. of torque to the four-wheel-drive system. Keep a light foot to see 17/22-MPG city/highway. Tow up to 8,201 lbs.
Beyond the engine, the Defender's on- and off-road chops are unquestioned.  The active air suspension provides a comfortable controlled ride on pavement, but can be raised for challenging trails.  Land Rover's Terrain Response 2 system configures the chassis and powertrain for a range of conditions, but also features a Wade mode that softens the throttle response, sets the heating/ventilate to recirculate, locks the driveline, and adjusts ride height.  The depth finder keeps maximum fording to 35.4 in.
Back on-road, a full suite of safety tech keeps everybody safe. Adaptive cruise with stop/go, forward emergency braking, blind spot warning, lane keep assist, and rear cross traffic alert provide a halo of safety. Add to that a 360-degree camera display, rearview camera mirror, and front trail camera do their parts too.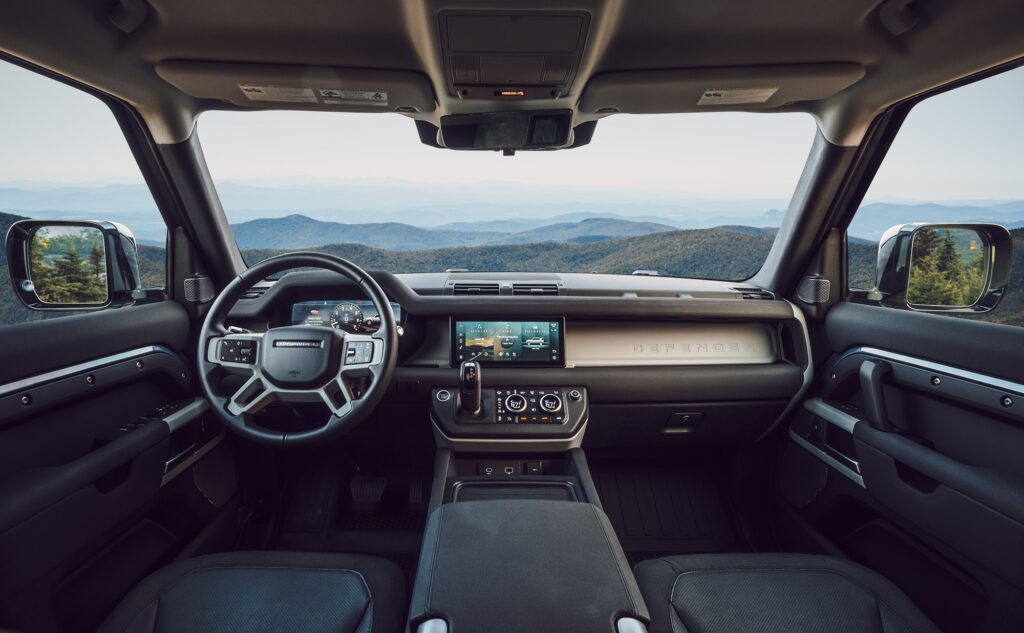 It occurs to me our Defender is more a next-generation Discovery or LR4 than a classic Land Rover – a vehicle that's more Range Rover than Jeep Wrangler. You can select wood veneers and Windsor leather, for goodness sakes! But, it is a very cool ride with an equally chilling price: The two-door Defender 90 starts at $49,900, but came to $72,180 for our well-equipped four-port Defender 110 SE. Competitors include the Mercedes-Benz M-Class, Jeep Grand Cherokee, Chevy Tahoe, and upcoming Ford Bronco.
Storm Forward!
Send comments to Casey at [email protected]; follow him on YouTube @AutoCasey.