When driving to Detroit, all roads apparently go through Ohio. Or, so the Lexus LC500 Convertible's navigation system would have me believe. I went to school in Michigan and never traveled through Ohio to get there, but every time I disagree with navigation, I live to regret it. It plots a course, putting me at my hotel's valet stand within three minutes of when it predicted five hours earlier. This Lexus revels in taking its own road.
A wide exotic profile stems from a hood drawn tight over the flared front fenders and flowing down into Lexus' large spindle grille.  The low cotton canvas roof nestles between wide rear fenders.  Jewelry like the triple LED headlamps, L-shaped daytime running lights, cut side sculpting, 21" wheels, and silver tomahawk elements front and rear add glamour.  Pack light because the trunk is only good for a couple of duffles with the top retracted.  It did cut a swath at the valet stand, though.     
And those men in black jackets wore smiles when they slid inside.  The interior looks like it was hand-stitched by Coach, then sent to Sony for its electronics fitting.  Large flatscreens for the instruments and infotainment dominate the dashboard in a wide horizontal sweep.  Heated and ventilated front seats, heated steering wheel, and crisp Mark Levinson audio cocoon passengers.  Connect devices via Apple CarPlay, Android Auto, and 4G Wi-Fi hotspot.  Suede on the doors, cosseting leather sport seats, stitched coverings for the dash and console, and sculptural pattern behind plastic on the passenger side are pure art.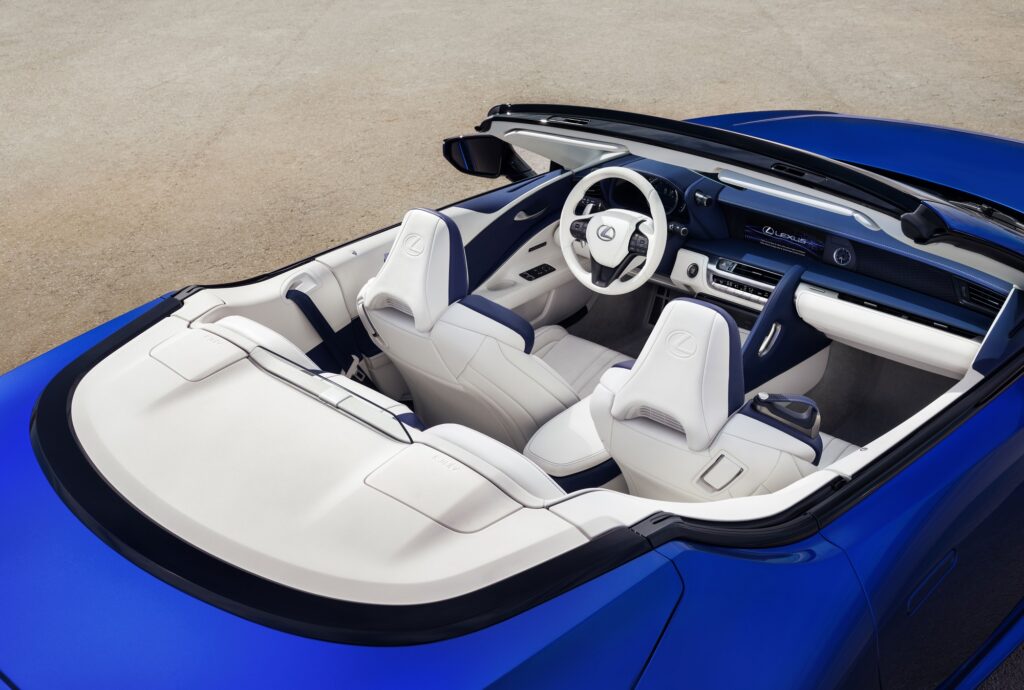 The infotainment controls, not so much. Having a touch pad to control climate control, audio, and navigation sounds cool, but using a desktop computer while driving 70 mph is not easy. I eventually found I could use the seek roller and large volume knob for the basics, but it's a bit complicated. At least it comes with a full suite of safety systems: Pre-collision braking, adaptive cruise, and lane-centering steering. Our car also came with blind spot monitor, rear cross traffic alert, and head-up display.
Lexus was once known for making V8 engines so smooth they wouldn't topple champagne glasses stacked on their hoods.  The 5.0-liter V8 harbored between the LC500's fenders is no exception, sending 471 horsepower and 398 lb.-ft. of torque to the rear wheels through a nearly imperceptible 10-speed automatic transmission.  It just lopes along achieving 15/25-MPG city/highway until you press the pedal hard, at which point the sport exhaust erupts, your back gets whacked, and 0-60 mph flashes by in just 4.4 seconds.
That's rather quick for what's essentially a two-door version of Lexus' flagship LS500 sedan.  It weighs over two tonnes, but settles with unflappable stability at virtually any speed.  It feels very balanced.  Active rear steering, variable effort steering, and customizable drive modes delight drivers with a car that can ride along with a slight float in the suspension or in Sport mode with tighter steering, firmer suspension, and sharper throttle response.  Twist the selector on the instrument binnacle to find your vibe.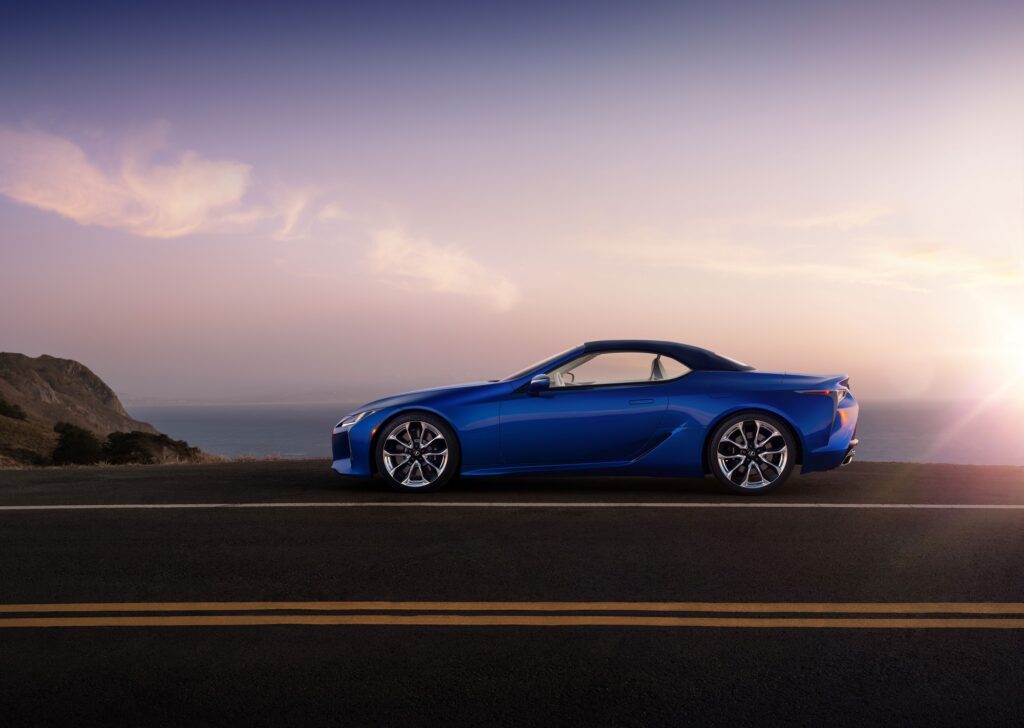 I never really understood the LC500 before. It looked too much like a concept car to be serious, was too luxurious to be sporty, and was too large to be fun. Yeah, I was wrong. Finding Detroit through Ohio crafted a fine roadster that's not afraid of long distances – more the modern equivalent of a classic Mercedes 560SL than a tarted up Supra. Appropriately, the LC500 Convertible starts just over $100,000 and came to $112,420 as tested.
Storm Forward!
Send comments to Casey at [email protected]; follow him on YouTube @AutoCasey.