Average new car prices topped $45,000 during 2021, but you can buy one of these excellent models for under $25,000.  See if you prefer a hybrid pickup, sporty crossover, or fast-driving compact.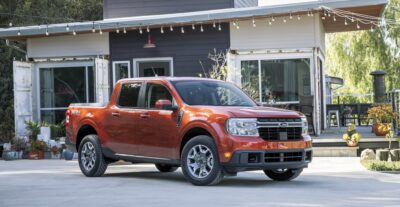 Ford Maverick
The blockbuster Maverick comes standard as a hybrid, achieves 42-MPG city.  Or, go for the 250 horsepower turbo-four.  Edgy interiors add standard Apple/Android connectivity and automatic emergency braking.  Plug into household bed outlets for tailgating.  Choose the base hybrid with steelie wheels for ultimate value.
Base price:  $19,995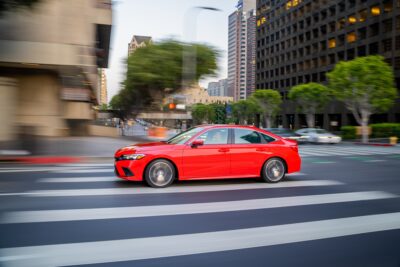 Honda Civic/Hatch
Compact cars still offer incredible value.  Civic goes for tailored new styling as a sedan or hatch.  Interiors sport a 9" screen, hidden dash vents, and wireless Apple/Android connections.  Auto brake is standard.  Throttle a 158 horsepower four-cylinder or 180 horsepower turbo-four with available 6-speed manual. Get 31/40-MPG city/hwy.
Base price:  $21,900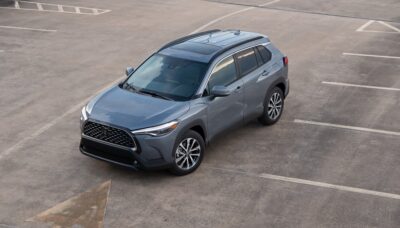 Toyota Corolla Cross
Hard to argue with a tall Corolla sporting a bigger trunk.  Upscale styling cocoons plush interiors with wireless phone charging, JBL audio, and Amazon Alexa Connectivity.  Auto braking, lane keep assist, and radar cruise enhance safety.  The perky 169 horsepower four-cylinder engine delivers and efficient 31/33-MPG city/highway.
Base price:  $22,195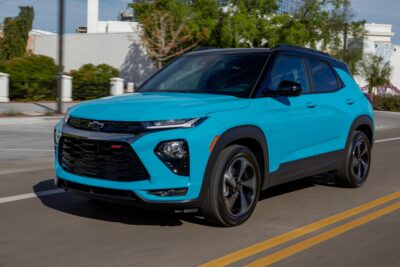 Chevy Trailblazer
It identifies with an angry grille, squinty lamps, and contrasting color roof.  Collision warning with auto brake, lane keep assist, and adaptive cruise are available.  Apple CarPlay, Android Auto, wireless charging, and 4G Wi-Fi connect devices.  Base models move with a 137 horsepower turbo-three engine that achieves 29/32-MPG city/hwy.
Base price:  $21,600.
Kia Niro Hybrid
It's hard to argue with compact crossover space and hybrid efficiency.  A stylish exterior surrounds a roomy cabin with space for four plus gear.  Throttle a 1.6-liter four-cylinder engine and lithium-ion batteries that generate 139 horsepower and 50-MPG.  Base models slip beneath our price cap, but spend more for crash avoidance systems.
Base price:  $24,690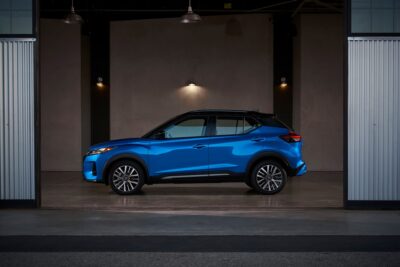 Nissan Kicks
A floating roof, bright colors, and V-shaped grille build excitement.  Inside, there's a thick D-shaped steering wheel, 60/40-split rear seats, and standard Apple/Android connectivity.  Automatic emergency braking and lane departure warning come standard.  Go forth with a 122 horsepower four-cylinder engine that delivers 31/36-MPG city/hwy.
Base price: $19,700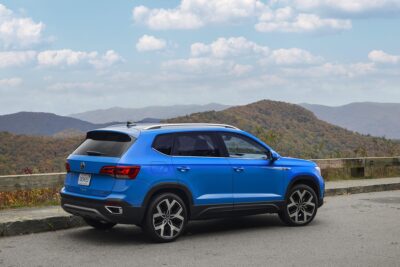 Volkswagen Taos
Don't spend Audi money for an upscale German crossover.  VW's compact combines a spacious interior with sleek rugged style and Autobahn performance from its 1.5-liter four-cylinder engine, rated 158 horsepower and 28/36-MGP city/highway.  Interiors are lavished with driver-oriented lay-outs via VW's Digital Cockpit and Wi-Fi.
Base price:  $22,995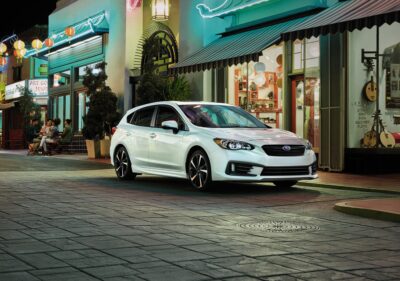 Subaru Impreza
The only compact with standard all-wheel-drive employs a 152 horsepower four-cylinder engine and 5-speed manual transmission for 28/36-MPG city/hwy.  Autonomous braking and lane keep assist are standard on automatic transmission models.  Apple/Android connectivity, simple touchscreen and one-touch windows are part of the deal.
Base price:  $18,795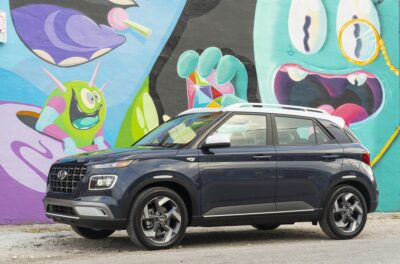 Hyundai Venue
Urban dimensions contain an upscale and roomy box with Bluetooth, steering wheel controls, and voice recognition infotainment.  Standard 15" alloy wheels put the 1.6-liter four-cylinder engine's 121 horsepower to the road.  Fuel economy rates 29/33-MPG city/hwy.  Get it with forward collision warning and lane keep assist for safety.
Base price:  $18,900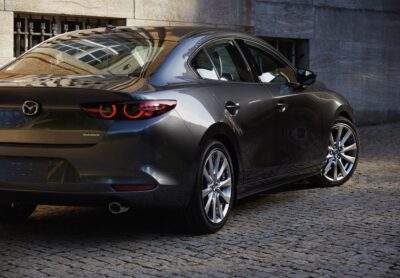 Mazda3 Sedan
Elegant flowing bodywork fronts Alfa-worthy interiors with dash-mounted screen, voice controls, simple climate knobs, and large analog gauges.  Enthusiasts enjoy a spirited 2.0-liter four-cylinder delivering 155 horsepower and 28/36-MPG city/highway.  Stay safe with radar cruise, forward collision warning, and lane keep assist.
Base price:  $20,800
Storm Forward!
Contact Casey at [email protected]; follow him on YouTube @AutoCasey.