Let me tell you about my niece.  She's still in high school, but is an archery master.  Last weekend, I stood beside her as she put arrow after arrow into a far-away bulls-eye as if she was born to do nothing else – a virtuoso of the backyard target stand.  I've also been with her as she shoved a Corvette down two lane backroads with grace that belies her youth.  She'd really like the 2022 BMW M4 Competition.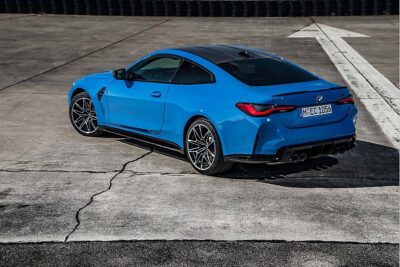 Whether a bow or arrow, the M4 Competition looks ready to shoot down the road.  Flared twin nostrils wear angry black slats and are flanked by quad LED headlamps.  Muscular fenders and slammed roofline hunker over 19" wheels in front, 20" in the rear.  A carbon fiber roof with airflow fins, rear diffuser housing quad trumpets, and black spoiler improve performance – as do the M brakes with red calipers.  Sharp black sill extensions add visual fletching.  Get it in Santorini Blue!
You can take your 4-Series with real wood, but the Competition trades for carbon fiber, stitched coverings, and heated/ventilated sport seats with tri-color seatbelts.  The thick heated M steering wheel is a tool of tactile delight.  Flatscreen gauges and a wide head-up display place speed, audio, and navigation straight ahead.  Cranking your favorite music through the 16-speaker Harman Kardon audio system and connected devices via Apple CarPlay or Android Auto.
I used to despise BMW's iDrive infotainment system with its console joywheel and confusing menus, but the latest version is tolerable.  Menus are more intuitive as the system can be controlled via dash touchscreen.  Adaptive cruise control with lane tracing steering, automatic emergency braking, blind spot warning, and rear cross path detection enhance safety.  Around-view cameras protect those outside too.
If my niece ever stepped into the throttle, she'd have curls whipped into her long straight hair.  Smoother than a Boeing Dreamliner gathers speed, the M4's twin-turbo 3.0-liter inline six-cylinder engine dispenses 503 horsepower and 479 lb.-ft. of torque through an eight-speed automatic transmission – paddle shifted if you please.  Clamped to the road with all-wheel-drive, 0-60 mph evaporates in 3.4 seconds.  Driven more reasonably, fuel economy rates a sensible 16/22-MPG city/highway.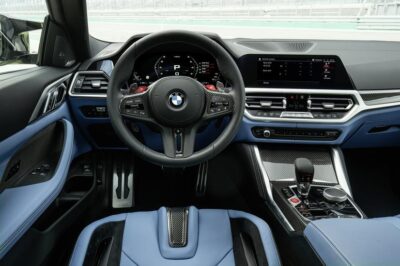 My niece gets help from a state-of-the-art "bow" like drivers of the M4 get their share of advancements to enhance performance.  The drive mode selector lets owners configure the car for Comfort to waft down the highway or for advanced Sport settings that rattle teeth.  Click into 4WD, 4WD Sport, or 2WD depending on your penchant for aggressive driving.  A track-ready cooling system with air blades in the facia enhance high-speed duration.
In the old days, I would never put my niece behind the wheel of the M4 because she'd have it doing doughnuts without intention.  But, this car's electronics would allow her to drive to high school and home without drama.  It's so calm on the open road that I almost scared myself when I stomped the throttle on the Interstate and the speedometer rose in a blur of numbers.  Its two-faceted personality is nearly unparalleled.
My niece is a natural ace, but also chooses the right tools.  Whether you're longing for long days at speed, or just long-distance touring, the M4 Competition is a formidable tool.  And, it comes at a cost:  Base M4 Coupes start at $72,000, but came to a lofty $95,845 all-in.  Competitors include the Cadillac CT4 Blackwing, Mercedes-AMG C43 Coupe, and Alfa Romeo Giulia Quadrifoglio.
Storm Forward!
Send comments to Casey at [email protected]; follow him on YouTube @AutoCasey.