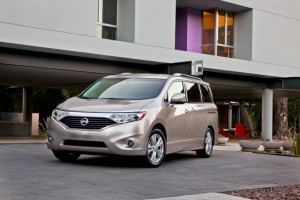 First, a quick rant: why do people have such a problem with minivans? Why would anyone want to hide the fact that they are raising kids? And what could possibly be uncool about being a soccer mom, or a little-league dad? These are the arguments you hear against minivans. "They're such mommy mobiles." "They're such daddy wagons." So you're trying to tell me there's something wrong with being a mommy or daddy? Well, if being a parent is such a downer, maybe you shouldn't have kids. Leave that for the folks who are proud of this role. You know, the ones who don't give a damn what you think of their car.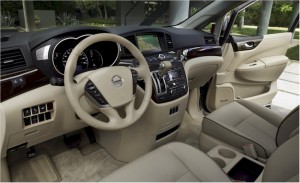 Nissan apparently gets it. They understand that there is no vehicle on earth that can match a minivan when it comes to family transportation. And they know that seven-passenger SUVs just don't cut the mustard when it comes to moving lots of little people and all their gear. Sliding side doors? Awesome. Three rows of easy-access seats? The bomb. And actual cargo space behind the third row? Automotive bliss. Yep, anything short of a Suburban pales in comparison to a minivan, and yet that Suburban won't fit in the average garage or get 24 mpg on the highway. Oh, and all those "seven-passenger" crossover SUVS? Have you tried to sit in the third row? Of course not, because if you're old enough to read, you probably won't fit.
This is why Nissan is back with an all-new Quest. They skipped the 2010 model and took a little extra time engineering a replacement that could truly compete with the Honda Odyssey, Toyota Sienna and Chrysler Town & Country. You see, the first Quest from the '90s was a bit small compared to the competition – so it never got much attention in the marketplace. The second Quest, produced until 2009, was plenty big. But it was just too funky for mainstream middle America – so it also suffered poor sales. But this new 2011 model seems to have hit the mark.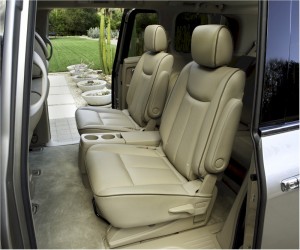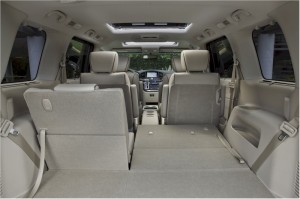 To begin with, it looks and feels like a quality piece. Where the old Quest had a certain Kmart patina, the new one not only matches the quality of the Honda and Toyota, but its interior is one class above. And let's face it, interiors are what matter in a minivan. This is why Nissan spent serious development time and beaucoup materials money on the inside. For instance, where the Odyssey and Sienna now have hard plastic dashboards and chintzy center consoles, the Quest has nice soft-touch surfaces. The Toyota, Honda and Nissan all look good, but the Quest feels good. Next, the Nissan solution for the second row seats really makes sense. In the Japanese competitors, you have to remove the middle seats for max cargo space. Try this once and you can kiss your lower lumbar goodbye. But the Quest seats just fold flat. And although the Chrysler vans offer a similar feature, their second-row seats aren't as big and comfy because they have to fit into a small bin under the floor. The Nissan seats simply lay on the floor. Same with the third row seats: instead of folding into the deep cargo bin behind the seats, they fold forward, which means the bin is always free to hold cargo. Granted, these forward-folding seats raise the cargo floor, but Nissan compensated by giving the Quest an elevated roofline that preserves space. Regardless, going from seven-passenger capacity to full cargo-carrying mode is quite easy, and any combination of people and luggage is easy to accommodate. Basically, the interior design and execution is a major score for the Quest.
Performance, on the other hand, is a mixed bag. First, the good news: the Quest is quiet and smooth riding. Probably more so than the Toyota, and certainly more so than the Honda – which Nissan provided for comparison. The Quest is simply more comfortable. And while the body feels strong and stiff for a minivan (not an easy feat in a vehicle with huge holes cut into the sides), the handling isn't as quick or nimble as the Odyssey or Sienna. Of course quick and nimble are relative terms, but the Honda does feel light on its feet. Also, torque steer is rather intrusive when pulling away from a stop with gusto. And the 3.5-liter V6? It's no slouch, but it's also no match for the Toyota's surprisingly swift V6. There's one more thing. If you've never driven a vehicle with a CVT transmission, the odd relationship between engine speed and vehicle speed will be disconcerting. You'll get used to it. But it's strange at first.
Let's face it. Cornering and acceleration are not a minivan's main purpose in life, lest the little ones blow happy meals into their car seats. These rolling boxes are meant to be convenient, reliable and robust transportation. And in these departments, the Quest excels. And while you can slather the new model with everything from leather, tri-zone climate control, navigation, Bose® audio, dual sunroofs, xenon lights, 18-inch wheels, the derigueur DVD entertainment system, and just about any other gingerbread you'd find on a modern Mercedes, the point is this: anyone with kids would be foolish to overlook a minivan. And with this new model, that also goes for the Quest.