A Proper English Predator Prepares to Hunt German Thoroughbreds

By Lauren Marie

How can you resist this face? An icon of luxury, prestige, and one of your grandfather's favorite subjects on which to reminisce, the masters at Jaguar design (led by Ian Callum) have stepped up to create a sexy, youthful sedan that appeals to all ages and all genders. The sheet metal symphony begins with a front end that makes a statement in itself, displaying a large but tasteful chrome meshed grille flanked by two very sexy cat-eye headlamps. There is nothing old about this design, no shades of early XK or XJ DNA, just a fresh start that compels the soul and frightens the Germans. The designer completes his masterpiece with a sleek back end to create a stunning shape.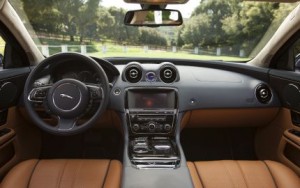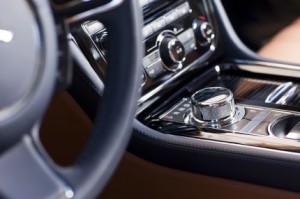 Slipping behind the wheel I am in awe. Of course, I expected nothing less than first class in this aviation inspired interior, but there is more here than gauges and buttons: this is art. Soft leather seats, a leather wrapped dashboard, chrome detail and plenty of burl wood inlay give the new XJ a modern, yet classic feel. When traveling in the Jag, I almost feel disappointed for the less fortunate travelers who must endure a full pat down from TSA, but the feeling quickly evaporates as I take pleasure in the heating, cooling and massaging captain's seats. As I wanted no other driving instruction save for the voice-activated navigation, I placed my six-foot-plus husband in the back seat and turned up the radio. Radio is actually an understatement. The XJL is equipped with a fully integrated 1200-watt, 20-speaker Bowers & Wilkins sound system that syncs via USB with my iPod. I think Sir Elton himself would feel humbled by its thunder. What's more, the sound system can be fully operated through the voice controlled navigation system, allowing me to keep my eyes on the road and my hands on the wheel. Later, my better half would inform me that the XJL provided more than adequate accommodations, with generous legroom, fold-down burl wood tray tables, individually lit mirrors as well as climate controls; he also informed me this was his preferred method of travel for the remainder of our marriage. I turned the radio up louder.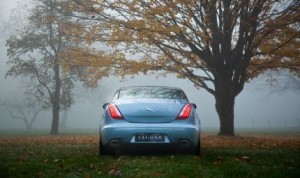 We haven't even started driving yet and I already love the car. Love turns to lust, however, once the supercharged 5.0L V8 roars to life. With 470 horsepower on tap, I and my unsuspecting passenger are glued to our seats as the XJL sprints to 60 mph in just under five seconds flat! Upgrade to the Supersport with 510 horsepower if you really want to feel like the rocket man. The big Jag's aluminum chassis provides maximum weight reduction with superior rigidity, allowing for a buttoned down suspension that is easily the rival of the best from BMW and Mercedes Benz. A quick change into sport-shift mode gives me complete control. The XJ's power is intoxicating, its agile steering ready to obey my slightest input. But, as the LCD projected speedometer needle strays far from the posted speed limit, I hear nothing but a beautiful silence. Although rearward visibility is somewhat obstructed by the large side pillars and rear head restraints, the Jag compensates by adding proximity sensors letting you know if there is someone in your blind spot. Parking is made easy thanks to a fantastic backup camera and fairly accurate front end sensors. There is nothing worse than a bruised butt or scuffed rims.
In all, I'd have to say that Jaguar has hit a home run with their new XJ. The car is still new enough as to be unique and, for a super luxury car, that's a very important attribute. After a week in the nicest parts of LA and San Diego, I came across at least ten 2011 Maserati Quattroportes and only one other 2011 XJ. I couldn't fuel up without receiving a compliment or a "wow, that's the new Jag?" Wow, indeed.
2011 Jaguar XJL Supercharged
As-Tested Price: $90,500
Drivetrain: 5.0-liter supercharged V8; RWD, six-speed automatic
Output: 470 hp, 424 lb-ft
Fuel Economy (EPA/AW): 17/18.2 mpg