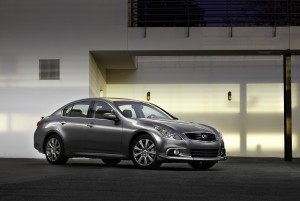 With Judy Garland and Vincente Minnelli as parents, you had to expect a big-mouthed songstress with a special affinity for gays. Our kind do tend to go for the brassy broads. But, we also expect excellence. After a recent Liza concert with the Indianapolis Symphony Orchestra, I have to agree that she is one amazing performer. My partner and I were escorted to the concert by another amazing performer – an Infiniti G37x that I also drove to the Detroit auto show earlier in the week.
Our main star sang her "Liza with a Z, not Lisa with an S" ditty, bringing the audience to roaring laughter. Well, this is the Infiniti with a G, not the ones with an M, E, or Q. Its parentage can be traced to the freely-thought Q45 luxury sedan and Nissan's own Z sports car. Luxury genes come from the Q, but its chassis is shared with the Z. This was obvious as I pointed the G towards Motown and cranked the tunes.
"I Got Lost in His Arms" from Liza's new album, Confessions, is one of my favorites. Reba McIntyre did an outstanding rendition of the same song in Annie Get Your Gun on Broadway, but that's a broad of a different brass. It didn't take long to get lost in the G37's Monaco Red heated leather sport seats that are certainly not subtle, but invigorate your morning even before hitting the Starbucks drive-through. Cushion extenders and adjustable lumbar make them comfy on long hauls. Magnesium paddle shifters are works of art.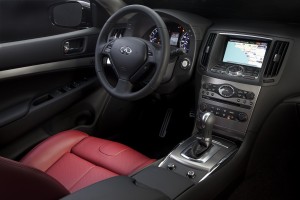 Liza's new album sounded brilliant through the Bose audio system. I went old-school CD, but the USB port and 7″ touchscreen controls connect iPods with ease or music can be downloaded to 9.3GBs of onboard hard drive. Satellite radio taps into a galaxy of stars with digital clarity. A leather-wrapped steering wheel and power tilt/telescoping steering column give comfort while a rear-view camera and sonar enhances safety. Navigation and programmed Zagat restaurant guide find almost any place, getting you there directly. Thankfully, this G travels mostly without annoying beeps and blips from Infiniti's ubiquitous proximity warning system that hurls enough racket to be ignored or simply de-activated – neither of which ultimately helps safety much.
Leaving for Detroit, the 328-HP 3.7-litre V6 tossed its head back, gave a full-throated yelp as it clawed itself across six lanes of traffic, turned on its wheels, and launched off down the on-ramp into rush-hour traffic. Step down at 80 (or obscenely more) and all you hear is sweet harmony as the engine sings for the rafters. You'll pay aplenty for its supper if you drive with abandon, but you can get 18/25-MPG city/hwy. Play with the magnesium artwork behind the steering wheel to strum your way up and down the gear range like a virtuoso.
This talent can dance. Speed-sensitive steering felt like it was directly transplanted from the 370Z, the tight four-wheel independent suspension tap danced through curves and down long expanses of Interstate, and bumps were absorbed with a muted rumble from the Dual-Flow Path shocks. A closet geek among hotties, the G37 controls its moves through four-wheel anti-lock disc brakes, electronic stability control, traction control, and electronic brake force distribution (balances brake forces during emergency stops).
Nobody needs all-wheel-drive, but it certainly garnered applause as roads blew over with several inches of snow and ice. Power smoothly shifts from slipping rear wheels, engages the front, and hauls off like a scolded stage hand. Unless you are truly stupid, the car is incredibly forgiving of transgressions.
It was quite a week for performers. I saw Train at the VW Passat reception and Pete Wentz introduced the Honda Civic Concepts. Ironically, the G37x was about the only Infiniti at the Detroit auto show because neither Infiniti nor Nissan had display areas. A shame because the car would be perfect for twirling through Michigan's backroads in summer, flat-footing it to the Upper Peninsula for a break, or taming wicked winter weather. I left Detroit around 6:30pm after a full day of press conferences and hot-hoofed it back to Indianapolis before bed time with a master's ease.
Unlike the drag queen in full Liza I passed on the way to get a sip of bourbon, there is no clone for the G37. Its wavy chrome grille leads to sculpted Xenon headlamps, arching roofline, and short rear deck flanked by LEDs. There's a hint of Porsche in the roofline, but the 18″ alloys, heated outside mirrors, dual chrome exhaust outlets, zero lift front aero, and chin/decklid spoilers dress an accomplished sport-liner.
Like Judy's daughter, the Infiniti G37x proved gifted enough to do it all. Today is one big post-Liza let-down, and to top it off, they took away the G37x! Not so much of a Cabaret. If Infiniti can attract as diverse of a crowd for the G as Miss Z, then they will have done something truly spectacular. Tickets for our sporty seats cost $44,875.
2011 Infiniti G37x
Five-passenger, AWD sedan
Powertrain: 328-HP 3.7-litre V6, 7-speed automatic transmission
Suspension f/r: Ind./Ind.
Wheels: 18″/18″ f/r.
Brakes: disc/disc fr/rr with ABS
Must-have features: Panache, speed
Manufacturing: Japan
Fuel economy: 18/25 mpg city/hwy
As-tested price: $44,875