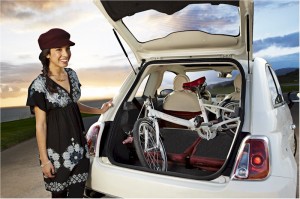 After 50 years of steering clear of our notorious SUV-loving country, Fiat releases its brand new 2012 500 in the U.S. Fiat's union with Chrysler has allowed it to once again say "Ciao" to the American consumer. But, as the American market becomes more open to small cars, competition is cramped and carmakers, both foreign and domestic, are rushing to fill demands for efficiency, reliability, mobility, and of course, affordability.
Of the world's great small cars, nobody has a better lot than those produced in Europe circa the 1960s. This is why Fiat looked for inspiration from the original 500. The classic design is reworked to meet U.S. safety standards and our collective demand for "a bit more elbow room." Robert Giolito, Head of Fiat Style, describes the 500 as "the automotive equivalent of an iPod, sleek, simple, functional, user-friendly & inspired." Although Fiat could afford to put an iPad in the glove box like the ambitious Hyundai Equus, I agree that intuition, simplicity and functionality remain the 500's best attributes. Alternately, it is my candid opinion that Fiat reworked the 500's exterior design a bit too much. I see more resemblance to a 2005 Volkswagen New Beetle than to the original Fiat 500. The wide-set oval shaped headlights and its rainbow like colors and shape make me think of a peanut M&M driving down the freeway. Thankfully, the Sport model comes standard with a much-needed spoiler that helps break up the peanut shape. The 500 can even be customized to your favorite M&M hue. Fiat is offering 14 different vibrant exterior colors accompanied with a color coated plastic panel on the dash to match or contrast the exterior color. If I was grading on a "fun" scale, the 500 easily passes; unfortunately, on a grammar scale, stunning didn't make my list of adjectives.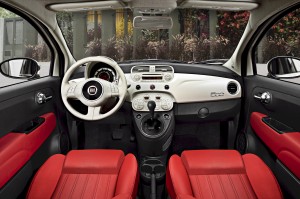 I don't want to be accused of judging a book by its cover, so I'll delve inside the 500. The interior rejuvenates Mr. Giolito's idea for sleek and inspired, with comfortable front seats and plenty of head room above. The back offers two jump seats that can comfortably fit children or fold down to accommodate your luggage and even a mountain bike, but not two adults. Storage behind the front seats totals 30.1 cubic feet – not bad for a car that can almost fit head long into a parallel parking spot. To add to the 'fun' or 'sporty' feel, owners can customized the color of the seats, dash, and door panel. Fiat stands to differentiate itself from the competition with a load of standard amenities including power locks, windows & mirrors, steering-wheel mounted cruise control buttons, a six-disc CD changer, auxiliary input jack, and tasteful chrome detailing. A rockin' Bose stereo comes standard in the Sport and Lounge models, with the later model featuring a fixed glass roof extending to the back seats creating a fresh, roomy and bright feel. For the maximum open-air experience, you can add a sunroof.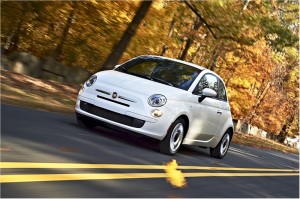 Petit & zippy, the 500 is capable of easily navigating through a crowded city with limited parking. And, although in Europe the 500 is primarily a city dweller, the little car has no fear of fast, curvy country roads. The true test, however, is getting on the freeway and heading out to where a car really loves to be driven. My first time merging on the freeway, I was afraid the 101-horsepower engine might not have the right stuff. But downshift to second gear at 45 mph and there it is: maximum horsepower at 6,500 rpm. Keeping the tachometer needle in the 4,000-6,500 rpm range is required for quick sprints and daring passing maneuvers. Although performance & handling does not quite measure up to the revered Mini, the 500 delivers a ride that is substantially smoother and quieter. Fiat has somehow managed to remove the "go-cart" like feel of a micro car, while keeping the driving dynamics responsive and stable. Pop and Sport models come standard with a 5-speed manual transmission and in a car like this, it makes the driving experience that much better. However, since most Americans prefer automatic transmission, Fiat obliges (for an additional $1,000, that is) with a six-speed auto. All models also feature a Sport mode button for a more aggressive steering and throttle response. Surprisingly, as a 'manual snob' myself, I suggest you test drive both. I was blown away by how well the 6-speed automatic was tuned, plus you can use the sport shift mode to enhance the fun factor.
So, by now you're thinking, "sounds great, but I can't afford European chic on a Target budget." Well, don't fret because the Pop model starts at just $15,500 and even the fully loaded Lounge won't go much over the $22,000 mark. You'll save at the pump too because the 500 is EPA rated at a whopping 30 mpg city and 38 mpg hwy (27/34 mpg for Automatics).
Lastly, and most importantly, Fiat spent a lot of time building this car around safety. With seven front airbags, this is the only car in its class to receive a five star crash rating in Europe. With even more structural enhancement necessary to meet strict US safety standards, Fiat hopes to achieve the same rating here.
Fiat anticipates selling 50,000 units in its first year. Debatably an ostentatious projection considering the Honda Fit, Nissan Cube, Hyundai Accent, Toyota Yaris and other competition fit within the 500's price range. Fiat will rely on its Italian charm and unique styling to compete in this growing market. Fiat is currently taking pre-orders and are in the process of building 130 boutique dealerships nationwide.
FIAT 500
Models:
Pop: $15,500
Sport: $17,500
Lounge: $19,500