Elantra hits it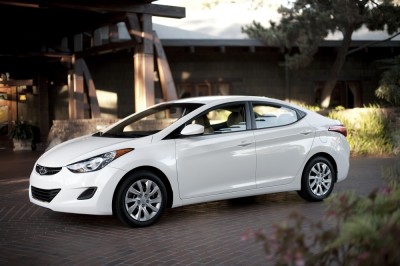 I won't tell you which one, but I was recently driving a competitor to the all-new Hyundai Elantra when discussing it with an auto-writing colleague. I mentioned how unimpressed I was with the big-name compact I was driving and couldn't wait to get into the Elantra.
He said, "Could you have believed that 10 years ago? You want to give up a top-selling car with a world-class reputation and can't wait to get in a Hyundai! I'm with you man. Me too."
Hyundai's world-class reputation precedes the Elantra. People ask me all of the time about the hot Sonata, especially the 274-HP Turbo and 40-MPG Hybrid models. That's usually one breath before they go on and on about the Genesis coupe and sedan or Tucson crossover. Yeah, I'm with you man. These new Hyundais are a dream. So, what about the Elantra?
To make the point that you get a lot for the money, Hyundai sent over a base model with hubcaps and a manual transmission. Usually, automakers woo and coerce journalists with up-level trim packages that include heated leather seats, premium audio, and a convenience package that does everything but serve steak on silver. It's like double martinis before the sales pitch. For the Elantra, they didn't even offer a Diet Coke! I think, "It must be good."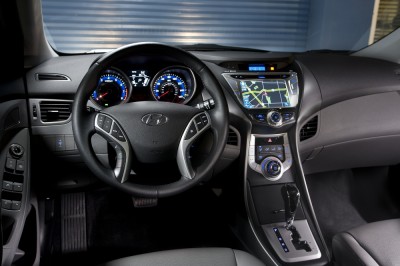 As an appetizer, Hyundai feeds us the Elantra's cab-forward "Fluidic Sculpture" design that trickles down from the larger Sonata. When little boys imagined the future, this is the shape they had in mind. The team at Hyundai's North American Design Center in Irvine, CA gave the Elantra a shape that is both sleek and aerodynamic (about the same drag coefficient as the ultra-slippery Chevy Volt). An arching body has more character than a jellybean with strong wheel arches, rigid surfacing on the bodysides, and attention to detail in how the A-pillars flow into the hood and chrome inside the headlamps line up with grille trim. It is expertly done and quite beautiful.
Intriguing shapes flow inside the large cabin. There's plenty of space for four passengers and their entire luggage; rear seats fold down for bicycles and bigger toys. The twin-cockpit dashboard is a more stylish version of the Sonata's and features a cool pinched center control stack. Large analog gauges, four-spoke steering wheel, wide dead pedal, and 32 oz. cupholders make driving easy. Designers sweated details like knurled detailing on the major knobs, silver finishes on the doors, "audio zone" arrangement, and easy-to-use climate controls. The audio system sounded excellent for a compact sedan and comes with a CD player, USB input for iPods, and available XM Satellite Radio. Safety is enhanced by a full array of airbags.
At least until Hyundai decides to throw on a turbo and attack faster competitors, every Elantra achieves 40-MPG Hwy. You don't need a special package, low-resistance tires, or articulating grille shutters. You just need the standard 148-HP 1.8-litre four-cylinder engine attached to either a 6-speed manual or 6-speed automatic transmission. With 29-MPG city and the excellent highway ratings, the Elantra can travel up to 500 miles on one tank, or roughly four stops given my usual Diet Coke intake.
So, hit the road, Hotchkiss. You know in the first ten feet of driving some cars that you are going to like them and it took about that long to warm to the Elantra. The clutch engages comfortably and the shifter slips into gear with a precise push. Plant your Puma into the throttle and the little engine zings up to its redline, screeches the front tires, and begins its sprint up to above-legal speeds with ease. Unlike in the competitor mentioned above, the Elantra's electric power steering is near perfect to the touch and provides the right amount of tension off-center. As with the Sonata, the car's heart beats in your hand.
The independent front, torsion beam rear suspension system provides the right balance of comfort and fun. Electronic stability control, traction control, and anti-lock brakes with brake force distribution (varies brake forces due to vehicle load) & brake assist (provides extra boost when emergency is detected) stand by just in case. If this is the way small cars are going to drive in the future, who needs mid-sizers?
Even without heated bum warmers, alloy wheels, and tri-surround symphonic reverberation, or whatever audio engineers call it, the Elantra hits it out. It drives as well as some cars costing twice its price and couldn't be easier to enjoy. At least one of its competitors should watch it as this whistler lands in its lap! Given an as tested price of $16,930 that mainly adds A/C and cruise to a base car, the rest of the field includes the Toyota Camry, Chevy Cruze, Ford Focus, Honda Civic, Mazda3, VW Jetta, and Nissan Sentra.
2011 Hyundai Elantra GLS
Five-passenger, FWD sedan
Powertrain: 148-HP 1.8-litre I4, 6-speed manual transmission
Suspension f/r: Ind/torsion beam
Wheels: 16"/16" alloy f/r
Brakes: Disc fr/rr with ABS
Must-have feature: Style, MPGs
Fuel economy (city/hwy.): 29/40 MPG
Manufacturing: Montgomery, AL
As tested price: $16,930
Note: Hyundai is NOT a gay-friendly automaker. For a complete list of gay-friendly manufacturers, click here.