I Take Myself, My Editor and a Volvo XC60 On a Long and Well-Deserved Vacation
The XC adventure began with a flight to LA on a Sunday where I was promptly shipped to the Weston hotel and forced to eat delicious food almost immediately. I mention food because the only thing I love more than playing around in new cars is stuffing my face. Really, it's a horrible habit; a horrible, tasty habit. Here I would meet all of my fellow adventurers and get to know each other before the following day when we became competitors. At this point, I really didn't have an idea of what Volvo had in store for us, or just how much fun I was going to have getting to know these people and drive the stunningly beautiful 2011 Volvo XC60 half way across the country. I teamed up with my editor-in-chief, Joe Tralongo, who lazily made his way to the car port just in time to catch the last available XC60. He's 48, I'm 24. I think it's going to be a long, long drive.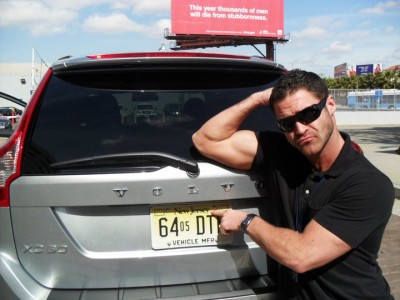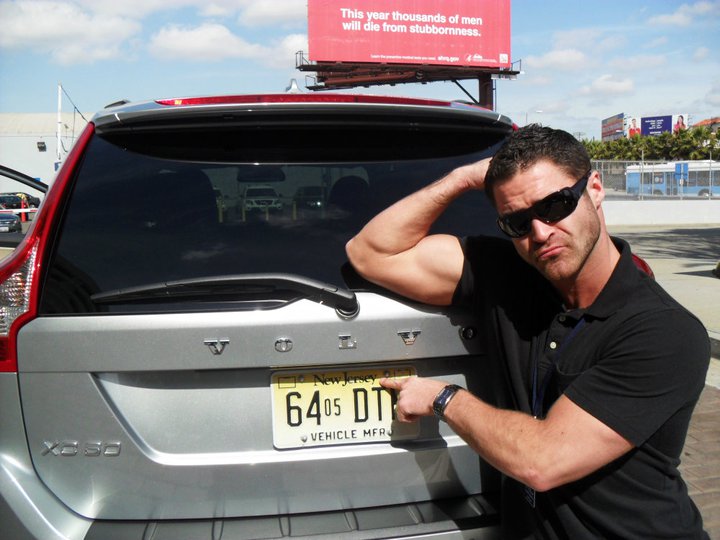 Team Gaywheels departed from the Weston early Monday morning. Our picture taking extravaganza began when I noticed the New Jersey license plate affixed to our test car. I felt compelled to do my best Jersey Shore pose while kneeling for a photo because I'm an adult and that's what adults do. I told Joe the Situation had nothing on me, at which point he responded, "Huh?"
After a quick rundown of our supplies (cameras, music and directions), we set to work. First things first, I was assigned the task of configuring the navigation system and figuring out our path for the trip ahead. The XC60's navigation was slightly difficult at first using rotary knobs and pretty, but illogical, graphics to do what a simple touch screen (think Garmin) could do only about 10 times quicker. However, in the following few hours I found that, with some simple fumbling through screens and allowing myself time to get the feel of the speed and rotation of things, I was able to quickly and efficiently get to the screens I was looking for and set the destination. The split screen navigation allowed for a closer, more detailed shot of where we were driving in one screen while another gave a bird's eye view showing what was to come further down the road.
Once I had the destination set, I began to play with the XC60's sound system. I can't go anywhere without my music so I was thrilled to learn our vehicle was equipped with Volvo's best Premium audio system that drives 650-watts through 12 speakers and a separate powered subwoofer. The sound was crisp and filled the car with everything from progressive electronic (for when we felt like "driving aggressively") to Sia (when we were discussing life on life's terms). The same screen is used for both the navigation and the iPod commands, but the convenient part was that the screen kept the immediate directions on top in case the driver found themselves toggling through screens and needed to remember what street they were looking for had they disabled the command voice as we immediately did (authority issues).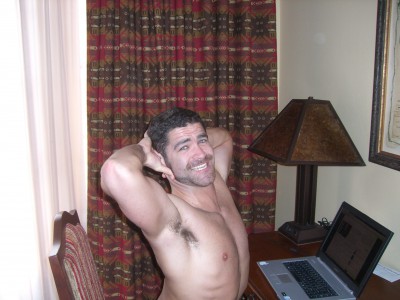 The XC60 is loaded with other technological wonders all aimed at making you and me better (and safer) drivers. The car did everything but drive itself, and one could even say that it bordered on actually turning a driving experience into one of simply steering. When the old man, err, Joe was at the wheel, the XC60 constantly alerted via a series of rapid fire audible beeps that the vehicle was wandering out of its lane (Volvo calls this the Lane Departure Warning system.) Joe explained he was not wandering from his lane but simply changing lanes without using his turn signal. Since the system works by monitoring the painted white lane markers, any attempt to cross said markers will trigger the system's response. After a short while we stopped for a driver change and I climbed behind the wheel. It wasn't long before I got to experience another XC60 assist: Adaptive Cruise Control. Unlike normal cruise control, the Volvo system uses sonar to detect vehicles ahead and keeps the car at a safe distance, regulating the vehicle's speed and even applying the brakes to avoid a collision. Learning the system takes a bit of research. Of course I could have just read the owners manual, but who does that? I was a bit frustrated by the preset speeds, which are staggered at five mile intervals. After playing around a bit more, I discovered a separate button on the steering wheel would let me move up or down at one mile increments. In all, the XC60's cockpit is clean and simple and logically arranged. The only real complaint on the driver's side of the car was that the steering wheel prevented me from seeing the stalk-mounted windshield wiper controls. Come nightfall the XC60's cabin is lit up by the subtle blue LED lights that littered the dash and both speedometer/odometer spheres.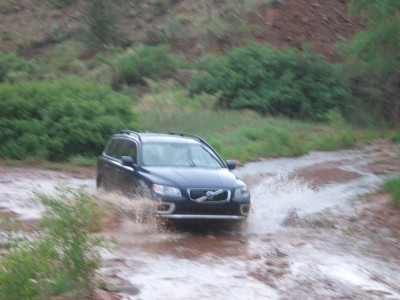 For a ten hour road trip, I can't think of a better vehicle in which to ride than the XC60. The potent 300-horsepower 3.0-liter engine in our T6 R-Design never failed to impress, offering up gobs of power for passing and just flat out running, but still returning fuel economy in the mid 20 range. When we finally arrived at our destination, a lovely resort at the end of a secluded canyon in Gateway, Colorado, I got a chance to ditch Joe and take another Volvo favorite, the XC70 wagon, out on the muddy roads of clay that surrounded the entire area. The power in front of me was immediately apparent as I decided I wanted to press down firmly with my right foot once or twice. As with the XC60, the XC70 presented a sleek interior, only this time the navigation and rear view back-up screen raised itself form the dash board directly beneath the rearview mirror. This could get a little irritating when I was backing up a lot in the mud as the screen would be up and down repeatedly, but I'm sure I'd get over it eventually. I don't suppose the common driver finds themselves going back and forth in thick mud over and over as we were that day either, unless of course their cheating spouse is laid out in the road ahead. The car moved through the terrain easily, even with the traction control still on. It had plenty of power and control that made some of the more difficult places (mud, streams, rocky areas and climbs) easy as pie.
The appearance, intelligence, and sheer power of the XC class is nothing short of impressive. I think drivers of all ages and backgrounds could easily find themselves falling in love with these brilliantly designed vehicles, which have all the bells and whistles of a luxury sedan combined with the abilities of a rugged SUV. My experience with them was enough to show me that they are remarkable moving machines.